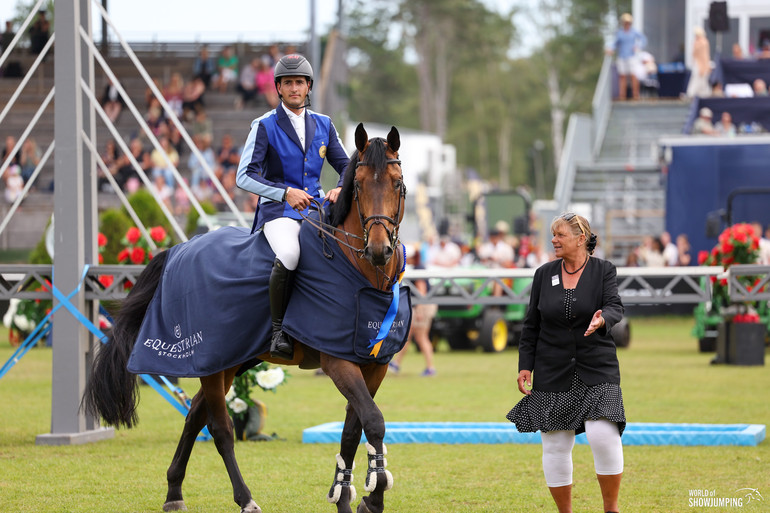 Nicola Philippaerts and Klaartje Z best at Falsterbo Horse Show. Photo © Jenny Abrahamsson for World of Showjumping.
Belgium's Nicola Philippaerts and the 9-year-old mare Klaartje Z (Kannan x Flipper d'Elle) won Saturday's CSIO5* 1.50m presented by Equestrian Stockholm at the 2023-edition of Falsterbo Horse Show.
With a time of 55.44 seconds in this Table A competition against the clock, Philippaerts and Klaartje Z took the win in the third Grand Prix qualifier of the weekend – which had 65 horse-and-rider-combinations lined up at start. Only fractions behind the Belgian pair – in 55.49 – followed Sweden's Petronella Andersson and the 9-year-old Odina van Klapscheut (I Am Moerhoeve's Star x Landor S), who had to settle for the runner-up position. Ireland's Mark McAuley and GRS Lady Amaro (Amaretto Darco x Over The River) placed third in 55.87, followed by Italy's Emanuele Camilli and Chaccrouet (Chacco-Blue x Baloubet du Rouet) in fourth in 56.23 and Dutch rider Kars Bonhof aboard Ivoor (Eldorado van de Zeshoek x Verdi TN) in fifth in 56.54.