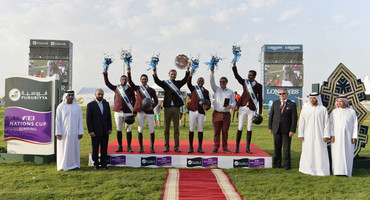 The winning team in Abu Dhabi. Photo (c) Richard Juilliart/FEI.
The Qatari team were in a class of their own when earning both a place at the Furusiyya FEI Nations Cup Final and a qualifying spot for the Rio 2016 Olympic Games with victory at today's second leg of the Furusiyya 2015 series in Abu Dhabi, United Arab Emirates. In a fascinating contest, it was last year's winners from Ukraine who lined up second ahead of an impressive foursome from Egypt in third, while France slotted into fourth ahead of the Kingdom of Saudi Arabia and Germany in equal-fifth spot.
Today's competition was the sole Furusiyya qualifier for the Middle East, and it was the Saudi Arabian side that claimed the second of the two tickets to the series Final in Barcelona, Spain next September.
From a field of 11 nations, Italy lined up seventh ahead of The Netherlands in eighth, but the competitors from Morocco, Jordan and United Arab Emirates were obliged to sit it out after the first round when only the leading eight nations returned to battle it out in the closing stages.
There was a great deal hanging in the balance as the day began, and course designer, Belgium's Luc Musette, created a track that presented just enough difficulty to test horse-and-rider combinations with differing ranges of experience. Perhaps the biggest surprise of the day was the small number of clear rounds. The time-allowed played a significant role, even after being extended from 72 to 74 seconds, but few could have expected that the only one to return without penalty first time out would be the very last man into the ring, Germany's David Will with his grey stallion, Colorit, while just three stayed fault-free in round two.
Fences fell all around the course, including the oxer at two, varying elements of the penultimate triple combination and the final vertical. But the most consistently falling poles were at the double at four, where horses often arrived too deep at the first element having been driven forward to the preceding water-tray oxer.
The Qatari team were convincing from the outset however, counting only single time faults from Ali Yousef Al Rumaihi (Gunder), Khalid Al Emadi (Tamira IV) and Bassem Hassan Mohammed (Palloubet D'Halong) when Sheikh Ali Bin Khalid Al Thani's 10-year-old mare, Vienna Olympic, hit the first element at the double at four.
Qatar led the way with a three-point advantage over France as the second round began, while Germany carried nine faults into round two and Egypt and Ukraine were close behind with 10 faults apiece.
And the Egyptians showed their good result was no fluke when pathfinder Sameh Al Dahan, who had lowered the second fence with Suma's Zorro in round one, produced one of those elusive clears to start them off in the second round. This looks like the nucleus of a really competitive side, and when they added just 11 more to their tally they always promised to finish prominently.
Germany slipped down the order when adding 16 faults to their scoreline, but Ukraine held firm when adding just nine. Former German team member, Rene Tebbel, demonstrated just what a useful addition he is to the Ukrainian side when posting just a single time fault in each round with the extravagant gelding Cooper, and when the French faltered, with the addition of 17, the Ukrainians and Egyptians overtook them.
It was all over by the time Qatar's third-line rider had completed his second course however. Al Rumaihi's easy round with the young stallion, Gunder, was marred only by a foot in the water, but Al Emadi's Tamira was foot-perfect so as Sheikh Ali Bin Khalid Al Thani rode into the ring he was jumping for both the Olympic and Furusiyya qualifications. And, with characteristic calmness, he steered Vienna Olympic home just fractionally over the time-allowed for a single time fault which wrapped it up nicely. His team's score could now be no more than eight, but Bassem Hassan Mohammed reduced it to just three faults when negating Al Rumaihi's single error with a fabulous jumping clear from Palloubet D'Halong for just one time fault when last to go for his side.
Meanwhile Abdullah Al Sharbatly led Saudi Arabia into the second round with a clear from Tobalio, and when they concluded with just eight to add to their first-round scoreline, their final 25 faults would be good enough to secure that second slot at the Furusiyya Final.
"The boys finished the job before I jumped so there was no pressure on me!" said Qatar's Bassem Hassan Mohammed afterwards. "I was just out there to jump for my country, do them proud, and gather some ranking points which is great!" he added.
Qatar coach, Jan Tops, said "I am very proud of what my team did today, particularly (Sheikh) Ali who will keep doing special things! There has been some great jumping today...you needed clever horses to do that track, and that's what ours did, fortunately!" he pointed out.
Sheikh Ali Bin Khalid Al Thani said, "we can hardly say how we are feeling, the best Arabic team wins the Nations Cup and we qualify for the Olympics which was most important for us! It was a hard job and we put a lot of effort in for this achievement. Jan (Tops) is number one trainer and we are very lucky to have him. He helps us to prepare our horses well and to have them at their best at just the right time" he added.
Asked about his own calm attitude when under pressure as he was today, Sheikh Ali replied, "this is also down to Jan (Tops). He tells me "don't rush", but my mare is also very cool, she gives me a lot of confidence too" he explained.

The third leg of the series will take place in Coapexpan, Mexico on Friday 24 April.
Result:
1. Qatar 5 faults: Gunder (Ali Yousef Al Rumaihi) 1/4, Tamira IV (Khalid Al Emadi) 1/0, Vienna Olympic (Ali Bin Khalid Al Thani) 4/1, Palloubet D'Halong (Bassem Hassan Mohammed) 1/1.
2. Ukraine 19 faults: Vivant (Cassio Rivetti) 4/4, Valentino Velvet (Oleksandr Onischenko) 10/6, Chadino (Ferenc Szentirmai) 5/4, Cooper (Rene Tebbel) 1/1.
3. Egypt 21 faults: Suma's Zorro (Sameh El Dahan) 4/0, Connaught (Mohamed Talaat) 2/6, Dakota (Abdel Kabir Said) 4/8, Amelia (Karim El Zoghby) 21/5.
4. France 23 faults: Qlandestin Sas (Louis Bouhana) 4/12, Equador van'T Roosakker (David Frederic) 8/4, Prime Time des Vagues (Alexandre Fontanelle) 1/4, Ohm de Ponthual (Jerome Hurel) 1/9.
5. Kingdom of Saudi Arabia 25 faults: Tobalio (Abdullah Al Sharbatly) 4/0, Valuta A (Khaled A Al Eid) 8/4, Chicago 84 (Abdul Rahman Bader Al Rahji) 16/4, Al Capone (Ramzy Al Duhami) 5/4.
5. Germany 25 faults: Lacan 2 (Patrick Stuhlmeyer) 12/4, Horse Gym's Balzaci (Felix Hassmann) 4/8, Nabab de Revel (Lars Nieberg) 5/4, Colorit (David Will) 0/Ret.
7. Italy 42 faults: Admara 2 (Emanuele Gaudiano) 8/4, Cannavaro 17 (Simone Coata) 13/4, Banco Popolare Bari Cassandra (Francesco Franco) 9/4, Gitano V Berbenbroeck (Juan Carlos Garcia) 13/4.
8. Netherlands 57 faults: Interline H (Robert Vos) 20/8, Bravour (Hendrik-Jan Schuttert) 13/17, Whitney Bv (Michael Greeve) 5/9, Avion (Willem Greve) 9/13.


Source: Press release from Louise Parkes/FEI.