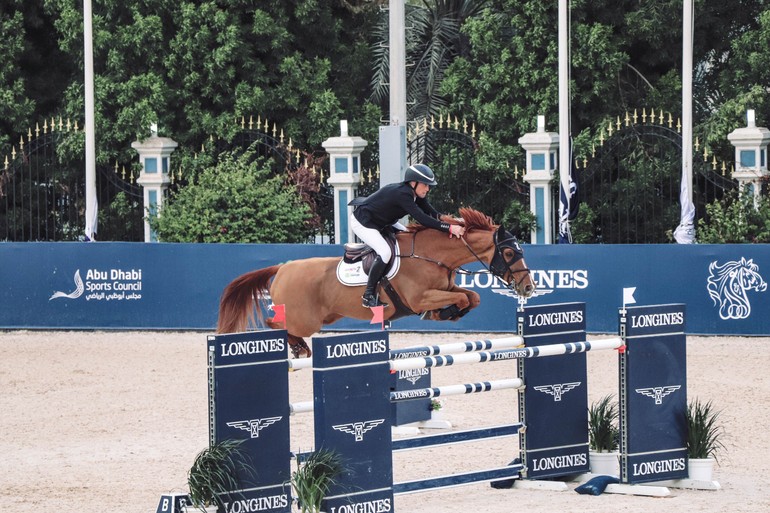 Shane Breen and Z7 Ipswich won the CSIO5* President of the UAE Showjumping Cup Grand Prix in Abu Dhabi. Photo © Noémie Renard/NOHE Agency.
Text © World of Showjumping
---
Shane Breen (IRL) and the 14-year-old gelding Z7 Ipswich (Carembar de Muze x Quick Star) won Friday's CSIO5* 1.60m President of the UAE Showjumping Cup Grand Prix at The President of the UAE Showjumping Cup in Abu Dhabi, the United Arab Emirates.
Nine of the 36-horse-and-rider combinations in the Grand Prix moved on to round two of the competition. Against the clock, Breen was the fastest of the riders that managed to produce a double clear round – clocking a time of 36.68 seconds. Abdullah Alsharbatly (KSA) finished in runner-up position with Hunter C (Cabrio van de Heffinck x Concorde), also he double clear with a time of 37.12 seconds. Third place went to Khaled Abdulrahman Almobty (KSA) and Grunnerger Kwiebus (Ustinov x Landon), who had the last double clear of the class with a time of 38.24 seconds.
Quickest of all were Henrik von Eckermann (SWE) and Glamour Girl (VDL Zirocco Blue x Caletto I), who stopped the clock at 34.45 seconds but with four faults added to their score. Oliver Lazarus (RSA) and Butterfly Ennemmel (Quaprice Bois Margot x Lux Z) took the fifth place, also they with four faults in round two.
"Abu Dhabi has a great showground, and the organizers run an excellent show," Shane Breen told World of Showjumping. "Alan Wade, the course designer, we go back a long time, we grew up together so we know each other well. I think he is one of the best course builders in the world and it's nice to win over one of his courses. He did a great job today; you have some of the best riders from Europe and the UAE jumping here, but you also have a few younger riders who are making their debut at 5* level and everyone had a good feeling on the course. It was technical but smooth and Alan got an excellent result in the end."
"With the new format, the best 25% from the first round moved onto the second round – which was a bit unfortunate for Constant Van Paesschen, because nine were to go forward and he had the slowest clear sitting 10th," Breen said about the Grand Prix. "The jump-off course was nice and flowing. I was second last to go; with Alsharbatly in the lead as I entered and Henrik von Eckermann coming in as last to go. I am aware of how naturally quick Ipswich is, so I thought I'll do my round, hopefully it would be enough to go into the lead and then I would be there to be shot at by Henrik. Henrik was quicker in the end, but got unlucky on the second last jump, it was a very late falling pole. But, it was my day today and I don't feel bad for beating him – he had such a good season last year!"
"Ipswich is 14 now and he has gone from strength to strength, I am very fortunate to have him," Breen said about his winning mount. "I am looking forward to Sunday's Nations Cup, I think Ireland has a realistic chance of picking up a win. I want to thank Sheikha Maitha and Team Z7, I have a good team around me and I appreciate having the Z7 horses to ride. Ipswich is a sensitive horse and my groom Ellen Peters knows him so well, I think she plays a big part in all of his success. All and all, it is not just down to me and Ipswich, there is a big team around from Z7 and Breen Equestrian that supports and looks after the horses."
Earlier in the day, Jur Vrieling (NED) and the 10-year-old gelding Chabada de l'Esqes (Quebracho Semilly x Apache d'Adriers) won the CSIO5* 1.45m Abu Dhabi Sports Council Cup, leaving yesterday's winners Emanuele Gaudiano (ITA) and Chalou (Chacco-Blue x Baloubet du Rouet) to the runner-up position with a margin of 0.38 seconds separating the two riders. Mohammed Shafi H. Al Rumaithi (UAE) took the third place with Caramba (Chin Chin x Aldato).