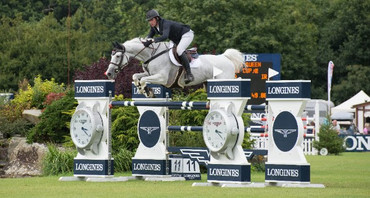 David Simpson wins the Templant Events Queen Elizabeth II Cup at Hickstead. Photo (c) Sian Hayden.
Ireland's David Simpson claimed the Templant Events Queen Elizabeth II Cup today at Hickstead.
Saturday's feature class at the Longines Royal International Horse Show, the Queen's Cup is only open to the highest-ranked national riders. Previously restricted to women only, it was opened up to both sexes in 2008 – and today, David became the fifth man to lift the historic trophy.
Five riders made it through to the jump-off in today's renewal, with David the penultimate rider to go. Riding the 11-year-old grey mare Chessy 17 (Cellestial x Kolibri), he posted a clear round in a time of 47.85sec to go ahead of Holly Smith and Lammy Beach (Beach Ball x Covers Diamond Boy). Last to go was the former Hickstead Derby winner Phillip Miller, who posted the fastest time of the day with 46.51sec, but four faults at the final fence cost them the win and relegated them to fourth place.
David is a Hickstead regular, having previously been based here with Breen Equestrian. He now lives locally, sharing a yard with fellow showjumper Louise Pavitt – the pair are getting married in two weeks' time.
"I have to keep winning classes to pay for the wedding - it certainly keeps you hungry," said David.
David had the ride on the mare for three months last year, but then sold her to the United States. "Due to other commitments, the owners have given her back to me to ride, but I presume I won't be keeping her for long - I'd love to, but I don't think it will be long before someone offers them a big price for her. She's really cool - like a cross between a pony and a motorbike, but really strong with it. She hasn't got all the jump and scope of some of the other horses, but she's a fighter and she'll take on anything."
It was a good day for Ireland, with Billy Twomey scoring a valuable double of international wins today.
He won the Bunn Leisure Salver this morning with Diaghilev (Vangelis S x Handstreich), before taking the British Speed Classic with Thomas (Quidam de Revel x Naturel). The in-form Irishman has now won three international classes at this year's Longines Royal International Horse Show.
Seven riders made it through to the jump-off in the Bunn Leisure Salver, with five of these producing double clears. Such was Billy's swiftness round the International Arena in the jump-off, he finished 1.49sec faster than the always speedy Guy Williams, who took second place.
"I didn't think anyone had gone that fast, but I knew I had Guy to come after me, so I had to put a marker down," said Billy.
In the Speed Classic, Billy made the most of being drawn last to go. He knocked British Olympic team member Ben Maher down to second place with a superbly judged round on Thomas, a nine-year-old bay gelding. The time difference was incredibly tight, with just one-hundredth of a second dividing Billy and Ben's times.
Billy Twomey and Thomas had already won the Bunn Leisure Vase on Thursday, while he and Diaghilev formed part of Ireland's second-placed team in yesterday's Furusiyya FEI Nations Cup, presented by Longines.
---
Source: Press release from The All England Jumping Course, Hickstead // Picture © Sian Hayden