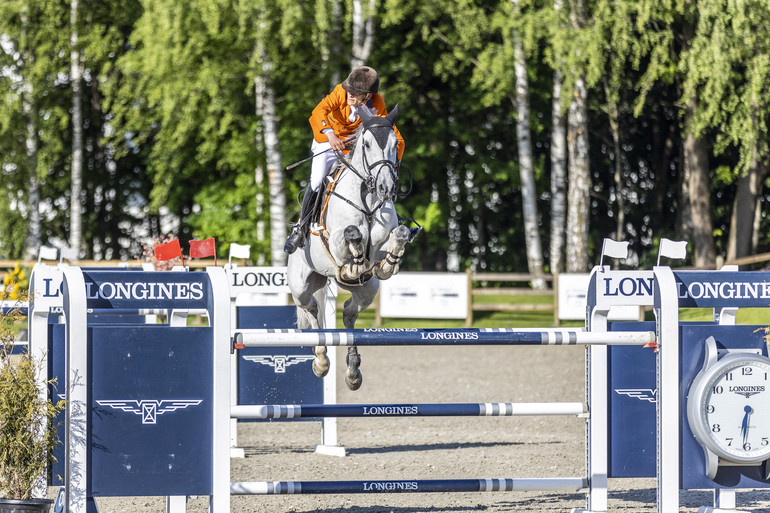 Eric Ten Cate and Incredible secured the win for the Dutch team in a jump-off against Ireland. Photo © Astrid Marie Årdal.
Edited press release from EEF
---
In a dramatic end to the fifth leg of the Longines EEF Series in Drammen, Norway, the Netherlands topped the podium, whilst the Northern Regional qualifier saw six nations battle it out for their semi-final places.
The evening's action most certainly delivered for the crowds of spectators in Norway with Ireland and Netherlands finishing on a two-round score of four faults, to go head to head in a jump-off between Ireland's Matt Gariggan and Quantum Robin V (Carambole x Stakkato) and the Netherlands' Eric Ten Carte aboard Incredible (Clinton x Heartbreaker).
Having already delivered two clear rounds, Matt was the first to enter the arena to jump off against the clock with the 10-year-old gelding Quantum Robin V. Taking exceptionally tight lines and leaving all the poles in place, the combination stopped the clock in a respectable time of 41.14 seconds, putting the pressure on the Dutch.
Also double clear over the two rounds, Eric stormed through the start line with Incredible, and the 10-year-old gelding rose to the challenge. Mimicking Matt's lines but with a faster turn of speed, shaving off over 4.5 seconds and stopping the clock in a speedy 36.88 seconds, the pair secured the Netherlands their second podium finish of the series – the Dutch team also won the second leg in Mannheim, Germany.
"It feels incredible!" Eric said of his performance to secure team victory. "I had a really good feeling and I'm really happy with the round."
Both nations had to deliver in the earlier rounds, of course, to reach this point in the competition. Matt's first round clear was mirrored by teammates Diarmuid Howley and Uriga VA (Uriko x Clarimo) as well as Conor Drain with Imagine (Cassini Gold x Lord Z), after a shaky start for Nano Healy and Oak Grove's Americana (Aganix du Seigneur Z x Heartbreaker), who had a first round to forget with a score of 24 penalties having read the distance to the water obstacle at 6 wrong, which lead to fence 7 also toppling for them.
Dutch lead rider Henk Frederiks on Impian D (VDL Bubalu x Lux Z) set the tone for his team with a steady clear in round one, with Tani Joosten on Galdal Me (Zambesi TN x Chin Chin) also delivering the goods and Eric bringing up the rear. Fellow rider Mark Martens and Kinmar Quality Hero (Obos Quality x Moujik de Souhan) had an unfortunate pole down at fence 9 – a seemingly innocuous-looking oxer that caused its fair share of havoc throughout the evening.
"It was a solid course, technical and as always, there were more faults in the second round after a lot of clears in the first," Henk said of the track designed by Norwegian Terje Olsen-Nalum. "We all did a great job and had a clear round each, but thank god we have Eric! He performed so well this weekend and his horse was jumping brilliantly so I had a very safe feeling when he went into the jump-off."
The Dutch team will be turning their attention to Bratislava next week to ensure they earn their semi-final spot, with Henk noting that competition for the team will be fierce: "The Netherlands is a strong country with many good riders, so we try very hard to impress the Chef d'Equipe, hopefully, we can compete in a couple more of these as it's a lovely competition to get to know the Nations Cup, learn to ride two rounds with the team and I really enjoyed so I hope I can do it a couple more times!"
In the race for semi-final spots, Poland pulled off an incredible first round score of zero from its first three riders – Dawid Kubiak on Estoril Fortuna (Harley x Indoctro), Tomasz Miskiewicz with Stakkato Lazar (Stakkato Gold x Cancoon) and Marek Waclawick riding Kathmandau (Zinedine x Samurai M) – meaning that anchor man Adam Grzegorzewski and Issem (Quality Time TN x Clinton) did not need to compete in round one. However, Tomasz, Marek and Adam didn't manage to maintain the clean sheet in round two, resulting in two four-fault rounds being carried forward for a final team score of eight and eventual third place in the Nations Cup. Being the top eligible nation however, this meant that Poland took the maximum 100 points to add to their 90-point tally from Aalborg, leaving them at the top of the table and securing their ticket to Deauville.
Equalling Poland's final score of eight but with the total team time splitting the places were Sweden and Denmark, who both earnt their qualification. Finland and Lithuania added to the points they scored last week in Denmark to seal the final two spots meaning it was a disappointment for the home nation, Norway, who missed out on qualification.
Qualifying table, North
| | | | |
| --- | --- | --- | --- |
| | Aalborg | Drammen | Total points |
| Poland | 90 | 100 | 190 Q |
| Denmark | 100 | 80 | 180 Q |
| Sweden | 70 | 90 | 160 Q |
| Lithuania | 80 | 55 | 135 Q |
| Finland | 60 | 70 | 130 Q |
| Norway | 55 | 60 | 115 |