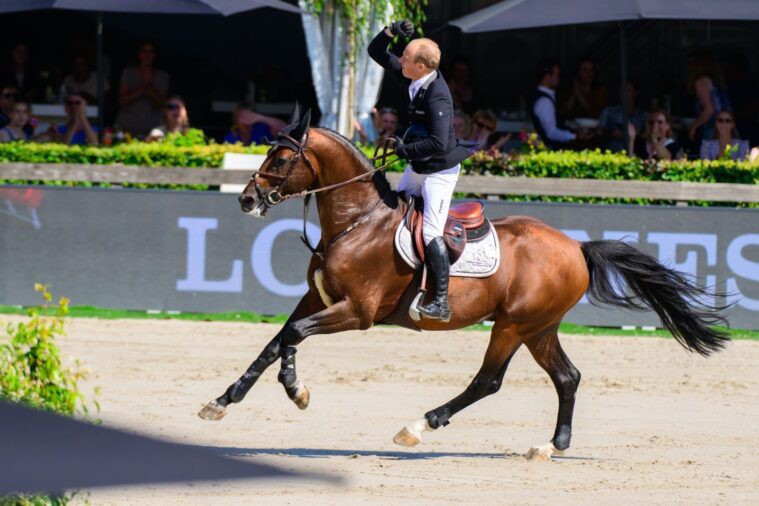 "Highway is an unbelievable fighter, he goes through fire for me," Greve praised his 11-year-old stallion after the two won the CSIO5* 1.60m Grand Prix of Rotterdam. Photo © CHIO Rotterdam/Nils Boeser.
Text © World of Showjumping
---
The 74th edition of the traditional CHIO Rotterdam concluded on Sunday with a home win for the host's very own Willem Greve and Highway M TN in the CSIO5* 1.60m Longines Grand Prix. "Highway is an unbelievable fighter, he goes through fire for me," Greve praised his 11-year-old stallion. "Sometimes it is hard to manage it all, because he is very eager and he gives everything. On Thursday he was a little bit quick in the class, Friday he did an easy round and gave me a super feeling, so I was very motivated to be good to today, and so was he – so it worked out well."
The course set by Quintin Maertens (NED) and Louis Konickx (NED) counted 13 obstacles and 16 efforts, with the time allowed set to 76 seconds. With a roll-back to the Port of Rotterdam-wall at fence number four, followed by a vertical-vertical-oxer triple combination at 6abc, a bush oxer in the middle of the diagonal at fence number eight followed by a delicate white plank at fence number nine, the course offered plenty of challenges after a straight-forward start. "We tried to first get the horses going, so that they feel good in the arena, and then tried to make it increasingly difficult," Maertens told World of Showjumping about their idea behind the course. "We built up the tension towards the end, and started asking questions after the horses felt comfortable. Sometimes it works as we hope and sometimes it doesn't."
As the second pair out on the hot Sunday afternoon at the Kralingse Bos, Aurelien Leroy (FRA) and Croqsel de Blaignac (Ugano Sitte x Rubynea) delivered the first clear, making it all look like a literal walk in the park. Home hero Harrie Smolders (NED) and the stunning Uricas v/d Kattevennen (Uriko x San Patrignano Cassini) followed suit, as did Hans-Dieter Dreher (GER) aboard Vestmalle des Cotis (Baloubet du Rouet x Landor S) and the 2022-title defenders, Daniel Coyle (IRL) and Legacy (Chippendale Z x Bon Ami). Much to the delight of the enthusiastic Dutch crowd, Kevin Jochems (NED) and Casillas van de Helle (Casall x San Patrignano Corrado) and Jur Vrieling (NED) aboard Fiumicino van de Kalevallei (Plot Blue x Nabab de Reve) joined the deciding jump-off as well, as did Willem Greve (NED) and Highway M TN (Eldorado vd Zeshoek x Chellano), Kars Bonhof (NED) and Hernandez TN (Kannan x Numero Uno), Sanne Thijssen (NED) and Hi There (Nabab de Reve x Numero Uno), Carsten-Otto Nagel (GER) and GK Curacao (Clarimo x Lerano), Victoria Gulliksen (NOR) and Mistral van de Vogelzang (Elvis ter Putte x Clinton) as well as Bas Moerings (NED) aboard Ipsthar (Denzel van'T Meulenhof x Farmer) – making it a battle between twelve horse-and-rider-combinations.
First out in the jump-off, Leroy set the standard with a fast clear in 44.26, a time that in the end was good enough for the third place. However, it was Coyle and Legacy that really changed the tone of the jump-off when taking an inside turn to the double at fence four, the former 6ab from round one. Taking a shortcut there – one that many might not have considered possible as there was only a narrow opening between a fence and a car with flower decorations around it – Coyle took over the lead with a time of 40.47. After Coyle, those who tried to imitate his unexpected move, paid with penalties, while Bonhof opted for a steady clear and slotted in to third. As the last pair out, Greve and his fantastic Highway M TN risked it all, took the inside turn and mastered it beautifully, and with the stallion's huge stride, were able to shave off nearly a second on Coyle's time. Stopping the clock on 39.57, Greve took a popular home win, pushing Coyle to the runner-up position, Leroy to third and Bonhof to fourth, while Thjissen finished fifth with a pole down in 41.69.
"I was also second yesterday, so second place seems to be where I am at this week," second placed Coyle joked after the class. "It was a great class. Jeroen Dubbleman helps me a lot and he said that for the jump-off, Willem would be a real danger. I had a good round, and I am not sure I could have been much faster."
"I watched the first two in the jump-off, and then I went back to the warm-up and from there, I saw Daniel do the inside turn," Greve told about his plan ahead of the jump-off. "Our Chef d'Equipe Jos Lansink was in the warm-up, and as there were only three clears, it was either going for a smooth clear round or for all or nothing – and we went all in. Sometimes you win and sometimes you lose, but today it was good. To win in your home country is always special, to win a CSIO five-star Grand Prix is always special, and I think we have seen very good sport this week. I am happy that I came out of the class as a winner, but besides that I think we saw great sport all weekend."