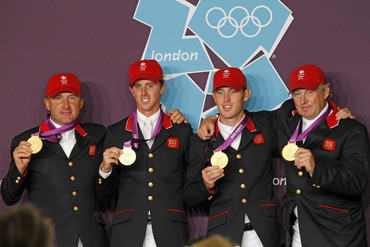 The gold winning British team; Peter, Ben, Scott and Nick.
Nick Skelton was obviously a popular man on today's press conference that followed after the British Olympic gold medal: "I have been to a lot of Games and doing a lot of mistakes so I have been waiting a long time for this medal," Nick said about finally winning an Olympic gold medal.
Nick for sure is one of the favorites for the individual medals and said this about the final on Wednesday: "It is another day and a different competition. Big Star is in tremendous form and couldn't jump better. But everything can happen and anyone of the riders in the final can win."
Nick on his motivation to keep riding: "When you have a great horse like Big Star you wake up every morning and look forward to ride him!"
Peter Charles didn't have the best start to the Games and explained: "I came in last the first day and he just freaked out by all the applause and stamping. That is not a criticism to the audience, that is just what happened."
Scott Brash is the youngest member on the British team: "You can learn so much from these guys! This is the best day of my life, to win this with the home crowd behind you. It can't really get better than this."
About the British chances, Ben Maher said: "We always believed we had a big chance, and we were positive. You are never going to win anything if you are negative, but you can do anything if you are positive."
Rumors have been going around that Nick's horses Big Star and Carlo will be sold after the Olympics: "We wouldn't be here today if it wasn't for the owners. London was in mind when we bought Big Star and there is no way the owners will sell him or Carlo. We have been turning down tremendous offers already."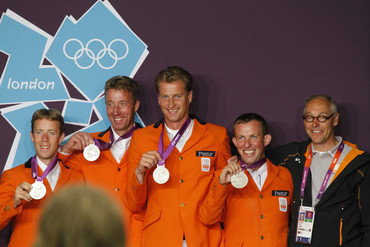 The silver medalist - the Netherlands: Maikel, Jur, Marc, Gerco and Rob.
Jur Vrieling on the question if the Dutch lost a gold or if they won a silver: "We won silver!"
The Chef d'Equipe Rob Ehrens explained that they walked the jump-off course in the beginning of the day because they were prepared it might be a jump-off. "Our first plan was to ride quickly but not overdo it. It didn't work out the way we really wanted it to be, but we are really happy with the silver and I guess the Brits are happy with their gold."
Marc Houtzager about his jump-off: "I was supposed to go in and deliver a clear and don't go for the time, but then I had one down so we got the silver."
Gerco Schröder was last to go and he knew that the team could win if he was clear. "I knew I had to go clear to win. London jumped fantastic, but with one fault we had to go for the jump-off".
The whole team was united about the prizegiving ceremony being the most special moment of the day. "When you go in for the prizegiving and you get the medal around your neck, it is unbelievable. That is what we have worked for!" said Maikel van der Vleuten.
In the Olympics all the riders are doing the jump-off and on the question if that is a good rule, Rob Ehrens answered: "I think it is a lot of jumping, but with one rider it wouldn't be really fair. Maybe the jump-off could be a little shorter, but for the Olympics four riders in the jump-off is super!"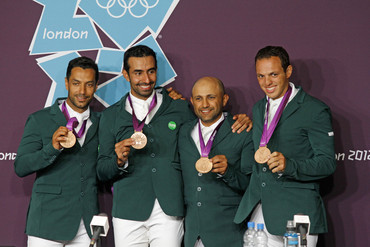 Kamal, HRH Prince Abdullah, Ramzy and Abdullah were all very happy about the bronze medal.
The press conference started off with the Saudi Arabian team that won the bronze medal. First of all the riders said a bit about themselves, and explained that all of them are based in Europe. Kamal Bahamdan is based in Holland with Jan Tops, Prince Abdullah Al Saud has been training with Paul Schockemöhle for the last three months and his horse Davos was previously ridden by Candice King. Ramzy Al Duhami is training in Belgium. Abdullah Waleed Sharbatly explained that he only has done three shows with his horse Sultan before the Olympics.
"We had this goal in mind for such a long time now. It is not easy for us coming from Saudi Arabia to come and compete on these shows, but we had one goal in mind and it was the Olympics. The last three years we have trained to be in form for this week," said Ramzy about their bronze medal.