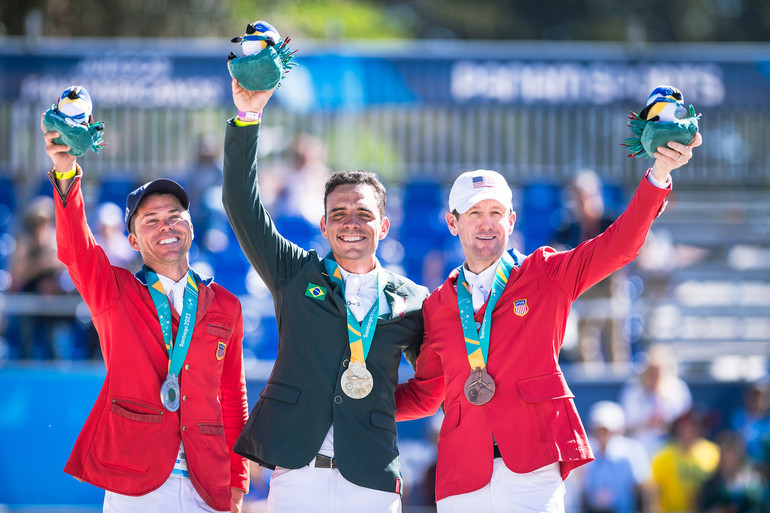 The 2023 PanAm podium: Kent Farrington (silver), Stephan de Freitas Barcha (gold) and McLain Ward (bronze). Photo © FEI/Shannon Brinkman.
Edited press release from FEI written by Louise Parkes
---
Brazil's Stephan de Freitas Barcha came into Friday's individual jumping medal-decider at the Pan American Games 2023 in Quillota, Chile in third place and climbed up to the top step of the podium with a stunning performance from his mare Chevaux Primavera Imperio Egipcio (Calvaro F.C. x Paroli).
On a day when only four clear rounds were posted from the field of 28 starters, and when so many of the medal favourites would falter over Marina Azevedo's uncompromising courses, the 34-year-old rider held his nerve to take the gold.
"To win this kind of championship in South America is a dream come true!" he said after standing on the top step of the podium flanked by the USA's Kent Farrington who clinched silver and McLain Ward who took the bronze.
When, eleventh to go over the 12-fence first-round course, Chile's Agustin Covamubias and Nelson du Petit Vivier (Russel x Perhaps vh Molenvondel) were foot-perfect the crowd went wild, and then Argentina's Jose Maria Larocca and Finn Lente (Gaillard de La Pomme x Colandro) followed suit so it seemed the key to success had been discovered at last.
But one-by-one the top ten also struggled, the Easter Island triple combination proving the undoing of many along with the final Chilean Games oxer which also took a big toll.
Lying eighth, Farrington's 10-year-old gelding Landon (Comilfo Plus Z x Quadrillo) put a toe in the open water at fence eight, while Mexico's Eugenio Garza Perez made it all the way to that heartbreaking last fence before kicking out the back pole with Contago (Cornet Obolensky x Cassini II). With three left to run, de Freitas Barcha kept a clean sheet however and then it was down to the leading pair of American stars.
There was a gasp of disbelief when, second-last to go, Laura Kraut's Dorado 212 (Tailormade Diarado's Boy x Chacco-Blue) clipped the first element of the penultimate double of verticals and an even greater gasp when last pair in, McLain Ward with Contagious (Contagio x For Keeps), left both the previous triple bar and that influential final oxer on the floor.
As round two began, however, Kraut was still sitting second with de Freitas Barcha now in the lead, Mexico's Garza Perez was in third and Farrington was in fourth while Ward, Brazil's Pedro Veniss and Nimrod de Muze Z (Nabab de Reve x Tinka's Boy) and Larocca filled the next three places. Carrying 4.06 penalties into the second round, Barcha had no wriggle-room because Kraut was on 7.39 and only 8.2 points separated the top six so there was still plenty of work to be done.
The second round triple combination at fence eight and the final two fences broke plenty of hearts, Larocca, Veniss and Ward all falling victims to the penultimate liverpool oxer. But Farrington was crystal clear this time out - the only clear of the second round - and, with just three left to go, he loomed large in the final stages with his score now standing at 9.64.
Ward still seemed well adrift on 15.34, but when Garza Perez had three down and Kraut had two down then the landscape changed dramatically. De Freitas Barcha's running scoreline of 4.06 penalties left him with a fence and a single time penalty in hand as he set off with a sizzle of electricity in the air along with the big dream of gold.
His 12-year-old mare is a quirky character who makes a fuss about going into the arena, but when she gets in there she gets the business done. And it looked very much like the Brazilian pair were about to complete the only double-clear of the day as they approached the final line. Soaring over the penultimate oxer they headed down to the final planks, but even when they hit them the crowd exploded with a roar of approval because they knew their final tally of 8.06 would leave them ahead of Farrington while Ward would take third place and the bronze.
Brazilian course designer Azevedo has certainly tested the best this week but it seems the new golden boy of Brazil has an interesting history with her. "At every championship I won in Brazil, Marina was building - in Children's, Juniors, Young Riders and Seniors," he pointed out.
Brilliant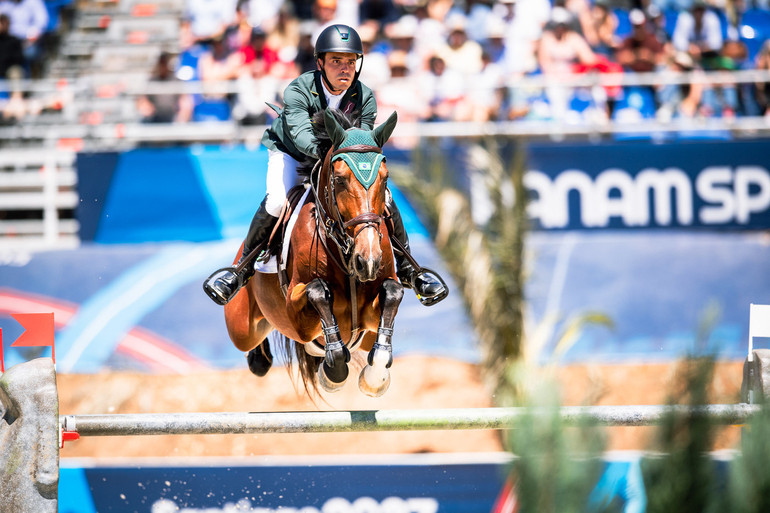 Stephan de Freitas Barcha and Chevaux Primavera Imperio Egipcio. Photo © FEI/Shannon Brinkman.
Bronze medallist Ward described her courses as "brilliant, I thought top level, very big, very hard, everything a championship should be". He has only competed at three Pan American Games during his long and super-successful career, and Friday's bronze brings his total number of PanAm medals to seven.
Farrington was delighted to have moved up from eighth to silver medal spot. "It was a great result at the end, we had to battle from the back of the pack today but with a very inexperienced horse jumping at this level. I thought he got better as the week went on and I'm thrilled with the result!"
He described Friday's competition as "real jumping, I think it shows what the PanAm Games has become in our sport. It's different now to PanAms in the past, a whole new dimension, and in the final round they can build it to that because of the level of riders they had here today," he pointed out.
He was delighted with his horse, Landon. "I got him at the end of his seven-year-old year and he's 10 now and really coming into his own. He won two 5* Grand Prix classes already. He showed a bit of his green-ness there in the final round when he spooked at the island but he's an incredible athlete and you can see that - when we get into trouble he battles his way out and I thought he finished really strong. This was great experience for him and he'll grow from it," Farrington said.
Means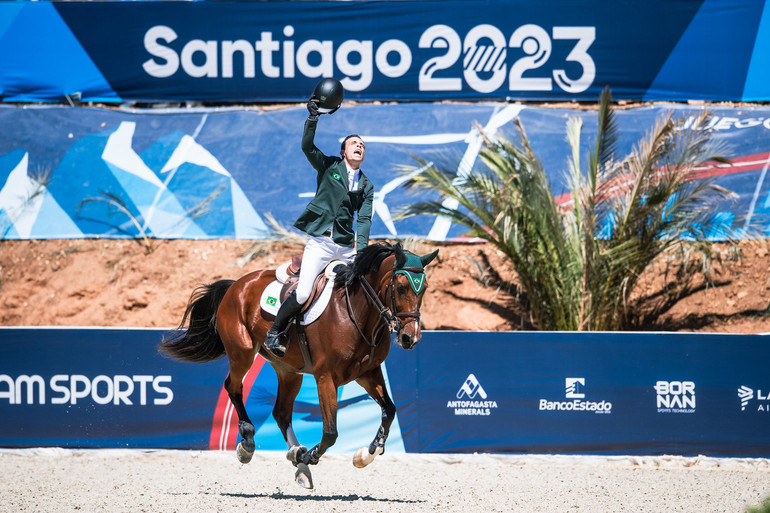 "This victory is for two people who are no longer here," de Freitas Barcha said after his PanAm-win with Chevaux Primavera Imperio Egipcio. Photo © FEI/Shannon Brinkman.
Meanwhile, the new champion reflected on what Friday's gold medal means, to him and to many others. "Since I started this journey 25 years ago in Rio de Janeiro I worked every day for a day like this, and I want to just say thank you to everybody that has helped me during this journey. I have a good team now, good people behind me, but this victory is for two people who are no longer here," de Freitas Barcha said.
"It is for a teacher I had since I was 15, and also my friend who I lost at the beginning of the year. I know he was with me in every round supporting me this week and this victory is for Vava, my good friend who was like a brother to me," he added in a voice filled with emotion.
He intends to celebrate, but he is already planning ahead. "Tomorrow we start the focus for our next goal which is Paris (2024 Olympic Games) because I want to be part of this strong team we have in Brazil who will be going for medals!"