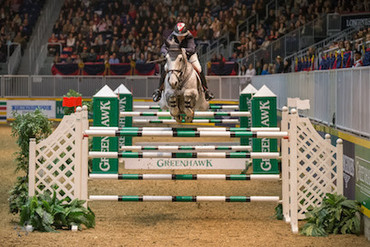 Jill Henselwood and Farfelu du Printemps. Photo (c) Ben Radvanyi Photography.
Jill Henselwood claimed the $100,000 Greenhawk Canadian Showjumping Championship on Saturday night, November 7, at the Royal Horse Show, held as part of the The Royal Agricultural Winter Fair in downtown Toronto, ON.
Riding Farfelu du Printemps, Henselwood entered the second and final phase of competition in the $100,000 Greenhawk Canadian Showjumping Championship on Saturday evening with a perfect score of zero, having won Friday night's opening round. The pair stayed consistent, jumping another clear round before facing off against the top six in a final jump-off. Despite having a rail down early on course, Henselwood held on the lead to win the 2015 Greenhawk Canadian Showjumping Championship title.
"As soon as we started to jump and he could sense from me that it was serious he gave good efforts," said Henselwood of the ten-year-old Belgian Warmblood gelding (Action Breaker x Volume vd Gasthoeve) owned by John Madigan. "For this horse to get this title really means something in his resume, and starts to identify him as a top horse for Canada."
Farfelu's rail fell at the third fence in the final round, leaving on room for further error. "I thought we were going to jump it, but made a mistake," Henselwood said of her downed rail. "After that, I think Farfelu jumped everything else with a margin of another foot. I could feel the effort that he made; he didn't want to make another mistake. He's that kind of horse."
Henselwood's victory marked her second Greenhawk Canadian Championship title at the Royal Horse Show, having also won in 2005 aboard Black Ice.
British course designer Richard Jeffery of Bournemouth, Dorset, set difficult tracks in all three rounds comprising the Canadian Championships, which saw Canadian Equestrian Team veterans rise to the challenge. With two beautifully executed rounds on Saturday night, Canadian Olympian Mac Cone, 63, of King City, ON, moved into the Reserve Champion position with a final score of 4.79 riding Gasper van den Doorn for owner Chadburn Holdings, Inc. Another Canadian Olympian, Lisa Carlsen, 50, of Okotoks, AB, produced strong performances to finish third with 5.66 penalties aboard Worlds Judgement for owners WJ Partners. Susan Horn of Bolton, ON, and Kingsland Farm's Lillyfee placed fourth on 6.15 penalties, while Erynn Ballard of Tottenham, ON, and Bart C posted 6.93 penalties to placed fifth for owner Jaybird Farm. Keean White of Rockwood, ON, rounded out the top six aboard For Freedom Z, owned by Angelstone Partners, with 14.11 penalties.
Based on their results in the Canadian Championships, Henselwood and Cone secured the final two positions available in The Royal's international showjumping division, which begins on Tuesday, November 10. They will join pre-qualified riders Carlsen, Ballard, Ian Millar of Perth, ON, Vanessa Mannix of Calgary, AB, Jonathon Millar of Perth, ON, and Chris Sorensen of Caledon East, ON, in representing the Canadian flag.

$100,000 Greenhawk Canadian Show Jumping Championship – Round Two
Saturday, November 7
Rider Hometown Horse Final Score
1. Jill Henselwood Oxford Mills, ON Farfelu du Printemps 4
2. Mac Cone King City, ON Gasper van den Doorn 4.79
3. Lisa Carlsen Okotoks, AB Worlds Judgement 5.66
4. Susan Horn Bolton, ON Lillyfee 6.15
5. Erynn Ballard Tottenham, ON Bart C 6.93
6. Keean White Rockwood, ON For Freedom Z 14.11
7. Vanessa Mannix Calgary, AB Carolien VH Scheefkasteel 9.64
8. Neil Badcock King City, ON Corrido 9.92
9. Jordan Macpherson Toronto, ON Aanwinst 10.32
10. Jonathon Millar Perth, ON Baranus 12.08

Source: Press release from the Royal Winter Fair