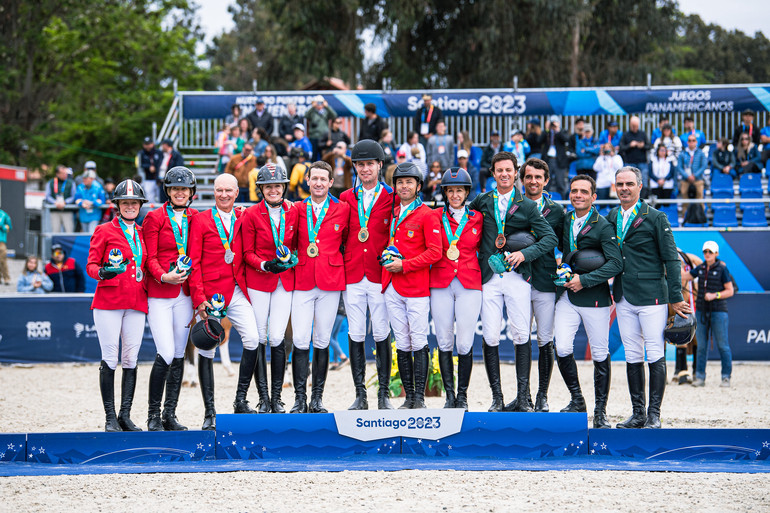 The team podium at the 2023 Pan American Games in Santiago, Chile: Team Canada took silver, USA won gold while Brazil had to settle for bronze this time around. Photo © FEI/Shannon Brinkman.
Edited press release from FEI written by Louise Parkes
---
Robert Ridland's American side made a mighty comeback on Wednesday to win jumping team gold at the Pan American Games 2023 in Quillota, Chile. After two rounds of competition in which fortunes fluctuated wildly for many sides, McLain Ward and Contagious (Contagio x For Keeps), Kent Farrington and Landon (Comilfo Plus Z x Quadrillo), Laura Kraut and Dorado 212 (Tailormade Diarado's Boy x Chacco-Blue) as well as Karl Cook and Caracole de La Roque (Zandor Z x Kannan) brought it home, but they knew they'd been in a fight.
Following an unconvincing performance on Tuesday, when Kraut was the only one to keep a clean sheet, they were lying fifth as the day began behind Argentina in fourth, Canada in third, Colombia in second and the defending champions from Brazil at the top of the leaderboard. It was always going to be a tough climb back into contention, but in the end a total of seven American clear rounds ensured they clinched it, although it came right down to the wire in the closing stages.
The Canadians also rallied brilliantly on Wednesday to move into silver medal position, while the defending champions from Brazil lost their overnight lead and dropped to bronze, finishing just over two points ahead of Mexico in fourth place.
The Mexicans were not altogether heartbroken however, because along with the silver medallists from Canada and the gold medal winners from USA they earned a qualifying spot for the Paris 2024 Olympic Games.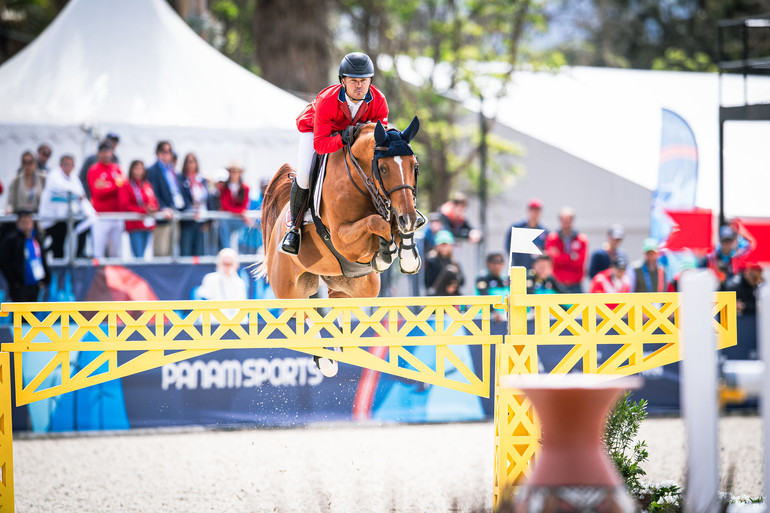 Kent Farrington and Landon delivered a double clear for the winning team - as did Mclain Ward with Contagious and Laura Kraut with Dorado 212. Photo © FEI/Shannon Brinkman.
Wednesday was a roller-coaster of a day, and unpredictable to the very end. As Canadian legend and Chef d'Equipe Ian Millar said: "If you were watching it with nobody in the hunt you'd have to say this was fantastic sport! But when you had somebody in it, it was very, very concerning at times because of course the qualification for Paris is such a big deal to every country and no team wanted to go home and say guess what, we didn't qualify!"
Tension
The tension was palpable from the outset, and the Americans were already threatening Brazil for the lead after clears from Ward, Farrington and Kraut left them just .05 behind the leaders going into the second round.
Brazil had added eight faults to their tally and overnight leader in the individual standings, Marlon Zanotelli, was their discard when posting 21 faults first time out after his mare, Deesse de Coquerie (Consul DI Vie Z* x Papillon Rouge), took a dislike to the first element of the penultimate fence on the 1.60m track, the Emperor Penguins triple combination. In the second round she stopped there again so he retired, and that put the team under huge pressure.
Brazil's pathfinder Veniss and third-line rider de Freitas Barcha went clear but it was hanging on a knife-edge as anchorman Rodrigo Pessoa set off, last man into the ring. If he could make it home without incident Brazil would maintain that fractional advantage and claim the gold. But when Major Tom (Vagabond de la Pomme x Heartbreaker) hit the back bar at fence two and at the third element of the triple combination, and following double-clears from Ward and Farrington and a footperfect run from Cook for the first time in the championship, the Americans were the ones who would go home with gold around their necks.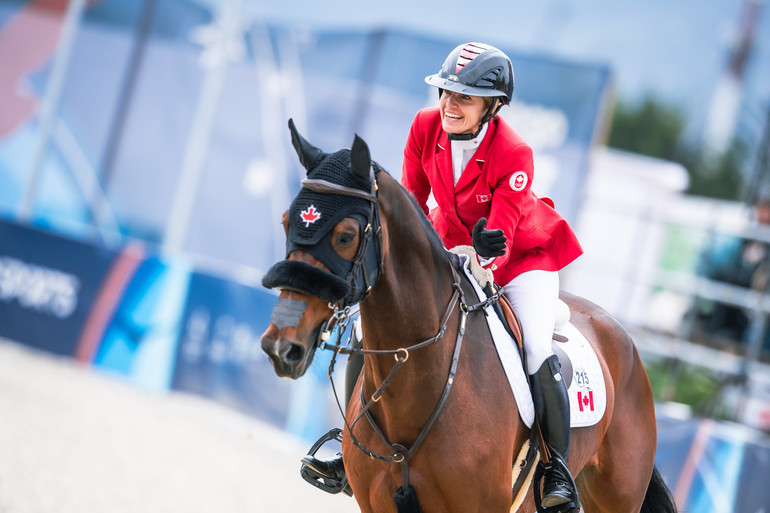 Canada took silver, with Tiffany Foster and Figor delivering a double clear for the team. Photo © FEI/Shannon Brinkman.
It was a huge relief for the winners, and also for the Canadians who with eight faults in the first round and three fantastic clears second time out rose to take silver, pinning Brazil back to bronze in the final analysis.
Ian Millar was thrilled with his side's performance, although like many others he found the excitement of the day almost unbearable. Asked how he was feeling knowing that Canada not only took silver but is on its way to the Paris 2024 Olympic Games he replied with a laugh, "I needed the defibrillator, but other than that I'm fine!"
"What a team! They were in touch and they came into that second round and took no prisoners and got it done!", he said of Tiffany Foster and Figor (VDL Groep Zagreb x Indoctro), Mario Deslauriers and Emerson (Eldorado vd Zeshoek x Berlin), Amy Millar and Truman (Mylord Carthago*HN x Kolibri) as well as Beth Underhill and Nikka vd Bisschop (Emerol Nop x Nabab de Reve).
Foster and Figor produced one of six double-clears on Wednesday and really bolstered the Canadian position. Her big Dutch-bred gelding literally took everything in his stride. "It just shows what it means to have a partnership with these animals. I've ridden him since he was seven years old and he's 13 now, we think together and have rounds that feel really cohesive and we are a team. I'm very grateful to have him on days like this when no matter what they build, the jumps look small!", she pointed out.
Delighted
Meanwhile the Americans were delighted to have clinched their country's eighth Pan American jumping team title. As Kraut said however, it wasn't exactly a walk-in-the-park along the way.
"It's been extremely nerve-wracking this whole day. We had a very good first-round performance but still you know that it could all go away. Two mediocre rounds would have lost it for us. For me I was so relieved when the three before me went clear. I almost enjoyed the last round - unlike yesterday!", said the rider whose team-mates ensured that gold was already in the bag before she set off on her final run, and who now lies second behind Ward who holds the lead going into Friday's individual medal-decider. With less than a fence separating the top ten that is going to be another mighty battle.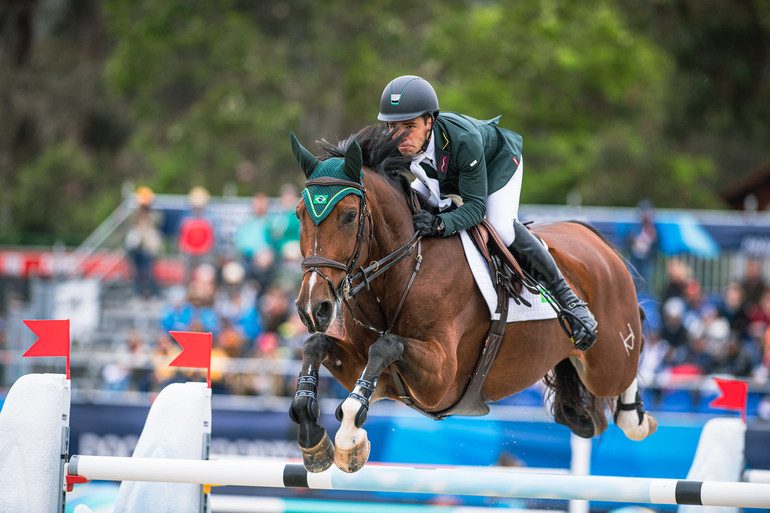 Brazil finished with the bronze medal; here Stephan de Freitas Barcha and Chevaux Primavera Imperio Egipcio that delivered a double clear round for the team. Photo © FEI/Shannon Brinkman.
"We'll focus on that tomorrow", Ward said. "As everybody knows our main goal was to qualify for the Games and to win a medal here as a team, to represent our country well."
"I thought the team rallied well and pulled it off with pretty good style today," he continued. "But the fact that it took us so long to qualify needs to bring it to our attention that we can't rest on a good week here. There's some work to be done to be prepared for Paris where we go against the world's best," he pointed out with some conviction.
Meanwhile his team manager, Robert Ridland, reflected on the ever-improving level of competition at the Pan American Games. "The last two or three (editions) we keep seeing a higher and higher level competition, and I think everyone saw that again today. These are really strong teams out there fighting to the end, and it's a big tribute to what the Pan American Games have become," he said.
It's a rest day on Thursday for the jumping horses, with the second horse inspection taking place in the afternoon. The individual medals will be decided on Friday, with the action getting underway at 11.00 local time.