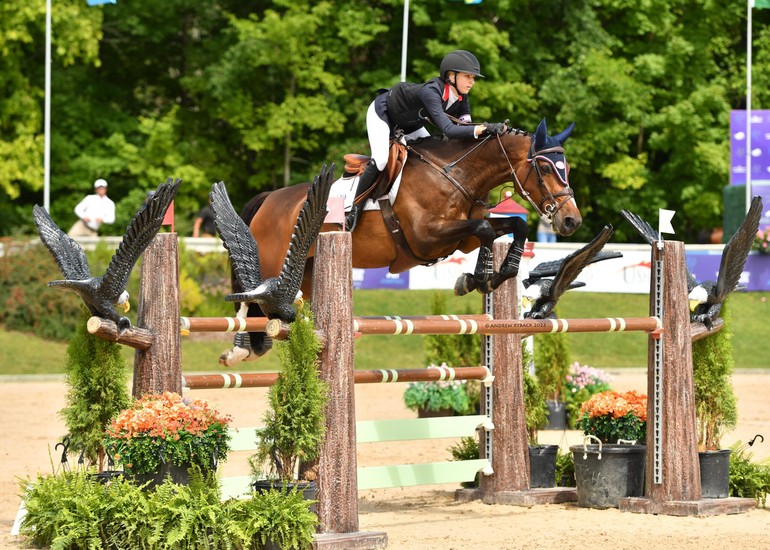 Lauren Fransdon and Golda, gold medallists in the Pre-Junior section. Photo © Andrew Ryback Photography.
Press release from Traverse City Horse Shows
---
The Children's and Pre-Junior categories of the Gotham North FEI North American Youth Jumping Championships, presented by USHJA, concluded Saturday with gold medals being awarded to Hailey Guidry and Lauren Frandson, both of whom jumped five clear rounds without a single rail down all week.
Frandson's mount, Golda, lived up to her name in the Pre-Junior section, as the last to go in both rounds to secure the gold medal representing Zone 10
"It feels great to jump all clear rounds this week and I'm super proud of my horse," said Frandson, who trains with Blue Ridge Farms under Sean Leckie and Sophie Simpson-Leckie. "It's definitely a lot of pressure but I feel like we performed really well. I've had my horse Golda for a little less than a year. We've been super successful because of all the practice we've done. We competed in the trials to qualify to come here and I feel that that really helped me here this week."
Last year, Fransdon acquired the ride on Golda from Ilan Ferder, who also helped train her from the sidelines during NAYC this week. While there was significant pressure on her shoulders to come in and uphold her leading score on 0.29 penalties, she did not let that faze her.
"My coaches and family all helped calm my nerves this week just by talking me through my course and reassuring me that I made it here and I can do it," Fransdon reflected.
Moving up in the placings between rounds in her first appearance at NAYC, Myra Krishna set herself apart by jumping double clear in both the Team Final and the Individual Final to take the silver medal with Fanatic D'Alphi, owned by Dracarys Sporthorses LLC. Training under David O'Brien, Krishna didn't set expectations, which she believes helped her perform well under the pressure.
"I'm really proud of my horse because he jumped his heart out for me," Krishna reflected. "There really was no pressure because I had no expectations going into this week. I had so much fun getting to know the girls, and the team factor was a lot of fun."
As for how she managed the nerves of being a first-time competitor at the prestigious event, she said, "I tried not to make myself nervous because it's my first time here. Everyone was telling me not to put pressure on myself, just to jump every jump as best as I can."
Scarlett Wallis came into the Individual Final in a very promising position and maintained a medal-winning spot, despite one unlucky rail in the final round.
"My plan in the final rounds was to have the fewest faults as possible," Wallis explained. "I got a little quiet going into the one-stride so I had the 'B' element down but I'm still super happy with my horse. I've had him for about two years and I got him from Meredith Herman who's also training me this week."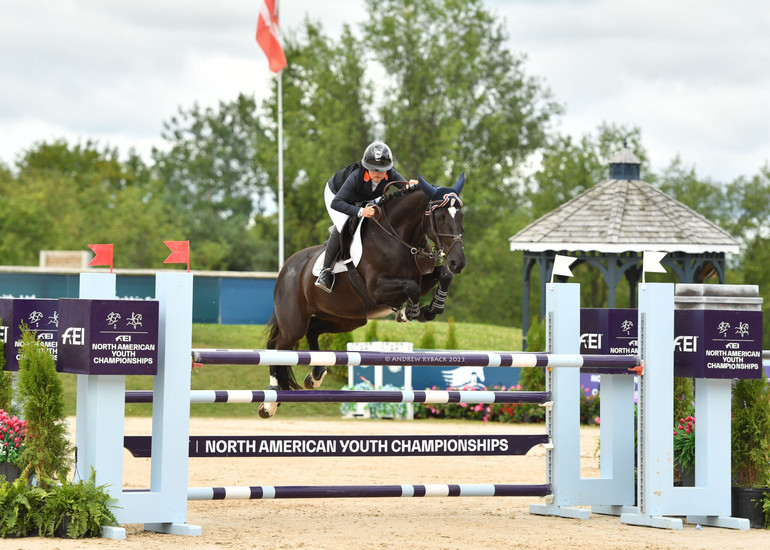 Hailey Guidry and Ezmeralda EH Z won individual gold in the Children's category. Photo © Andrew Ryback Photography.
In the Children's category, Guidry – representing Zone 4 – came into the day tied for the lead with three other riders. As she began round two, she was tied with just Taylor Finkle, who rode last and had two rails down putting her out of contention for a medal. Guidry and Ezmeralda EH Z claimed the gold without a jump-off, while two riders went head to head for silver: Alexa Curry and Haley Honegger.
Curry jumped off first with Ciemusic Z, pulling two rails on her way to a very quick time. Slowing the pace, Honegger and Wilde Hilde took the silver medal, with a clear effort over the jump-off track.
"It feels unreal honestly; I'm speechless," Guidry reflected of her double gold medal finish at her first NAYC. "My horse was absolutely amazing and I couldn't have done it without her. She's perfect. I honestly just came here for experience and I didn't think this was going to end up happening, and it did."
After her fifth clear round, she was prepared to have to jump off for gold, as she did on team day. Finkle's rails erased that possibility, though. "I was a little nervous," Guidry said of having to wait and see if a jump-off would decide the gold medal. "Taylor is amazing and rides so well. She's so fast so I was nervous if I were to have to jump off."
Overall, the experience for Guidry, 13, has been an incredible one. "It's very exciting and you meet so many new friends," she shared. "It's awesome to have a team because you have your friends and sometimes you get to make new friends. It's a lot of fun and a new experience."
Honegger was advised by her trainer and mother, Alexia, to keep her score to a minimum, so she knew exactly what she had to do in the Individual Final, jumping double clear.
"My mom is my trainer and she told me I needed to be clear on a tidy track," said Honegger, just 12. "I did exactly what she said and my mare pulled a clear round and I was so happy with her."
With Honegger's especially fast mare, the jump-off was going to be an exciting one, but when Curry pulled two rails, Honegger stuck with strategy over speed. "She's a very spicy mare and every day she's been getting hotter," she remarked. "Towards the end I had to tell her, 'No, we're not going fast. You have to slow down,' because she thought it was jump-off time."
The silver-medal finish is the icing on top of the cake for Honegger, who didn't know if she'd get the chance to compete with Wilde Hilde again.
"Last year this week, she got a nail in her foot and she almost had to be put down," Honegger said. "I'm so happy to be here with her and to be able to show her at all. This medal really means a lot because I almost lost my mare. To have her here makes me really happy."
Curry put in four stellar clear rounds through the course of the week, and despite the jump-off not going to plan, she was beyond proud to stand on the podium.
"Going into the jump-off I knew I had to be clean, but I also had to be fast because Haley is so fast," Curry explained. "I didn't pull out the round I wanted but it was really good. It was really fun jumping the qualifier clean because I knew I'd qualified for Saturday. Today, I had two clear rounds and I couldn't ask for anything better."
Juniors and Young Riders get their chance at the Individual Final to close out the Gotham North FEI North American Youth Jumping Championships, presented by USHJA, beginning Sunday morning.