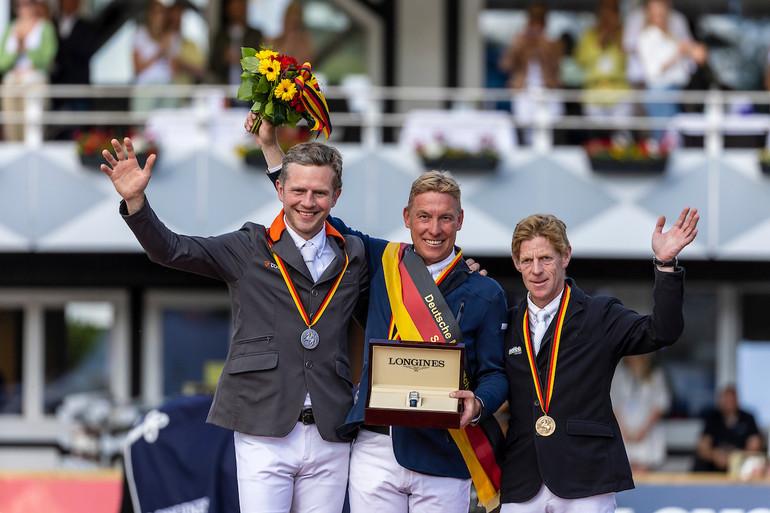 Philip Rüping, Mario Stevens and Marcus Ehning on the podium. Photo © www.sportfotos-lafrentz.de/Stefan Lafrentz.
Together with the 9-year-old Starissa (Stakkato Gold x Quidam's Rubin), Mario Stevens won last weekend's German Championship in Balve. Starissa and Stevens were the only horse-and-rider combination that managed to be clear in all four rounds of the championship.
Philip Rüping and Casallco (Casall x Contender) took the silver medal with only one time penalty, while Marcus Ehning and A la Carte NRW (Abke 4 x Lux) ended with the bronze medal after a total score of four faults.
In the German Championship for lady riders a jump-off was needed, after Katrin Eckermann with Cascadello Boy RM (Cascadello x Balou du Rouet) and Tina Deuerer with Clueso 10 (Canstakko x El Bundy) cleared all the three rounds. In the jump-off, Eckermann delivered yet another clear to end up with the gold medal, while Deuerer got four faults and had to settle for the silver medal. The bronze medal went to Angelique Rüsen with Calvino 16 (Castelan II x Literat), who finished the three rounds with a total of two time faults.