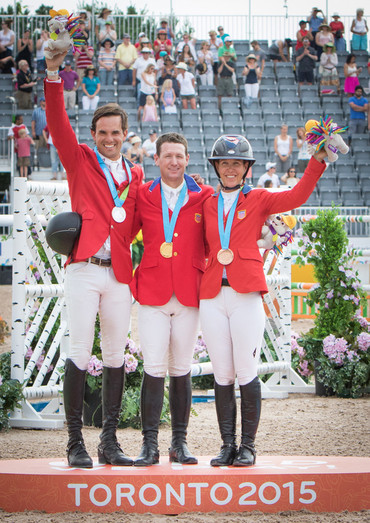 McLain Ward wins the Pan-AM gold medal. Photo by FEI.
In a series of competitions that could hardly have been choreographed to better effect America's McLain Ward and Rotchild (Artos x Elegent de l'ile) clinched individual gold in Jumping at the Pan-American Games 2015 in Caledon Park, Toronto, Canada.

The individual final was a nail-biter that went right to the wire, and Argentina's Jose Larocca was one of just three, from a starting field of 35, who returned a zero score in the first round to leave him on level-pegging with America's McLain Ward and Venezuela's Andres Rodriguez. But a mistake in the second round saw the Argentinian battle it out in the five-way jump-off for bronze that took place between all the four-fault riders before the final contest for silver and gold began.

And Larocca was pushed off the medal podium when America's Lauren Hough added nothing to her first-round error with Ohlala (Orlando x Cardento) to take the bronze. "I had to fight hard for it!" Hough said after producing the only clear of this jump-off. "For my horse this was her first Championships but she's done events like Aachen and she seems to get better as the week progresses. I would say the fault I had in the first round, I was too polite at the double planks, but I had a nice position in the jump-off, the three ahead of me had rails down but the one behind was a quick horse so I took a bit of a risk" she explained.
Rodriguez led the way in the jump-off for gold, and left the door open when racing home with Darlon van Groenhove (Clinton x Heartbreaker) in the fast time of 39.45 seconds, but leaving one element of the double on the floor. "I was a bit too careful at the first part and had the back part of it. I was very fast because I knew McLain was coming behind, so I risked a bit", he explained. Ward kept a cool head to return a clear in 42.89 to take the individual title, admitting that, as so often happens, luck played a part in the end result. "My game plan was to ride the first five fences fast to try to win it two ways - if I had a fence down I would still be fast enough - and I was lucky at the last (fence), I gave that a bit of a rattle. But I've never won a big one without a little bit of good fortune!" said the 39-year-old three-time Olympian.

Talking about his horse, Rothchild, he pointed out, "I knew the courses would get bigger as the week went on and that would suit him, he's a blood horse and a stamina test suits him, but today I knew I couldn't make a mistake - it was a tough day's work!" he said.

Individual result:

GOLD - Rothchild (McLain Ward) USA 0/0/0 42.89;
SILVER - Darlon van Groenhove (Andres Rodriguez) 0/0/4 39.45;
BRONZE - Ohlala (Lauren Hough) USA 4/0/0 42.15.

Source: Press release from Louise Parkes/FEI.