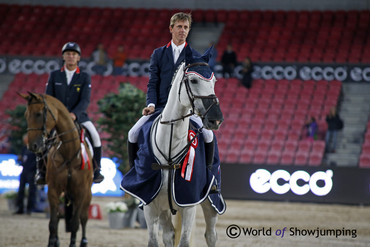 "I certainly took a few risks today," said the winner Ben Maher. Photo (c) Jenny Abrahamsson.
The winner and the leader individually Ben Maher; "I think from experience you have to be quick on the first day at the Europeans, and I didn't take every single risk – but I certainly took a few risks today because I realized that one fence down and a fast time was better than being clear and slow. She's naturally a very fast horse, so I just let her run and jump – and she did most of the work for me."
Runner-up Steve Guerdat; "I did calculate a little bit, but I also rode faster than I first planned to when I walked the course. But then some top riders were very strong in front, so I thought I had to take a little bit more risk and on the last I maybe got a little bit chicken. I had a stride, but then I started thinking a little bit of the days to come – and I took my horse once back on the feet and that cost me a little time. But I was very happy with the way he was jumping, and I don't feel like I took too much out today – and that was the most important."
Third placed Roger-Yves Bost; "Normally my horse is very fast, and I just went for a good round – but finished faster than I thought."
Ben on the course; "The last line from the Liverpool to the triple combination was difficult for the horses. My horse felt like she didn't get time, and she certainly felt like I was running her a little bit – and the choice between eight or nine strides there at the end was a decision I was struggling to make a little bit. In the end everybody was going fast, so I had to try the eight strides and she actually jumped the combination very well."
Steve on the course; "It was a lot of gallop to open the horses, and even though it didn't look difficult it really gets to the legs of the horses. And to the end of the course they start feeling it."
Ben on his and Cella's preparations; "Cella was a new horse for me since Christmas she never really had much experience on the European circuit. She still has a lot to learn. My last show was Dublin, where it was not my intention to jump the Grand Prix as well – but I felt that she needed the round and she was fresh and she was fit and ready to go this weekend so I am happy with the shows I did leading up to the Europeans."
Steve on his and Nino's preparations; "I just did a national show ten days ago with Nino, and he he jumped the 1.40 and 1.45 classes and then the national 1.50 Grand Prix on Sunday – but just the first round, I did not do the jump-off. He is a horse I would love to jump every week, because every time he goes he can be a winner. But he cannot do that, I want to have this horse as long as possible – so I want to save him as much as I can and take him out for the big competitions. He's feeling good."
Bosty on his and Castle Forbes Myrtille Paulois' preparations; "My last show was La Coruna, so she has had three weeks without any shows. Before that she jumped in Estoril – so she has not done too many shows, she is a careful horse."