Spectacular performances from more than 300 promising young athletes from 33 countries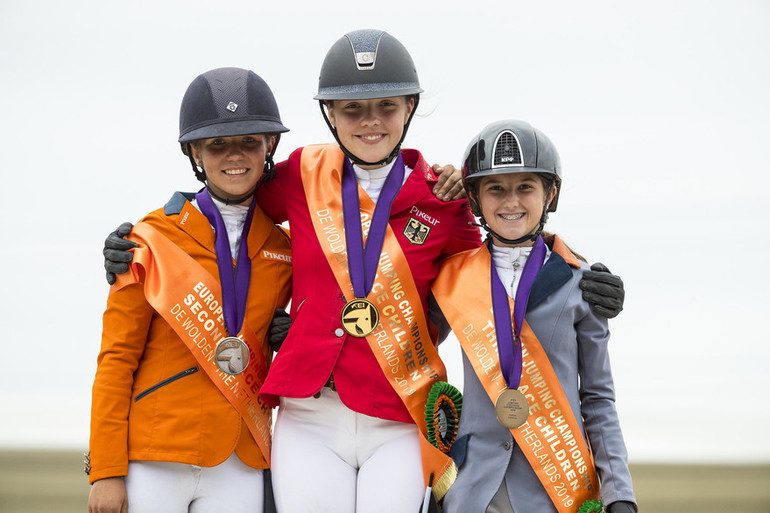 On the podium for the Children's Championship at the FEI Jumping European Championships for Children, Juniors and Young Riders 2019 at Zuidwolde (NED): The Netherlands' Emma Bocken (silver) , Germany's Tiara Bleicher (gold) and Bulgaria's Aya Miteva (bronze). Photo © FEI/Leonjo de Koster.
Press release from the FEI written by Louise Parkes
---
The Netherlands and Germany claimed double-gold, while Spain and Ireland topped the podium in the remaining two Championships as talent, courage, determination and team-work were all tested during a superb week of top sport.
Children
In the battle for the Children's Team title which attracted a massive 23 countries from all across the continent, the Dutch pipped Germany while Great Britain claimed the bronze.
With the The Netherlands and Germany tied on a zero score after the second team competition it came down to a nail-biting jump-off between the two sides on Thursday. And although Thijmen Vos (Theo 149) faulted once, flawless performances from team-mates Emma Bocken (Dagma), Jorinde Dolfijn (Providence) and Finn Boerekamp (Gradini) clinched it for the host nation.
Germany's Tiara Bleicher made her only mistake of the week with Daniels Jack S in this jump-off, but, on her Championship debut, it didn't hold her back from claiming the Individual title which was also decided by a race against the clock two days later. The 14-year-old from Munich steered her 10-year-old gelding through the finish in 36.20 seconds when first to go and couldn't be caught, while The Netherlands' Emma Bocken clinched silver in 37.17 seconds.
Individual bronze went to Bulgaria's Aya Miteva who finished fifth individually at the 2018 Balkan Children's Championship in Zagreb (CRO). She was riding the 21-year-old stallion SIEC Caro Ass who previously served a number of top Turkish riders throughout his stellar career. Louise Ameeuw (Lover Boy Z), daughter of Christophe Ameeuw, the man behind the Longines Masters Series and Ecurie d'Ecaussines which is the European base for many of the world's top riders, just missed out on the podium when finishing fourth.
Juniors
A total of 21 countries fielded teams in the Junior division, with Spain taking the gold ahead of Germany in silver and Ireland in bronze. Maya De La Joya Fernandez-Longoria (Un Lord du Rozel) jumped double-clear in the two-round team competition, and although her compatriots Mario Villapalos Rodriguez (Iroko vd Brouwershoeve), Theo Chulia Leduc (Farao vd Eglantierheuvel) and Diego Ramos Maneiro (Texas De Trebompe) all faulted, Spain's final tally of 14.24 left them more than a single penalty point ahead of Germany on 15.79.
It was their slower times in the opening individual Speed event that hampered German chances, as this side added only two time faults to their tally on Nations Cup day. Matthis Westendarp (Stalido) jumped double-clear and the German side also included Hannes Ahlmann (Nerrado) whose uncle, Christian Ahlmann, has long been a German Jumping legend.
It was sweet revenge for Kate Derwin in yesterday's Junior Individual final however when this time around it all came right for the 17-year-old daughter of one of Ireland's best-known horse dealers, Jim Derwin. She finished an agonising fourth at the 2018 Junior Championships in Fontainebleau (FRA), but that only strengthened her resolve and, holding the narrowest lead going into the deciding round, she kept a cool head to claim the top step of the podium with her fifth clear performance of the week from AHG Whiterock Cruise Down.
"This year my trainer Denis Flannelly and my father put together a plan. They said last year it was left behind, but this year I was going to win a medal and not just any medal but it was going to be gold!" said the 17-year-old who proudly sang the Irish national anthem during the prizegiving with that precious medal around her neck. Spain's De La Joya Fernandez-Longoria claimed the silver and bronze went to Belgium's Thibeau Spits (Bellissimo Z).
Young Riders
Bas Moerings (Fosther), Veronique Morsink (Entrepeneur), Lars Kersten (H-Cassino) and Rowen van de Mheen (Q Verdi) joined forces to claim the Young Riders team title for The Netherlands. The Belgian side of Dieter Vermeiren (Kingston Town), Simon Morssinkhof (Vivolta de Gree), Zoe Conter (Univers du Vinnebus) and Gilles Thomas (Konak) had the advantage with the lowest combined scores after Wednesday's opening Speed class, and looked set to stroll to victory when adding nothing to their scoreline with three clears in the first round of Friday's team competition in which the Dutch added five to their tally.
However when Vermeiren racked up a 12 second time out then Morssinkhof's eight had to be included, bringing the Belgian total to 12.11 which left them just over a penalty point behind the Dutch who this time kept a clean sheet.
Once again the Individual champion came from the bronze-medal winning side, 20-year-old Philipp Schulze Topphoff from Germany pinning Spain's Paloma Barcelo (Ines) into silver medal spot while Dutch team gold medallist, Lars Kersten, took the bronze.
Schulze Topphoff is no stranger to success, winning team gold at the European Pony Championships in Arezzo (ITA) in 2013, and team bronze at the Pony EC in Millstreet (IRL) the following year. Last summer he took team gold again at the Young Riders EC in Fontainebleau (FRA) and, just a few weeks ago, this young man and his talented nine-year-old grey mare, Concordess NRW, were members of the German side at the Official Test of Equestrian Formats for Tokyo 2020 staged in Hagen (GER).
In a new innovation this year, the fifth member of each team that made it onto the podium also received a medal. All five riders competed on the opening day before the four-member teams were named for the remainder of the week.