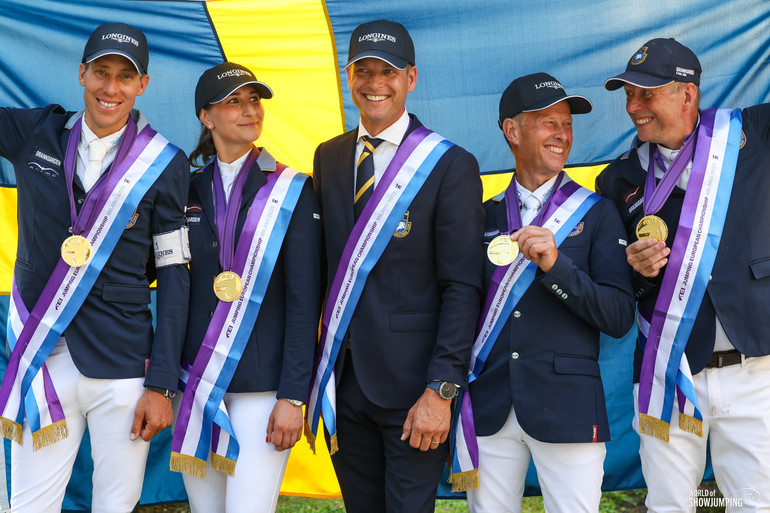 The Swedish gold medallists at the FEI Jumping European Championship 2023: Henrik von Eckermann, Wilma Hellström, Chef d'Equipe Henrik Ankarcrona, Rolf-Göran Bengtsson and Jens Fredricson. All photos © Jenny Abrahamsson for World of Showjumping.
Text © World of Showjumping
---
Olympic Champions in 2021, World Champions in 2022 and European Champions in 2023; Sweden secured their third team title in just as many years at the FEI Jumping European Championship in Milan, Italy, today. Ireland jumped their way up to silver, and Austria surprised to take bronze.
"It feels amazing; I have the best of teams," Sweden's Jens Fredricson said after adding another gold medal to his collection. "We came here, and there was no discussion; we came here to take the gold medal actually – that was the plan and now we are sitting here. You all know how difficult it is; having ups and downs – we are really, really super happy, the whole team."
It was Germany leading the way coming into Friday's team final, sitting first on a score of 9.31, closely followed by Sweden on 9.51, Switzerland on 9.92 and Ireland on 10. However, Uliano Vezzani's masterful 1.60m course sent the competition in an unexpected direction – and some of the absolute favourites for the medals fell out of contention after a series of unpredictable twists and turns. Additionally, four countries – Switzerland, Austria, Italy and Spain – were fighting for three tickets for the Paris Olympics, which contributed to an extra dimension of pressure in today's team final.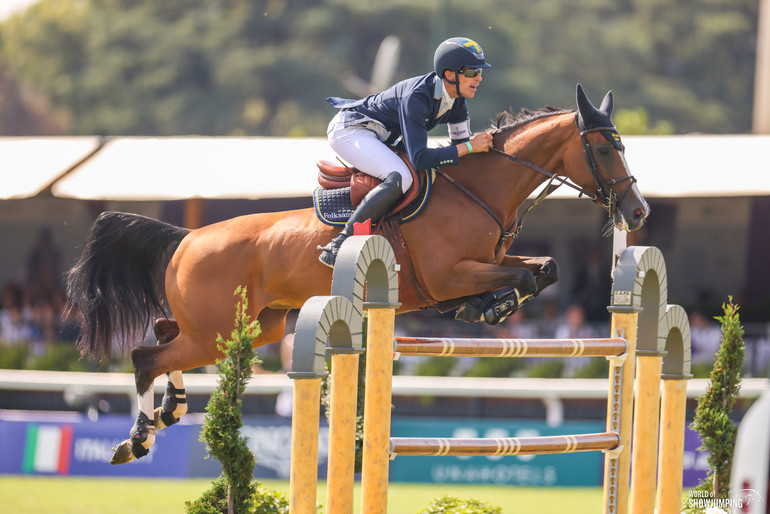 World no. one Henrik von Eckermann and Iliana were pathfinders on the Swedish team, and finished with one rail down today.
With Germany's Marcus Ehning unable to compete Stargold (Stakkato Gold x Lord Weingard) after the stallion did not feel like himself during the warm-up, Chef d'Equipe Otto Becker was left with only three horse-and-rider combinations – and the team found themselves in a vulnerable situation as all their scores would count. Meanwhile, the Swedes came in full force from behind – leaving the Germans with a more or less impossible task as the battle for the medals unfolded.
While the Swedes' pathfinders Henrik von Eckermann and Iliana (Cardento x Gentleman) opened with four faults when lowering a plank on the very last upright, Wilma Hellström and Cicci BJN (Ci Ci Senjor Ask x Tornesch) kept them in reach of the medals when jumping a clear round. So, when Philipp Weishaupt and Zineday (Zinedine x Polydor) lowered a rail on the upright at no. 3 – their first mistake of the championship – it did not look great for the Germans. Another clear from Sweden's Jens Fredricson and Markan Cosmopolit (Cohiba x Calido I) – individual leaders – piled pressure on to Germany's Jana Wargers and Limbridge (Limbus x Cambridge) whose two rails down handed the gold to Sweden even before the anchor riders had entered the ring. With a best possible score of 21.31, the Germans dropped down the result list – trying to battle it out for the bronze. For Sweden's last pair Rolf-Göran Bengtsson and Zuccero (VDL Zirocco Blue x Caretino) it was a pure show-off when they cruised around to another clear, leaving the Swedes on their score of 9.51 as von Eckermann's four faults could be discharged.
A strong opening round from Switzerland's pathfinders Steve Guerdat and his wonderful Dynamix de Belheme (Snaike de Blondel x Cornet Obolensky) had given the defending champions a good start, but, unfortunately, the Swiss could not keep it up. Bryan Balsiger had to see a disappointing two poles fall to the ground, while Edouard Schmitz had three down – leaving the Swiss on a best possible score of 17.92.
Ireland on the other hand had more luck. First, Irish pathfinders Michael Duffy and Cinca 3 (Casall x Carthago) posted their third clear of the championship, and when Trevor Breen on Highland President (Clinton x Kannan) and Shane Sweetnam on James Kann Cruz (Kannan x Cruising) only picked up four faults each their best possible score would be 14 and the worst 18.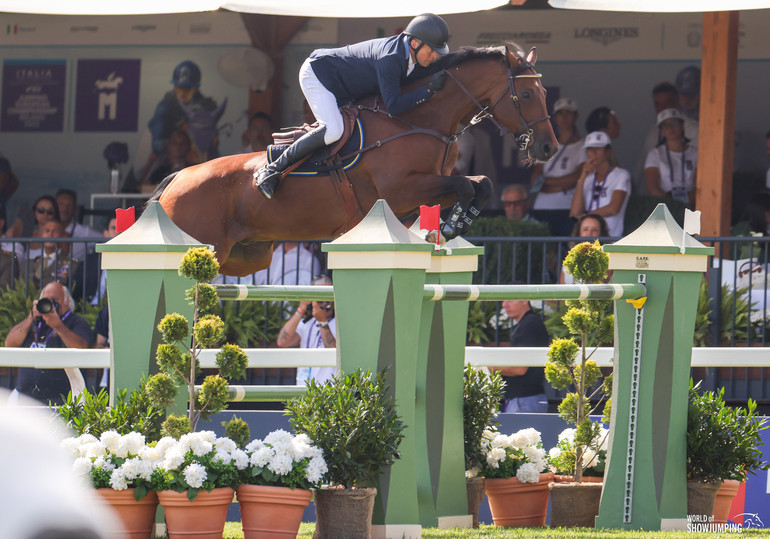 Jens Fredricson and Markan Cosmopolit jumped their third clear of the championship, to help Sweden to gold and still hold on to the lead individually ahead of Sunday.
Austria was also impressing, continuing their strong performances at Ippodromo San Siro. As first to go Gerfried Puck and Equitron Naxcel V (Balou du Rouet x Landetto) only added two penalty points to their score when finishing outside the time allowed, and after three down for Katharina Rhomberg and Cuma 5 (Comme Il Faut x Ars Vivendi) towards the end of the course, a clear from Max Kühner and Elektric Blue P (Eldorado vh Zeshoek x For Pleasure) got the team back on track as their best possible score would be 18.77 depending on what their anchor Alessandra Reich would do. But Reich showed she is one to handle this kind of pressure, only lowering a pole on the upright at no. 6 with her 9-year-old Oeli R (Denzel vt Meulenhof x Andiamo) – bringing the total team score to 22.77. The Austrians had not only secured themselves Olympic qualification, they were also smelling the medals.
One rail down on the upright at no. 10 from Irish anchors Eoin McMahon and Mila (Monte Bellini x Linton) put Ireland on a total score of 18, meaning Martin Fuchs and Leone Jei (Baltic VDL x Corland) could not afford to make any mistakes if the Swiss wanted to keep the silver within reach. One rail, and it would drop them down into a battle for the bronze with Germany. Well aware of what was required, the reigning European vice-champions set off but an early rail at no. 3 and then a pole on no. 10 left the Swiss on a score of 25.92 – dropping them down the result list, all the way past Spain on 25.59 penalty points.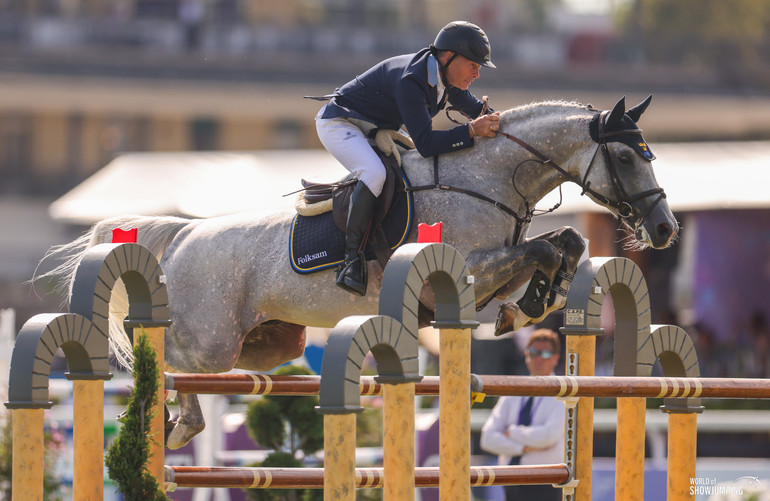 A clear from Rolf-Göran Bengtsson and Zuccero meant Sweden added nothing to their tally, and finished on 9.51 penalty points.
The Austrian riders had a nervous wait as Gerrit Nieberg and Ben 431 (Sylvain x Quincy Jones) entered the ring as the final pair out for Germany – a clear would secure Otto Becker's team a bronze. But a rail down for Nieberg pushed the Germans off the podium, and handed the Austrians a much deserved bronze medal. The German score of 25.31 penalty points put them 4th, followed by Spain in an impressive 5th on 25.59 and Switzerland on 25.92 in 6th – the two latter also qualifying for the Paris Olympics.
Rolf-Göran Bengtsson is doing his 10th European Championship for Sweden, and was happy to be back on top of the podium after claiming the individual title in 2011. "It is very nice to be back again, for a while I have not been there – I was on the side, but it was also an interesting position to have," Bengtsson said adding he has a really good horse again in the 11-year-old stallion Zuccero. "This team spirit that we have is something really important and very special. We know each other very well and it helps."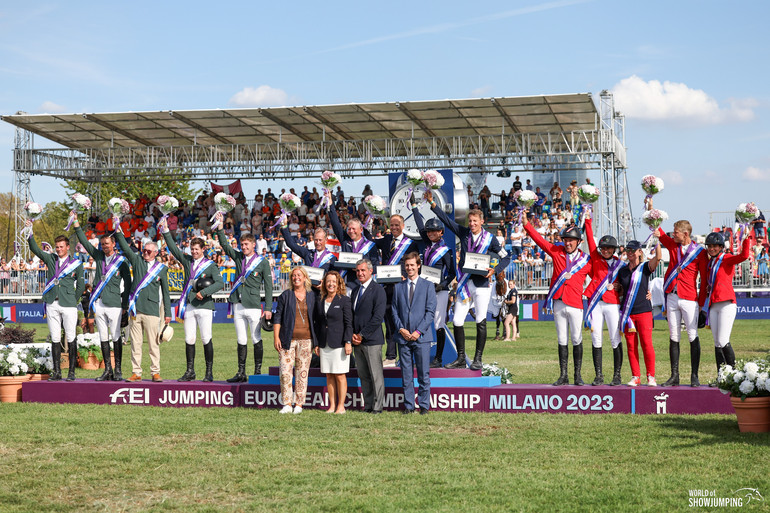 Sweden won gold, Ireland silver and Austria bronze at the FEI Jumping European Championship 2023 in Milan, Italy.
World no. one Henrik von Eckermann was the only member on today's team that was also jumping both in Tokyo and in Herning, and now has a third team gold medal to put on display in his ever-expanding trophy cabinet. "We had a goal of winning, I really wanted the last team medal in my pocket, so I am happy these guys helped me with that," he said. "It was really good sport and a fantastic team."
Wilma Hellström made her senior championship debut in Milan, and jumping clear in two of the three rounds she contributed massively to the gold medal with her one-eyed queen Cicci BJN. "I have no words for being part of such a good team, it is just an amazing experience and there is a reason why Sweden has been so successful – and to be part of it, I am speechless."
Individually, it is also Sweden who is in command. Jens Fredricson leads the way on a score of zero, followed by Switzerland's Steve Guerdat on 0.43, Ireland's Michael Duffy on 2.18, France's Olivier Perreau on 2.79 and Great Britain's Ben Maher on 3.13.
The European Championship takes a break tomorrow with a second horse inspection ahead of Sunday's individual final. Starting in reverse order, the first of Sunday's two rounds is compulsory for the 25 best-placed pairs, including those with equality of penalties for 25th place, while the second round is open to the best twelve.
1.9.2023 No reproduction of any of the content in this article will be accepted without a written permission, all rights reserved © World of Showjumping.com. If copyright violations occur, a penalty fee will apply.