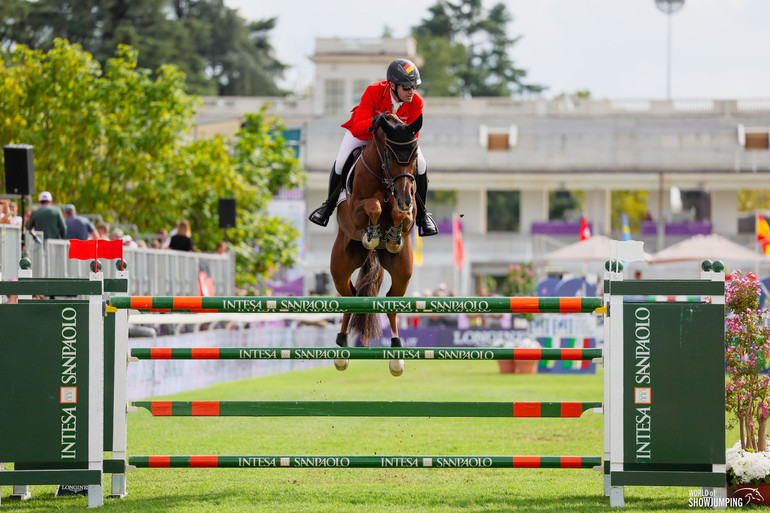 With their second clear round of the week, Philipp Weishaupt and the incredible 9-year-old Zineday helped Germany advance to the lead at the FEI Jumping European Championship 2023. All photos © Jenny Abrahamsson for World of Showjumping.
Text © World of Showjumping
---
The tables turned on day two of the FEI Jumping European Championship 2023, after a competition that went down to the wire at the Ippodromo Snai San Siro in Milan, Italy. Coming strong from behind after sitting 3rd overnight, Germany snatched the lead from Sweden – that now sits 2nd ahead of Friday's medal deciding round, followed by Switzerland that dropped from 2nd to 3rd. But while the potential podium positions made a slight change today, it is extremely tight on top. Leading the way on a score of 9.31, Germany is closely followed by Sweden on 9.51, Switzerland on 9.92 and Ireland on 10 – so it's all to play for on Friday.
"I'm really happy with today. The team stayed together and did a great job to move up to the top from 3rd yesterday," German Chef d'Equipe Otto Becker said. "But, there is another big round tomorrow and there will be a lot of changes I think. We have to look to ourselves, try to stay cool and ride as many clear rounds as possible. We of course want to stay where we are, but we know how difficult it is."
"For sure, our goal is a team medal," Becker continued. "I came here with a good feeling; we have a good team. But I know how difficult it is, how close all the nations are and with one fault you can go from 1st to 5th and that can happen to us tomorrow – it happens quickly, like today with the Swedes, and we have to focus on doing our best."
Sorting out the best from the rest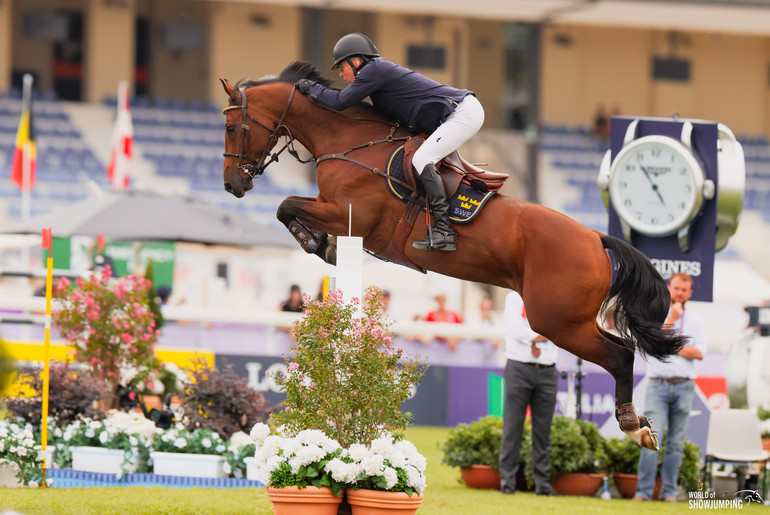 Jumping clear again in Milan, Sweden's Jens Fredricson and Markan Cosmopolit hold on to their individual lead and sit 2nd with the team.
Thursday's round sorted out which ten teams of the fifteen at start would move on to Friday's medal decider, where also three tickets for the Paris Olympics are up for grabs for countries not already qualified. With this in mind, Uliano Vezzani had built his course and it was a tough test that waited for the 84 horses and riders at start – and it served its purpose of separating the best from the rest.
Set at 1.60m, the track was big but fair and counted fourteen fences – including a wall at fence no. 3, a hedge-filled oxer at no. 5 followed by seven or eight strides to a triple combination at 6abc with a vertical-vertical-oxer, as well as a tight set of planks on no. 7, a double at 10ab, then the open water on six strides to a skinny oxer at no. 12 and finally two liverpools on the last line with a vertical on four strides to an oxer towards the in-gate. The course received praise from the riders, one of them Philipp Weishaupt who said: "Uliano builds at five-star shows every single weekend; he knows exactly what he is doing. He is one of the top three in the world in my opinion, and he is doing a fantastic job here."
Sweden held the lead after Wednesday's opening speed leg on a score of 1.51 penalties, followed by Switzerland – on the hunt for Olympic qualification – with 1.92 penalty points. Germany was sitting 3rd on 5.31, Ireland 4th on a penalty score of 6 and Austria 5th on 8.77. These teams jumped in the last group of the ten best nations, and all of them managed to stay within the top five after round two.
Coming into Thursday's competition in the group ranked 11-15th, the Dutch and the Spanish riders advanced into Friday's last round for the teams while Denmark and Belgium made an exit from the top ten. Of the ten teams qualified for Friday's final round, Switzerland, Austria, Italy and Spain will be looking for Olympic qualification – however, only three of them will succeed, which will add an extra dimension of pressure at San Siro.
Tight on top
A clear from Jana Wargers and Limbridge helped Germany move up to 1st ahead of the team final.
For Thursday's round, Switzerland and Sweden sent two greats in the ring as their pathfinders in their quest to stay within reach of the medals and both lived up to expectations when jumping clear rounds. First Steve Guerdat on Dynamix de Belheme (Snaike de Blondel x Cornet Obolensky) for the Swiss, and then Henrik von Eckermann on Iliana (Cardento x Gentleman) for the Swedes – sending their teams off to the best possible start.
The two teams continued to chase each other; second out for the Swiss, Bryan Balsiger on Dubai du Bois Pinchet (Kashmir van Schuttershof x Andiamo) had to see one pole fall, while Wilma Hellström had two down aboard Cicci BJN (Ci Ci Senjor Ask x Tornesch) – keeping the battle alive. However, coming from behind, Germany was starting to close in on the Swiss and the Swedes. As German pathfinders, Marcus Ehning and Stargold (Stakkato Gold x Lord Weingard) were extremely unlucky to take out a brick on the wall to finish on four faults but Philipp Weishaupt on the incredible Zineday (Zinedine x Polydor) and Jana Wargers on Limbridge (Limbus x Cambridge) made up for that when posting clear rounds to keep their team in the medal zone – and piling pressure onto the two teams ahead. The pressure increased when Switzerland's Edouard Schmitz and Gamin van't Naastveldhof (Chacco Chacco x Toulon) had two down as the third pair out, and got even more intense with a clear from Sweden's individual leader Jens Fredricson on Markan Cosmopolit (Cohiba x Calido I) who was gaining momentum.
As German anchors, Gerrit Nieberg and Ben 431 (Sylvain x Quincy Jones ) finished with three down – the drop-score – and the team's final tally amounted to 9.31 which meant Swiss anchor Martin Fuchs would have to deliver a clear to keep distance to the Germans. But like for so many others, a rail on the last oxer fell for Fuchs and Leone Jei (Baltic VDL x Corland ) – in the unluckiest way possible with a touch behind on the second pole – causing an agonising four faults for Switzerland, which put them on a score of 9.92 just behind the Germans.
Last to go, Rolf-Göran Bengtsson and Zuccero (VDL Zirocco Blue x Caretino) now had the chance to give the Swedes a serious gap to the Germans but the plank at fence no. 7 and the upright at 10b fell on their way around the course – forcing them to add eight faults, which dropped the team down to 2nd on a score of 9.51.
All to play for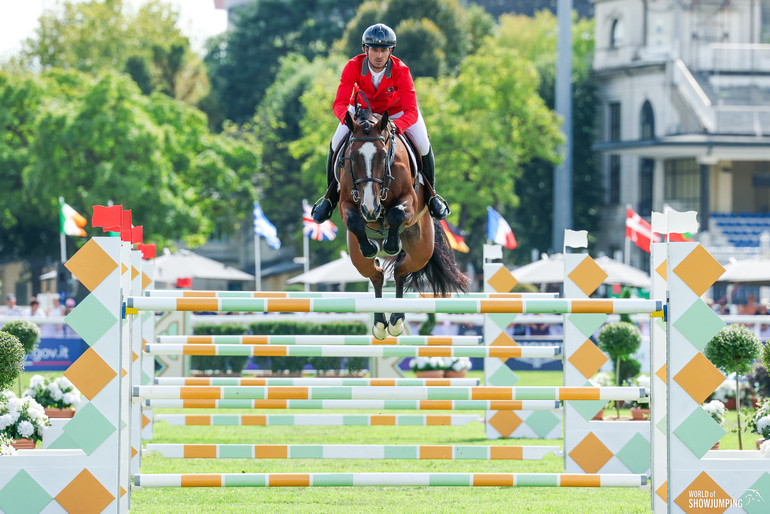 Steve Guerdat and Dynamix de Belheme kept the Swiss within a reach of a medal, posting the only clear for their team on Thursday.
Despite topping the team standings with Germany and sitting 2nd individually, Philipp Weishaupt was only cautiously optimistic. "We are fighting more or less with three riders here, because Gerrit and Ben are not really in shape this weekend," Weishaupt said. "For sure, it will not be easy for us to bring it home. We have four teams inside of one penalty, so a lot can still happen and change."
Sitting in silver position overnight, the Swedes yet again smell a medal. "We have a great team here, and Henrik Ankarcrona is a great Chef d'Equipe. It is fantastic to have Henrik and Rolf, they have so much experience and you can always ask them – they don't put pressure on you, they just help you out, and whatever it is you can ask. That helps a lot!" Jens Fredricson said after posting his second clear of the championship to help Sweden stay within reach of a medal and holding on to his individual lead.
Individually, Fredricson, Weishaupt, Guerdat and Epaillard remain within the top five – Guerdat advancing to 3rd, Epaillard to 4th, followed by von Eckermann who now sits 5th with the smallest of margins separating them as scores are in the range from 0 to 0.70.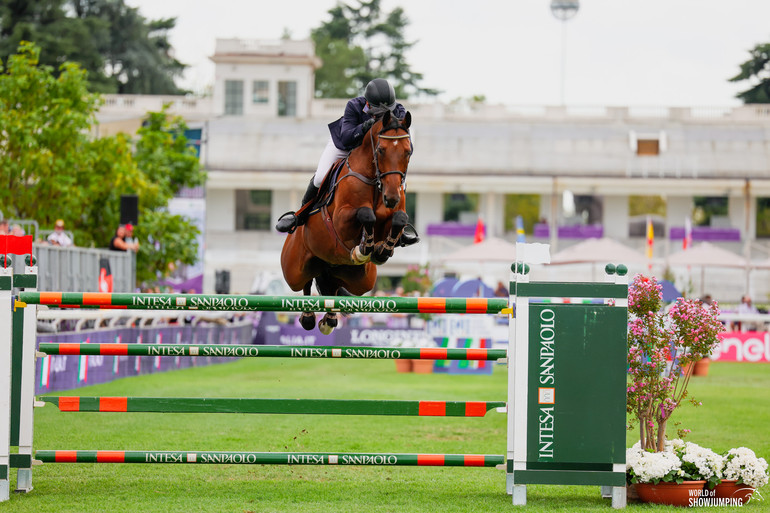 "Having a horse like that when you are 55, then you are blessed," Fredricson said of Markan Cosmopolit.
"It's been a fantastic show, my horse is in great form and enjoys the grass and the ring. It all came up exactly the way I expected today," Fredricson said as he detailed his round and explained how he wanted to ride his course with the time allowed in mind in order to be able to relax a bit on the last line which caught out so many. "It's at the end of the course, by the entrance and on a short four and you have been jumping the water before," Fredricson explained about the line that caused heartbreak for several of the riders. "But it's beautiful built, I love his courses!"
"Having a horse like that when you are 55, then you are blessed," Fredricson said of Markan Cosmopolit. "He's like a cat; he can lengthen and shorten and he is very self-confident – he is just a great horse!"
Reflecting on going into tomorrow's third round at San Siro as the individual leader for a second consecutive day, Fredricson said: "I don't feel so much; I take care of my horse now, do as little as possible and I go in tomorrow and enjoy everything."
Riding an only 9-year-old horse has proved no problem for Weishaupt, whose Zineday is looking better for each fence he jumps. "Zineday was good today, he is staying focused and I am just trying to take it round by round, ride good and the rest he will do," Weishaupt said. "Everything went according to plan today; Zineday feels good, I myself feel good. I am a bit in a tunnel – like I said, I just do round by round."
Moving up from 4th to 3rd, Guerdat was smiling when talking about his lovely mare Dynamix de Belheme that is jumping her first championship in Milan. "I think I had a good round today; I gave her a better ride than yesterday, and she jumped amazing," he said. "It's still a very long way to go though, and we just try to stay focused."
31.8.2023 No reproduction of any of the content in this article will be accepted without a written permission, all rights reserved © World of Showjumping.com. If copyright violations occur, a penalty fee will apply.