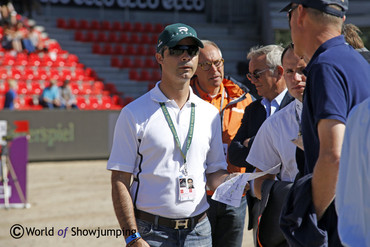 Rodrigo Pessoa. Photo (c) Jenny Abrahamsson.
This week WoSJ has been very lucky to have Rodrigo Pessoa as guest commentator at the European Championships in Herning. Below Rodrigo speaks about yesterday's individual final, the time allowed in the first round, the tracks and the medal winners.
"In the first round I think the time allowed was 80 to begin with, and then Luca Moneta went in and he went really quick – which he always is. His time was in 73 seconds, and they put the time to 75 – which was not enough time for a championship like this. I think 77 would have been enough, but anyway the course was good – it was tough. The last line was very, very difficult. You had a big oxer to come out of the corner then the double of verticals – it was a narrow double, and extremely short at 10.66 which is very, very short at this height were the fences are 1.50-1.60. At the end of the course the horses had to be really reactive, so it was a very difficult question right to the end. It was the same for everybody, but the time really made it extreme. But a couple of riders still managed to do it, so it was not impossible – but it was a very tough question.
The second round was a usual second round course, a bit more open and tested the stamina a little. The triple combination that ended the course was difficult, you had eight or nine strides to get to it – and the oxer in the middle caused some faults as did the vertical coming into it.
So, in general I think the course designer here did a super job. It was very progressive from the beginning; every day was a little bit harder. We expect big jumps and technically like this in a championship, so it was very good.
Scott Brash was very impressive in the final two rounds; he is really a rider who can handle the pressure. He had the only double clear of day; he really nailed it and put the pressure on the next competitors. It was a super result for him.
Ben Maher was great throughout the championship – he rode solid, solid rounds and the mare jumped unbelievable. In the first round she backed off the oxer at ten – it was a big oxer at 1.90 wide – and had the back rail. But Ben came back with a super solid second round.
And then Bosty! It was unbelievable! I have followed him for 25 years now, and nobody deserves it as much as he does. Bosty is always a fighter, he is always there – he has won a lot over the years, but individually he never really had the chance to get it. There are not many riders that have won so many classes and Grand Prix classes as he has, so he really deserves a title like this. It was fantastic to see him winning!"
No reproduction without permission/copyright worldofshowjumping.com