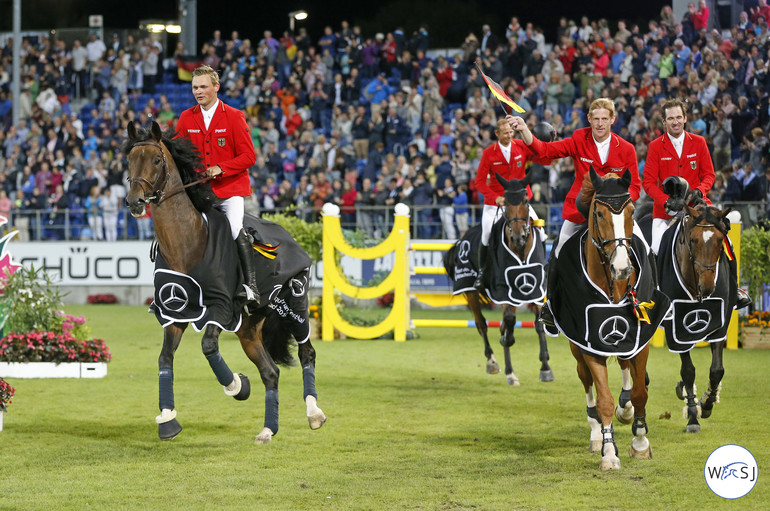 The German team celebrating their home win in the Mercedes-Benz Nations Cup at CHIO Aachen. All photos (c) Jenny Abrahamsson.
"What we saw tonight, this is what our sport is all about," said Team USA's Chef d´Equipe Robert Ridland after the 310,000 Euro Mercedes-Benz Nations Cup at CHIO Aachen had concluded. The home team of Germany gave the sold-out stadium at Soers value for the ticket money, producing three double clear rounds and winning on a score of zero.
The rookie on the team, 23-year old Maurice Tebbel on the 10-year-old stallion Chacco's Son (Chacco Blue x Lancer) did his first Nations Cup appearance in Aachen and winning in front of 40,000 people left him nearly speechless. "I cannot describe the feeling," he told the press after the class. "I am really happy. Two weeks ago I heard that I will be on the team in Aachen, and a few days ago that I am riding – then I was really happy and also a little bit nervous. My horse did a great job today, and jumped two perfect rounds."
Winning for the second year in a row, German Chef d'Equipe Otto Becker was happy with his team. "We are totally happy! It is a great feeling to win at home, in this stadium and with this crowd," he said. "The whole team did a great job, it is unbelievable."
Marcus Ehning on the 14-year-old gelding Pret A Tout (Hiram Chambertin x Stew Boy) and Philipp Weishaupt on the 10-year-old stallion LB Convall (Colman x Cascavelle) both rode a double clear to make the home crowds explode, while Marco Kutscher on the 11-year-old gelding Clenur (Carinue x Fernando) made sure that the evening would not end uneventful: In the first round his horse surprised everyone when stopping on the open water – leaving Kutscher with the discharge score. "I felt it three strides before he stopped," Marco explained after the class. "This year he has jumped the open water seven times, five times on grass, so I was surprised. Maybe I was too sharp in the turn – I did not expect that at all," he analysed. "Thank you to all my colleagues, they did a fantastic job today. I was the one who made it a little bit exciting, I did not plan to do that," he laughed. "It is a shame that Ludger is not there anymore, now I am the oldest rider," a happy Marcus Ehning added. "This is one of the main classes of the year, I really love the Nations Cup here", he said.
Frank Rothenberger's 1.60m course with 12 obstacles and 15 efforts, and a time allowed of 84 seconds challenged the world's best riders over the two identical rounds. The Dutch tulip-themed triple combination at 4abc caused problems on several occasions, as did the planks at no. 10 as well as the penultimate double with two oxers.
After the first round, the hosts were in the lead on a zero penalty score tied with Switzerland and Belgium while Italy trailed behind on five penalties and then Netherlands and USA on eight. France was sitting second-last on twelve faults, and Great Britain at the bottom as faults cumulated after Guy Williams unfortunately had to retire his 17-year-old partner Titus (Lancelot x Rex Magna) ahead of the final jump as the gelding was lame and had to be transported out by the horse ambulance.
As pathfinder for Switzerland, Werner Muff on the 9-year-old gelding Daimler (Canturano x Lupicor) opened the Nations Cup with a clear round and the pair went on to produce one of the night's seven double clear performances. Muff's teammate Steve Guerdat on the 10-year-old mare Hannah (Dulf van den Bisschop x Kashmir van Schuttershof) also rode a double clear, eventually securing Team Switzerland a tied second place together with Team USA that rode themselves up in the second round – with both teams ending on a total score of eight penalties. Also Swiss team members Martin Fuchs on Clooney 51 (Cornet Obolensky x Ferragamo) and Nadja Peter Steiner on Saura de Fondcombe (Balou du Rouet x Paladine Des Ifs) jumped clears in the first round, to contribute to the runner-up position.
"I really like the Nations Cups – I enjoy these shows more than the others, so I try to save my best horses for these classes," Steve Guerdat commented. The Swiss Chef d'Equipe Andy Kistler was also happy: "We had a fantastic first round and it would be nice to win in Aachen," he said. "But I am proud of the team and specially proud of Nadja (Peter-Steiner), who rode for the first time in Aachen."
Team USA's Laura Kraut on the 10-year-old mare Zeremonie (Cero x Quick Star) and McLain Ward on the 11-year-old HH Azur (Thunder v. Zuuthoeve x Sir Lui) both produced double clears, and their Chef d´Equipe Robert Ridland praised their team spirit after the class: "It was a big course out there in the second round. I could not be prouder of everyone, they hung in there and did what they had to do – this is what team sports are all about", Ridland said after pathfinder Kent Farrington improved his score from eight in the first round to zero in the second aboard Gazelle (Kashmir van't Schuttershof x Indoctro) and Beezie Madden's only 9-year-old Coach (Con Air x Corofino) jumped with eight faults in both rounds. "We just need to reflect on why we are here; this is what the sport is all about. What we saw out there, was the absolute top and we feel privileged to be here. It does not get any better!"
CHIO Aachen Event Director Frank Kemperman reflected on the dramatic night: "Congratulations to the riders and the teams, owners and grooms. We saw fantastic sport and it was a night full of emotions. We had a full house and after yesterday we are very happy and look forward to the next days!"
---
Text © World of Showjumping by Nanna Nieminen // Pictures © Jenny Abrahamsson