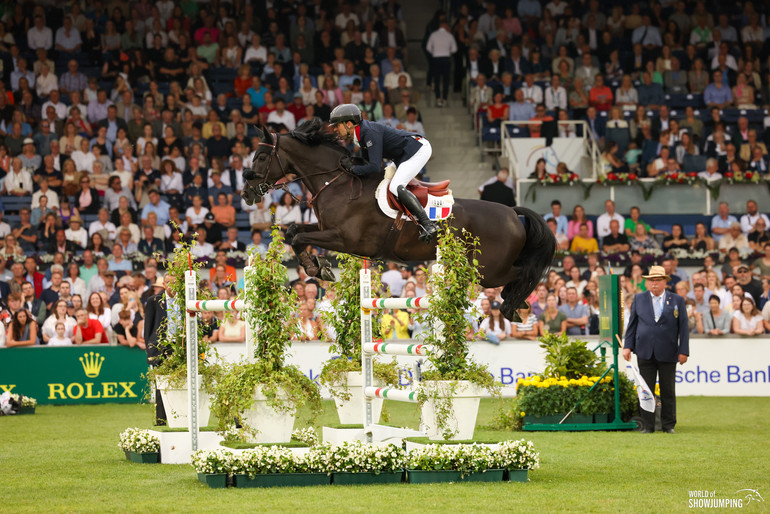 Dexter Fontenis Z was awarded the Halla Challenge Trophy at CHIO Aachen. Photo © Jenny Abrahamsson for World of Showjumping.
Text © World of Showjumping
---
The 10-year-old gelding Dexter Fontenis Z (Diarado x Voltaire, breeder S.C.R.I S.KY Horses) was awarded the prestigious Halla Challenge Trophy as the 2023-edition of CHIO Aachen came to a close on Sunday.
The Halla Challenge Trophy is awarded to the owner of the most successful horse in the classical jumping competitions at CHIO Aachen, this time to Eric Hochstadter – who owns Dexter Fontenis Z. The award was founded in 1996 by the late Mr. Hans Günter Winkler. The Halla-Bronze is an everlasting challenge trophy, where each winner will receive a miniature of the trophy in bronze.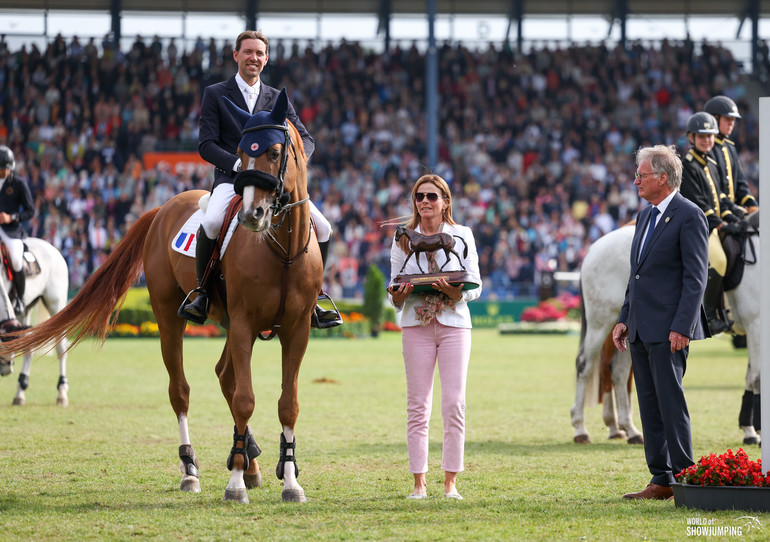 I Amelusina R 51 stepped in for Dexter Fontenis Z as Simon Delestre was presented with the Halla Challenge Trophy. Photo © Jenny Abrahamsson for World of Showjumping.
With France's Simon Delestre in the saddle, Dexter Fontenis Z finished 8th in Wednesday's Turkish Airlines Prize of Europe, jumped clear in the first round of Thursday's Mercedes-Benz Nations Cup, and clear in the second round of Sunday's Rolex Grand Prix after four faults the first time out to end 7th – collecting a total of 29 points.
Only one point separated Dexter Fontenis Z from Nicola Philippaerts' mount Katanga vh Dingeshof (Cardento x Tornedo FCS, breeder Liliane Vermeulen) – owned by Team Philippaerts, the Lens-family and AMB Holding NV. The 13-year-old mare was double clear in the Nations Cup, and had only one time penalty in the second round of the Rolex Grand Prix. Marcus Ehning's partner Stargold (Stakkato Gold x Lord Weingard – breeder Gestüt Sprehe GmbH), owned by Marcus Ehning and Elmrock BV, ended third with 26 points after winning the Rolex Grand Prix and jumping clear in round two of the Nations Cup.