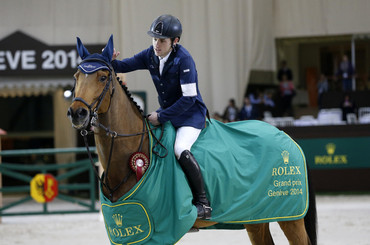 Scott Brash with Hello Sanctos. Photo (c) Jenny Abrahamsson.
The winner Scott Brash on Hello Sanctos: "Sanctos is just amazing, he really is – he is a horse of a life time. I have to enjoy while I have him, because I think I have to look long and hard to find another horse that can achieve as much as he has achieved. After Friday I think it would have been easy to write him off from the Grand Prix after going so fast, but he is a special horse and can come out the next day and win again. He is just an incredible horse, and I am very lucky to be riding him!"
Scott joking on the question about whether or not he is from another planet: "I am definitely human! I must say it definitely helps when you ride such a good horse as Sanctos, it makes my life a lot easier. But no, I am not an alien – I might sound like an alien, not everybody understands me. I make mistakes – I made one last week, luckily this week we did everything right and Sanctos jumped great."
Scott on the question of how he will be aiming for the Rolex Grand Slam? "I think for sure you have to make it your aim once you won one leg. What Rolex has done with putting a sponsorship up for these shows is incredible, and it has kept our sport at a high, high level and raised our sport even more. So with that bonus in mind, I think everybody who wins one leg will be targeting the next leg. But there are many shows, and like Bosty and Rolf I don't think I will be doing the World Cup finals because you have to prioritize things. And now suddenly my priority will be the Rolex Grand Slam, as well as the Global Tour and the Europeans. I am lucky, I have a good string of horses so if my other top horse Ursula comes back into top form I think she will be a good horse for Aachen - it is the only ring Sanctos does not feel as comfortable in. Hopefully Ursula comes back, and I can take her."
Runner-up Roger Yves Bost on his jump-off: "I think I lost it at the beginning of the course, between fence one and two – my horse jumped too high the first jumps."
Third placed Rolf-Göran Bengtsson on the track: "I think everybody sitting here thinks that the track was good. It was not crazy big, but questions were asked everywhere – short and long distances you had to decide. And I think all of us were very close to the time allowed, and this is what makes four faults sometimes."
Rolf-Göran Bengtsson on Casall Ask: "He has had his best season ever, he is 15 now – unfortunately. I am really happy to have him of course. Our next stop will be Basel where he was doing well last year."