Rider watch: CHI Geneva 2022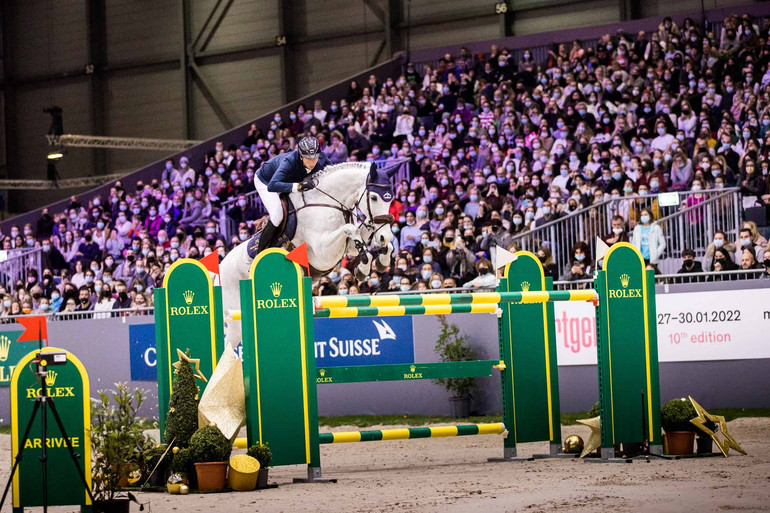 The Rolex Grand Slam of Show Jumping returns to CHI Geneva from 7 – 11 December 2022. Photo © Rolex / Ashley Neuhof.
Press release from The Rolex Grand Slam of Show Jumping
---
The Rolex Grand Slam of Show Jumping returns to CHI Geneva from 7 – 11 December 2022 with an action-packed schedule, including the 21st running of the Rolex IJRC Top 10 Final on Friday evening and pinnacle class, the Rolex Grand Prix on Sunday afternoon.
Held in the impressive Palexpo in Geneva, the world's elite horse and rider combinations will tackle some of the toughest tracks of the year, at is what is often considered the sport's leading indoor show jumping venue. Taking part in this year's show is a spectacular line-up of athletes including 17 of the top 20 riders, as well as six Rolex Testimonees and 17 riders representing the home nation.
Rolex Grand Slam of Show Jumping – Rider watch 
After his sensational win at in the CP 'International', Presented by Rolex at The CSIO Spruce Meadows 'Masters' Tournament, Germany's Daniel Deusser will be looking to continue his impressive form in the Rolex Grand Slam of Show Jumping Majors, having won two of out the last three Grand Prix. Deusser will be aiming to continue his quest to become only the second person to have ever won The Rolex Grand Slam of Showjumping, following fellow Rolex Testimonee Scott Brash's triumph in 2015. Deusser will also be joined by fellow countryman Gerrit Nieberg, winner of the Rolex Grand Prix held at CHIO Aachen earlier this year.
Home favourite and defending champion, Martin Fuchs, will be the one that everyone has their eyes upon. Having won the last two editions of the Rolex Grand Prix at CHI Geneva, the World No.2 understands the precision, bravery and athleticism required by horse and rider to be successful in this prestigious competition. Joining Fuchs is compatriot and three-time winner of the Rolex Grand Prix at this iconic venue, Steve Guerdat, as well as FEI World Championship teammates Edouard Schmitz and Pius Schwizer.
Live Contender interview: Daniel Deusser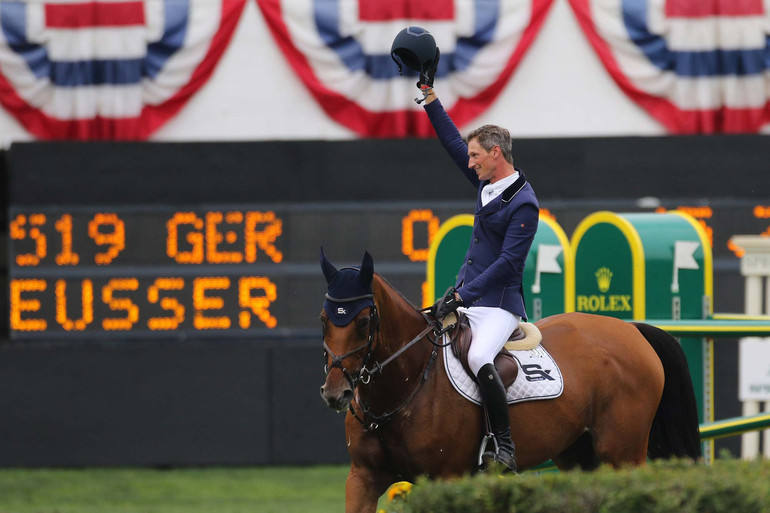 Daniel Deusser. Photo © Spruce Meadows Media / Dave Chidley.
Congratulations! You are the Rolex Grand Slam Live Contender once again, how are you feeling ahead of CHI Geneva? Which horse do you plan to compete with in the Rolex Grand Prix?
I am feeling confident ahead of CHI Geneva. My horses have been in good shape over the last couple of weeks. I am really looking forward to Geneva as it is a fantastic show, and I have some fantastic memories from past experiences there. I realise that it will be difficult to win this Grand Prix again, but I definitely have a chance this year. So in the lead up, I am taking it easy.
What have you been up to since winning the CP 'International', presented by Rolex at CSIO Spruce Meadows in September, and how have you been preparing yourself and your horses for CHI Geneva?
With your best horses you are always trying to make the best plan. When thinking of CHI Geneva, I have two horses that come into consideration – Killer Queen [VDM] and Tobago [Scuderia 1918 Tobago Z]. Killer Queen had a couple of weeks off after the Spruce Meadows 'Masters', where she jumped fantastically. I think that she is back in shape and now she feels good. Over the next two weeks, I do not have a show so I will hopefully bring both horses very fresh to Geneva.
I do not really have a plan yet, I still need to make decisions regarding who I am going to jump in the Rolex Grand Prix, and which horse I will use for the Grand Prix qualifier. A lot of this depends on my feelings during the last training week before we leave for Geneva. It will allow me to observe and assess how the horses are feeling. Maybe one will remain a little too fresh that they need to start with a small class and maybe one will be ready to go straight into a big class. Until now, I have had a very good feeling with both of the horses, they both feel very happy and sound, so I am really looking forward to Geneva.
This year marks the 21st Rolex IJRC Top 10 Final – what is the role of the IJRC role and in your opinion how important is the club for show jumping?
The Rolex IJRC Top 10 Final is organised by the IJRC. We founded the class after I came back from the Tennis Masters in Portugal and I thought that was something that needed to be added in our sport. It is something that is so exclusive, has great prize money and now the riders really fight to get into the Top 10. The riders always bring their best horses to try and win this prestigious class. I am really proud to be part of it and the IJRC make sure that the class is so well run.
I think that the club is so important. We are trying to improve the sport and make sure that we introduce new innovative ideas to the sport to ensure that it evolves in the right way. The IJRC does a tremendous amount of work to ensure that the committee represents all the riders and additional stakeholders such as owners and breeders – it is an important piece of the puzzle of our sport.
You have recently been elected as the FEI athlete representative for the jumping riders – what will your role be, and what will you be aiming to achieve over the next four years?
I am the voice of the riders, my voice is what comes out of the IJRC board – I try to defend our interest as much as possible as well as guiding and suggesting changes that I think are positive for the sport. So, my job is to promote the views of all riders across the world, and to speak with riders that have problems, especially ones that are not really known or under the radar. I bring them up with the FEI and help them solve their problems so that the sport can continue to grow.
About the Rolex Grand Slam of Show Jumping
The Rolex Grand Slam is considered by the sport to be the ultimate equestrian challenge, primarily due to the sporting prowess required to achieve this feat. It is a quest taken on by the world's top riders, vying to secure the legendary status associated with winning the Rolex Grand Slam of Show Jumping.
The format of the Rolex Grand Slam of Show Jumping is simple: anyone who wins three Majors in a row receives the Rolex Grand Slam trophy and a €1 million bonus on top of the class's prize-money. If that same rider then continues their success by winning a fourth Major in succession, they will be rewarded with an additional €1million bonus. If two shows are won in succession, the bonus is €500,000 or if an athlete wins only 2 majors in a period of four successive shows, the bonus is €250,000.