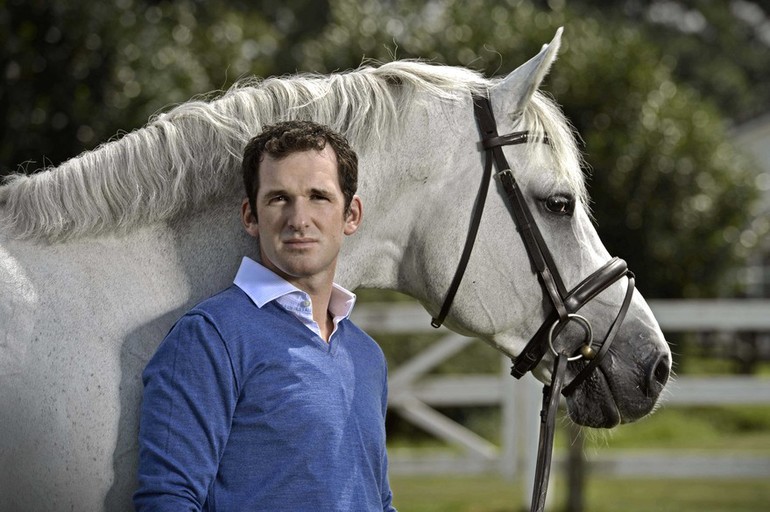 Philipp Weishaupt and his horse LB Convall, winners of the Major in Aachen 2016. Photo (c) Rolex Grand Slam of Show Jumping/Holger Schupp.
The Spruce Meadows 'Masters', the second leg of the Rolex Grand Slam of Show Jumping in the year, is being staged in Calgary, Canada, from September 7th-11th. How the winner of the CHIO Aachen, Philipp Weishaupt, rates his chances of a second Major victory in succession and what challenges await the best riders in the world in the legendary International Ring at Spruce Meadows, are revealed in an interview with the 31-year-old German showjumper.
There are emotional images from your Major victory in Aachen. When the pole of the last competitor fell in the stadium, you sank to your knees on the warm-up area...
Weishaupt: "I was completely drained of energy at that moment, there was nothing else I could do. I just couldn't believe it. It was simply an overwhelming feeling; in fact, it still is. It is without doubt a moment that I will never forget in my whole life. There are millions of riders, but only very few are granted such a victory. So, at the age of 31, I have already achieved something, that nobody will ever be able to take away from me."
That's true! Aged just nine, your horse LB Convall is still a youngster too. The CHIO Aachen was the first Major in his life.
Weishaupt: "Convall is simply an exceptional horse! In spite of his young years, he is extremely cool and has enormous scope. Prior to the CHIO Aachen, I spent four weeks in Spruce Meadows to get him used to grass rings. That was fantastic preparation and really did him good. Of course, it is an enormous advantage for the 'Masters' now, because he has already been there."
What is special about the Major in Calgary?
Weishaupt: "There are not many such huge grass arenas like the one in Calgary, you have to ride in a special way, you have to let the horses canter much faster. The time between the jumps is tight, the material of the obstacles is incredibly solid and the course is built differently than at most shows. There are horses, who love that and there are others, who aren't too keen at all. I am lucky here because Convall belongs to the first group."
Does he like indoor shows too? After all the third leg of the Rolex Grand Slam in December leads to the CHI in Geneva.
Weishaupt: "Geneva is not a typical indoor show. Boasting an indoor area that is bigger than most outdoor rings, it has an absolute outdoor character. But apart from that, I think a really good horse wins whether it is indoors or out. Due to his temperament, Convall does prefer the big grass areas, but he is such a top quality horse that he will without doubt also be able to perform well indoors too."
So, he is exactly the right partner to claim the Grand Slam title?
Weishaupt: "Well, I don't want to stick my neck out too far! The Rolex Grand Slam is a super challenge, but I don't think anyone will be able to follow Scott Brash's lead in a hurry. There are perhaps a handful of riders, who have been able to win three Majors over the course of their entire life, but winning them in direct succession is something very, very, very special. I am actually delighted that I am able to compete in the Grand Slam at all. Nevertheless, I will be give it my best shot in Spruce Meadows and will try to win!"
---
Source: Press release from Rolex Grand Slam of Show Jumping // Picture © Rolex Grand Slam of Show Jumping/Holger Schupp