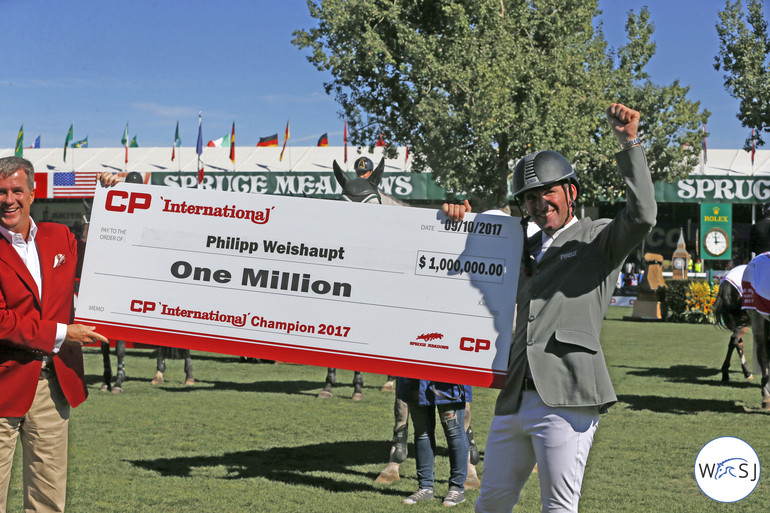 Philipp Weishaupt won the $3,000,000 CP International presented by Rolex at Spruce Meadows. Photo (c) Jenny Abrahamsson.
The top three in the $3,000,000 CP International presented by Rolex at Spruce Meadows met the press after an demanding day of jumping, and like Philipp Weishaupt said after winning: "You can be in form as much as you want, but in the end it has to be your day!"
"If I would have started in my order in the second round today, I would have been before McLain and I would have done one less to the triple combination and probably the same thing would have happened what happened to McLain," said Weishaupt about how a shoe that went off turned out to be his luck of the competition. "So, I lost the shoe and jumped after McLain and he told me to add one stride, I did and I came super slowly – he nearly stopped – and still the b-element was in my face. My horse has the same stride as McLain's horse, so you can be as prepared as you want but you still need to be lucky and it still has to work out. It happened to me in Aachen and it happened to me today again," a happy Weishaupt explained after his win.
"The last fence was in the wrong place," runner-up Diniz laughed about the jump that put her behind Weishaupt. "It was completely my fault. When I walked the course I planned five strides to the last, and then suddenly some people were doing four and the time was so short. My mare has a really big stride and I said I was going to watch Philipp as well and he also did a forward four."
About HH Azur and his third place, Ward commented: "She had a long season and Robert and myself talked earlier that one of the goals this year was this Grand Prix, so we really tried to plan and build for it. All these three horses didn't do a Nations Cup and came into this class fresh and that is what you need for one of the biggest Grand Prix classes in the world. I was thrilled about her; she jumped amazing in the first round. I made a mistake on the last line and she helped me out."
About the tracks, Ward added: "The combinations in the second round were very difficult for my horse, they were both very short and I knew that would be an issue. To the first combination I was able to add a stride, and to the second combination I was able to come out and give Philipp the advice to add a stride. If I would do it again I would do nine strides, but I thought I could do eight and that would be short enough but it wasn't. She did an incredible job to still be able to jump it, but to be honest with you it was too short. With Leopoldo the test is difficult because the time is short and then you have the distance short, and that is a challenge for a big and scopey horse. So those horses are in advantage of these big jumps, but that is the test you need answer and Philipp answered it beautiful today. Unfortunately I didn't answer it quite as well. But you just need to be proud and figure out how to do it a bit better."
Philipp Weishaupt spoke about the Grand Prix, and the level of difficulty at Spruce Meadows: "It is basically the same every year, it is super tough to be double clear here. That is something really special and most of the time there are no jump-offs in this class, so it can't get any tougher than this. The whole week I had a really good feeling on Convall, also when I was flatting him. I actually told McLain on the first day that I was in a good shape for Sunday and he was laughing at me. My horse was just outstanding! He makes the job really easy for me because he is such outstanding animal. I'm super honoured that I can ride him and it is so much fun. I like it when you have to struggle and the class is really big, my motivation and my focus is bigger than when it is 15 clears already, so I like it."
About LB Convall, Weishaupt said: "It is so easy for him to jump the biggest jumps, because he has so much talent. The way he jumped the triple combination in the first round or the double Liverpool in the second round and the triple combination, for him it is like a gymnastic line. He has a bit of character and he needs to know that I'm the boss otherwise he is taking over sometimes, but that is the only thing. Once he is fighting for you he goes through fire, and he is just such a good horse."
Luciana was at Spruce Meadows for the first time: "I fell in love with this show the first day here, on Monday already. It brought a lot of good energy to me. All the doors are open now for me to come back, so we will see."
About the huge money he had just won, Weishaupt was quite realistic: "Basically it feeds our stable for 1,5 month – that is it. We have a big operation back home. It is great and the prize money is incredible and it is the biggest prize money you can win, but the sport is also very expensive. We have a farm with 100 horses and there is only one Convall and maybe another one and the rest of the 98 have to feed by these two horses. It is great, but I will not be spending the next six weeks on Hawaii!"
---
Text and picture © World of Showjumping