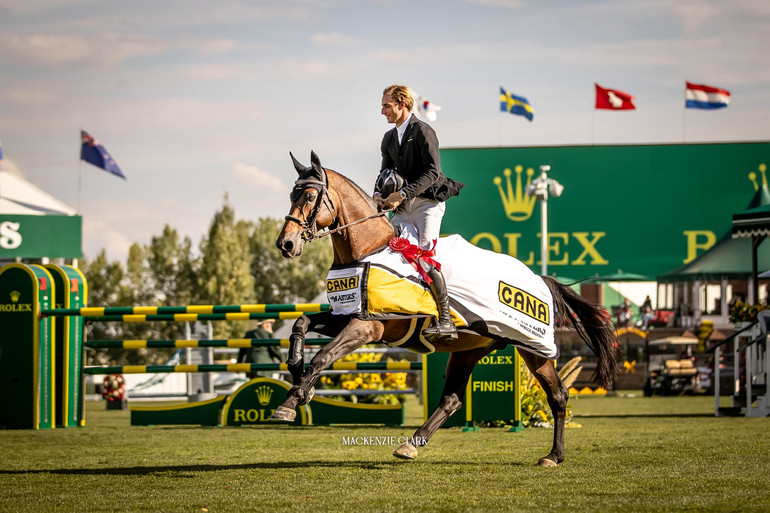 Germany's Richard Vogel and United Touch S won Thursday's CSIO5* 1.55m CANA Cup at the 2023-edition of Spruce Meadows 'Masters'. Photo © Mackenzie Clark.
Edited press release from Spruce Meadows
---
The CSIO5* 1.55m CANA Cup capped off competitions for Thursday at the Spruce Meadows 'Masters' 2023. Over 40 athletes stepped through the Clock Tower in hopes of adding their name to the historic CANA trophy – a piece of the Spruce Meadows Trophy Collection that has names dating back to 1977.
Level 4 FEI course designer Leopoldo Palacios (VEN) built Thursday's track to be completed in a time of 72 seconds or less. The course utilized a few of the permanent obstacles on course including the open water and dry ditch. Some of the best in the world are competing this week, and the results backed that up with fifteen jumping clear and advancing to the jump-off. However, three of the fifteen qualified for the jump-off elected to save their horses for another day.
The clear rounds in the jump-off kept getting faster, but it was Richard Vogel (GER) aboard United Touch S (Untouched x Lux Z) who posted the fastest clear round in a time of 43.07s – taking the win ahead of Natalie Dean (USA) and Nespresso van'T Laekhof (Cicero Z x Grandeur) in second in 43.63 and Hans-Dieter Dreher (GER) aboard Elysium (VDL Zirocco Blue x Coronado 3) in third in 43.90. Bertram Allen (IRL) and Pacino Amiro (Pacino x Nc Amiro) finished fourth, followed by Matthew Sampson (GBR) aboard Equine America Ivanhoe GPH (Marome Nw x Indorado) fifth.
"They (the horses) come through the clock tower, and they love it," Vogel said after his win. "They get taller and you know, they like to be in the arena. And luckily that was how United was today. He felt so great."
CSIO5* 1.50m ATCO Cup to Martin Fuchs and Bastille
Switzerland's Martin Fuchs and Bastille won Thursday's CSIO5* 1.50m ATCO Cup at Spruce Meadows 'Masters'. Photo © Mackenzie Clark.
Over 40 competitors stepped onto the International Ring on Thursday morning to get the showjumping action started at the Spruce Meadows 'Masters' 2023. In the CSIO5* 1.50m ATCO Cup, horse-and-rider-combinations had to clear 12 obstacles and 15 jumping efforts under a time of 65 seconds in order to advance to the jump-off.
Eleven pairs representing nine nations cleared Leopoldo Palacios' first-round test and advanced to the jump-off. Fresh off from the FEI Jumping European Championship 2023 in Milan, Italy, Martin Fuchs (SUI) was looking for his first Spruce Meadows win of the season. Aboard Bastille (Guillotine x Kaapstad), the Swiss was the quickest through the finish line, clear in a time of 39.65s. "This is my first day time victory at Spruce Meadows – my only other win was in the ATCO Electric Six Bar (in 2013)," Fuchs said afterwards.
Matthew Sampson (GBR) and Daniel (Heartbreaker x San Patrignano Mister) took the runner-up spot, while Erynn Ballard (CAN) and Coconet (Colman x Cornet's Stern) placed third, Jörne Sprehe (GER) and Hickstead White (Hickstead x Coupe de Coeur 2) fourth and Kara Chad (CAN) aboard Igor GPH (Harley x Crawford 5) fifth.