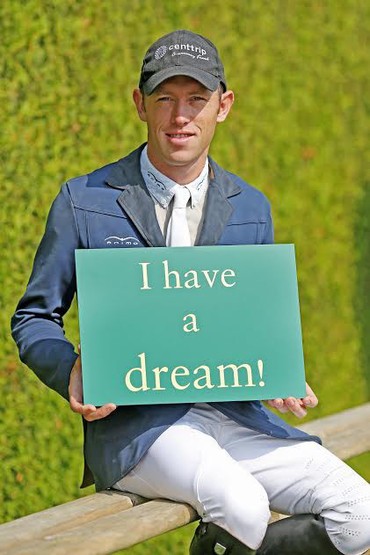 Scott Brash. Photo (c) Rolex Grand Slam of Show Jumping/Andreas Steindl
In a few days' time, Scott Brash will have the legendary opportunity to win the Rolex Grand Slam of Show Jumping, if he rides to victory in the Major at the Spruce Meadows 'Masters'. In an interview, the Scottish rider explained how he and his horse, "Hello Sanctos", have prepared for the show in Calgary, what he would like to read about himself one day and why the best decision in his life had something to do with football.
Only one week until Calgary! How have you experienced the time since your Major win in Aachen?
'It was nice. There was a lot of media attention, but it wasn't crazy. A Major is a Grand Prix that every rider wants to win and it was one of my ultimate dreams to win in Aachen. It was a wonderful feeling and it was great reflecting on that over the past few months. But now I'm excited and looking forward to Spruce Meadows. "Hello Sanctos" feels in good form, we're just trying to make our final preparations with him. His last show was in a grass arena, we tried to make it as near to Calgary as we can.'
What kind of horse is "Sanctos" when he is at home?
'He's a very clever horse, so I think he knows that he's good. He knows he's the king of the stable. But he's very laid-back and relaxed at home, does everything at his own pace. So, everyone has to go at his pace. He loves being at home, loves relaxing, loves hacking out. But when he enters the arena, he comes alive.'
Who will come with you to Calgary? Will your family and girlfriend be there?

'My girlfriend Hannah looks after my horses, so she will be there. She's fantastic with the horses, she absolutely loves them and takes great care of them. She will be with "Sanctos" all of the way and hopefully, she will be on the flight with him. My father, who is busy at work and only comes to some big shows, is coming. My horse owners and my farrier are coming, too. There are many people coming to Spruce Meadows and it makes me want to win even more. It's going to be a nice show.'
Are you nervous or excited when you compete at such an important show like Calgary?

'I wouldn't say I'm nervous, I just really want to do well, so when it becomes really big, I am very focused on what I have to do.'
When was the last time that you were really excited at a show?

'When I won in Aachen. That feeling when you win, that feeling when you target a class and prepare for a class that you have had your mind set on for a long time before. And then go there and win the class, that is an incredible feeling. There's no better feeling in the world.'

If you wouldn't have become a show jumper, what would be your profession?

'When I was younger I was quite a good footballer, but it got to the point when I was eleven or twelve when it was going to be the football or show jumping. I chose show jumping and I'm glad about my decision. But if possible, I would have stuck a little bit more into football.'
Your father owns a construction company. Have you ever considered joining the family business?

'Not really, I see how much stress my father is under. He's very good at what he does and it looks like a tough job.'
You once said that your father has been your childhood idol. So, is he the person, who has influenced you most in your life?

'My whole family has been a big influence, always supporting me and being behind me. If things ever went wrong, they would be there to help. Growing up, they were fantastic to have.'
The best advice you ever got?

'I have had some fantastic advice from a lot of people, but I think the best is to stay the term and to never give up on your dreams. I don't regret anything I have done in my life. I think it's important to make different experiences, good and bad, it makes you who you are.'
Who inspires you today?

'Many different people for many different reasons. I'm inspired by my horse owner Lord Harris about what he has done for many people. He is so enthusiastic for everything. Achieving the next goal and the next dream. He runs a lot of schools and he changes these kids' lives. They are very well educated and get a really good start to life. He, Lady Harris as well as Lord and Lady Kirkham have also done a lot for healthcare in Britain, for charities like animal health trust. My horse owners are wonderful people and I will always have the greatest respect for them.'
What is the best thing about life as a professional show jumper? What is the worst thing?

'The best thing is seeing all those wonderful countries and beautiful venues. The worst thing is maybe the amount of traveling. We live out of a suitcase, really. We are home for two or three days a week and then we are away again and again. It's quite tiring and tough on people. You need a really good team behind you. But we do all love it. Being home for a couple of weeks, we want to be at the next show. So, it's what we love doing.'
What do you do to relax when you are always on the road? Do you have some hobbies beside horses?

'There's not much time, to be honest, but I just love being at home. I have bought a new yard in Sussex near Hickstead and I just love the area with nice people around us, just going out for dinner and relaxing a little bit. But if I ever have a bit of time, I like to play golf, that's quite relaxing.'
When was your last holiday?

'A long time ago actually. But my girlfriend and I have decided to go on holiday this year in October. We are planning to go to Dubai for a week or so. It will be nice to go and relax.'
And maybe with a little bit more money to spend. So, let's go back to Spruce Meadows. What will you do in the hours before the Grand Prix?

'I will just do what I normally do before a big Grand Prix. Take "Sanctos" out, stretch his legs, make sure he feels good. And then be focused on the course and walk the course early.'
Do you have some rituals or a lucky charm?

'No, I'm very boring in that way, I'm not very superstitious.'
But you always wear this bracelet on your wrist…

'That was actually a gift that an owner gave me directly after the Olympics. It's just a nice gift I wear. But maybe it is lucky, I don't know.'
Regardless of the outcome in Spruce Meadows, how have you experienced your journey with Rolex so far?

'What Rolex has done for the sport is incredible. They have put this series on, which is fantastic for us riders to aim for. It has really generated more publicity for the sport, a lot more people are following our journey to see if we can do it. It's great for the sport. Rolex has been a fantastic sponsor for show jumping for many years and it's great to have their continued support.'
If you could capture one of the moments of your journey with Rolex in a frame for your living room wall, which one would that be?

'It would be coming through the finish line in Aachen, finding out that we'd won. It was probably the best feeling I have had for a long time.'
If Rolex issues an anniversary publication about the Grand Slam of Show Jumping in a couple of decades, what would you like to read about Scott Brash in it?

'It would be nice to be remembered for achieving a lot of goals and being on top of the sport for a long period of time. I hope one day, people will look back on me as one of the legends of the sport the same as Ludger Beerbaum or Marcus Ehning. It would be great to read about that one day.'
And the headline of the chapter?

'Hopefully "A dream came true". Because if it could be done in Calgary, if I could win, it would be an absolute dream come true.'

Source: Interview made by Rolex Grand Slam of Show Jumping.