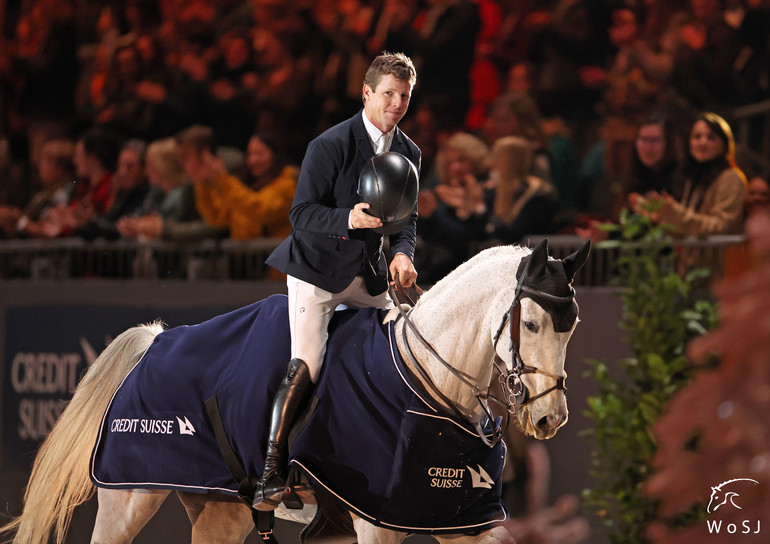 Shane Sweetnam and Alejandro won the Credit Suisse Challenge. Photo © Jenny Abrahamsson for World of Showjumping.
Text © World of Showjumping
---
Shane Sweetnam (IRL) and the 13-year-old gelding Alejandro (Acorado's Ass x Continue) won Saturday night's CSI5* 1.55m Credit Suisse Challenge at CHI Geneva.
Judged as a Table A against the clock, this class had 39 horse-and-rider combinations at start, and nine of them managed to jump a clear round over Gérard Lachat and Louis Konickx's 13-fence-track that proved tricky enough for many.
It was Kevin Staut (FRA) who was the first to post a clear round aboard Dialou PS (Diarado's Boy x Chacco-Blue), but his time was quickly bettered by world no. one Henrik von Eckermann (SWE) and Glamour Girl (VDL Zirocco Blue x Caletto I) who blazed around the track in a time of 63.31 seconds. Conor Swail (IRL) and Vital Chance de La Roque (Diamant de Semilly x Rivage du Poncel) gave it a good shot, but slotted in behind Von Eckermann when stopping the clock at 65.58 – but not without a bit of an extra show for the Palexpo-crowd as Vital Chance de La Roque lost the bridle after the last fence and took off for a pre-lap-of-honour until Swail managed to get him to a halt and then got a helping hand to get the equipment back on – displaying extraordinary calmness.
Eight riders later, it was Shane Sweetnam (IRL) that brought the crowds' pulse up aboard Alejandro (Acorado's Ass x Continue), but despite a moment of uncertainty on the oxer at no. four and a bit of Irish luck at the last, he went into the lead when crossing the finish line in 63.13 seconds. Eduardo de Menezes (BRA) chased the time to beat, but stopping the clock at 64.27, the Brazilian rider slotted into third with H5 Kastelle Memo (Thunder vd Zuuthoeve x Cicero Z) – pushing Swail to fourth and Staut to fifth.
"He was great, I had a bit of luck coming back to fence four. He was not really looking, and sometimes when you turn him, he will give a little buck, and he gave a little buck and got himself into a little bit of trouble but then he got himself out of it again," Sweetnam smiled when talking about Alejandro's round. "Then, after that, he really tried hard, luck was with us, and we got the job done."
"He is naturally a very quick horse," Sweetnam said of Alejandro. "I watched Henrik, and I think after the double to no. seven I was quite quick and to the last I came on one less – I think Henrik did one less also – but I think what helped him get over the line is that he is naturally quick."
"He has always had his own way of jumping, but he really wants to leave the jumps up," Sweetnam continued. "He has a funny character, and he grows as the week goes along – like the first day here he was really peaky at things and nervous, and then actually he gets more confident for each class; yesterday he was already better and then today he enjoys it rather than being nervous about it. He is a great horse, he has had an unbelievable year, he came back strong and showed what kind of horse he is and I am happy that he is getting deserved dues."