The 2016 Spruce Meadows 'Masters' Tournament CSIO5* began on Wednesday with first-time wins in the famous International Ring for both Lorenzo de Luca (ITA) and Steve Guerdat (SUI). De Luca kept his recent winning streak alive with a victory in the Akita Drilling Cup 1.60m aboard Limestone Grey. Guerdat took the first win of the day riding Albfuehren's happiness in the Telus Cup 1.50m.

The 'Masters' Tournament runs September 7-11, 2016, featuring the best horses and riders in the world competing at Spruce Meadows. Highlights include Friday's Mercedes-Benz Evening of the Horse, which hosts the exciting ATCO Six Bar competition; the BMO Nations' Cup on Saturday, with teams from around the world competing for top honors; and Sunday's CP International Grand Prix, presented by Rolex, with a staggering $2 million in prize money up for grabs in this year's competition.

The course designer in the International Ring for this year's 'Masters' competition is Venezuela's Leopoldo Palacios. Palacios set the track for 51 starters in the afternoon's Akita Drilling Cup 1.60m, with 18 advancing to the jump-off, and 10 double clear rounds. De Luca and Stephex Stables' Limestone Grey clocked the winning time of 34.30 seconds. Frank Schuttert (NED) and Handelshuis Schuttert's Winchester HS finished second in 35.34 seconds, and Olivier Philippaerts (BEL) and Ludo Philippaerts' H&M Challenge vd Begijnakker placed third with their opening jump-off time of 35.55 seconds.

De Luca's recent string of victories includes a big win in St. Moritz, Switzerland, with Limestone Grey, as well as a major win in the grand prix in Dublin, Ireland, with Ensor de Litrange LXII. Commenting on the continuation of his recent success with a win at Spruce Meadows, de Luca remarked, "It is fantastic. I did not think I would win straight away the first day. The horses have been in great form. The last few months they have been jumping very well. My horse was very good the first round today. I was a little bit afraid because everybody said the ring is spooky for some horses, but I took this horse with me in Dublin and Hickstead, and he was very good over there. Today he jumped very well, so I am very happy."

Limestone Grey is a ten-year-old Irish Sport Horse gelding (by Try-Time) that de Luca began riding in October of 2015. After jumping in Florida this winter, the pair returned to Europe, where Limestone Grey jumped as de Luca's second horse in 5* competitions. Commenting on his mount, de Luca stated, "He is improving a lot. He is sensitive, and really intelligent, and really fast." The rider continued, "I knew there were so many good riders in the jump-off, so I just watched the first to go, and I knew that I had to go a little bit everywhere. He is really good on the short turns, so the turn from one to two was very good for him, and then I just kept going and he was great."

Remarking on his first time competing at Spruce Meadows, de Luca smiled, "It is like a dream. It was always a dream for me to come here. This week we also have the Global Champions Tour in Rome and everybody was pushing me to go there. But when you have two good horses like that at the moment, I thought it was a good time to come here, and I am really pleased to be here."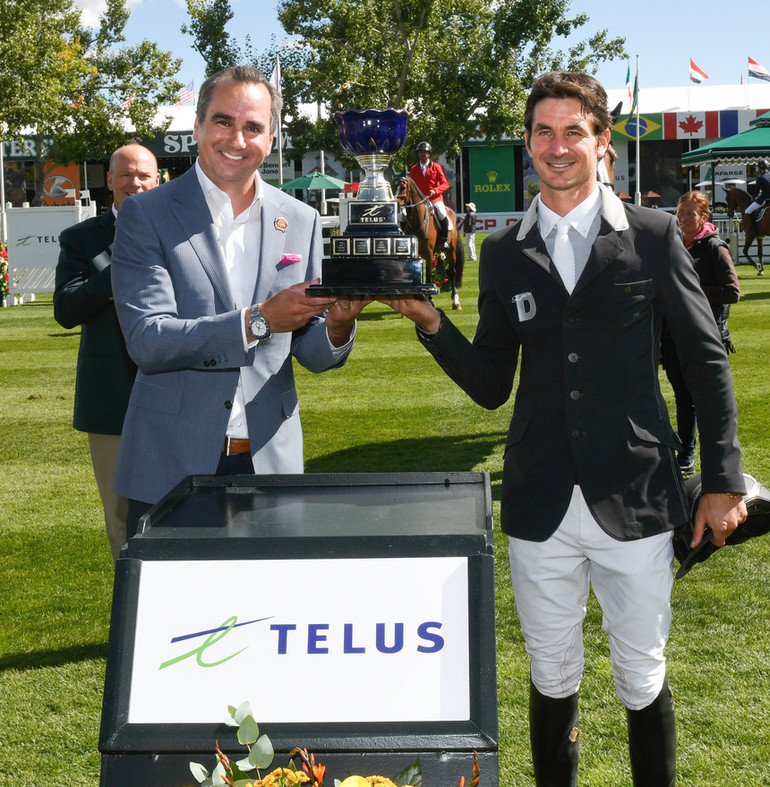 Steve Guerdat (SUI) hoist the champions trophy with Lorenzo DeCicco, Vice President, TELUS Business Solutions. Photo (c) Spruce Meadows Media Services.
Guerdat opens 'Masters' Tournament with a win
Switzerland's Steve Guerdat and Albfuehren's Happiness were the first winners of the week in Calgary, opening Wednesday's competition with a victory in the Telus Cup 1.50m jump-off. For Guerdat's first-ever victory in Spruce Meadows' famed International Ring, the rider topped an eight-horse jump-off out of 74 first round starters.

With six double clear over the short course, USA's Hardin Towell and Jennifer Gates' SF Ariantha set the pace in 36.86 seconds to eventually finish third. Eric Lamaze (CAN) and Chacco Kid followed with a very fast time of 36.75 seconds, but settled for second place. Cian O'Connor (IRL) and Callisto jumped into fourth place with a time of 37.28 seconds. Patricio Pasquel (MEX) followed with the sixth place time of 38.24 seconds aboard Candela. Nigel Coupe (GBR) then secured fifth place honors with his time of 38.16 seconds riding Jubilee III. Last to go, Steve Guerdat and Albfuehren's Happiness stole the lead with a time of 35.71 seconds.

Happiness, a 10-year-old Danish Warmblood mare (Heartbeat x Lambrusco ASK) owned by Hofgut Albführen GmbH, began with Guerdat as an eightyear-old in 2014 and has become very competitive this year. Steve Guerdat (SUI) aboard Happiness "I have built her up slowly," Guerdat explained. "She did not have so much experience when she came to me as an eight-year-old. Then as a nine-yearold I tried to step her up because she had to learn the job and this year she has been good. She has won some 2* and 3* grand prixs and placed in some 1.50m competitions. That is a good height for her – bigger is more difficult for her – but at 1.50m she is very competitive and very fast. She can go fast every day."

Speaking of Wednesday's competition, Guerdat noted, "It was a nice course. We had so many starters, so just eight coming back was quite good. Then I was last to go (in the jump-off), which is always the best spot. I knew, more or less, what I had to do and she is always a very naturally fast horse. There were not many places where you could leave strides out, so it was actually a
perfect jump-off for her, and I did not have to really rush anything. She is so fast off the ground that it was just enough to beat Eric."

As the 2012 Olympic champion and back-to-back FEI World Cup Finals winner (2015 and 2016), among many other accolades, Wednesday's victory was Guerdat's first at Spruce Meadows. "Most of the time I had two horses here – one for the Nations' Cup and one for the Grand Prix - so I was always saving them through the week to be successful in those two main classes," Guerdat explained. "Those first two or three days were always quite long because I never really had a horse to play the game. This year was different. I just had one first horse to bring that is going to do the Nations' Cup and the Grand Prix, so I brought another one that was competitive for the other classes.

"This is one of my favorite venues," Guerdat added. "I love to show here because of this ring, because of its fences, and because of its courses. It is quite tough here because we are not used to jumping fences like this and it always takes a few days to get in the rhythm. This is one date that I do not want to miss for anything. Every year, Calgary is one of the big yellow marks on my calendar of the most important places to go. I want to be good here every year and I am trying to achieve my goal."

The 'Masters' Tournament continues on Thursday with the ATCO Founders Classic 1.50m followed by the CANA Cup 1.60m. For a complete tournament schedule and full results, please visit www.sprucemeadows.com.
---

Source: Press release and photos from Spruce Meadows Media Services
Final Results: Akita Drilling Cup 1.60m
1 LIMESTONE GREY Irish Sport Horse / G / 10 / Try-Time LORENZO DE LUCA (ITA) Stephex Stables: 0/0/34.30
2 WINCHESTER HS Dutch Warmblood / G / 13 / Numero Uno x Nimmerdor FRANK SCHUTTERT (NED) Handelshuis Schuttert: 0/0/35.34
3 H&M CHALLENGE VD BEGIJNAKKER Zangersheide / G / 14 / Chellano Z x Palestro VD Begijnakker OLIVIER PHILIPPAERTS (BEL) Ludo Philippaerts: 0/0/35.55
4 COOL AND EASY Holstein / G / 12 / Contender x Riverman HANS DIETER DREHER (GER) Bucheler Paue: 0/0/36.03
5 CAPETOWN Dutch Warmblood / G / 13 / Oklund x Carlino WOUT JAN VAN DER SCHANS (NED) K.V. van den Berg & S.J. Kat: 0/0/36.29
6 COMANCHE 28 Oldenburg / G / 10 / Coupe de Coeur 2 x Baloubet du Rouet MEREDITH MICHAELS BEERBAUM (GER) Artemis Equestrian Farm LLC: 0/0/36.38
7 QUINTOL Oldenburg / G / 11 / Quintender x Cento EDUARDO MENEZES (BRA) Eduardo Menezes: 0/0/37.24
8 MHS GOING GLOBAL Irish Sport Horse / G / 10 / Quidan Junior x Cavalier Royale GREG PATRICK BRODERICK (IRL) Lee Kruger: 0/0/37.56
9 RISSOA DAG BOIS MARGOT Selle Francais / S / 11 / Quincy x Artichaud PEDRO VENISS (BRA) Haras Bois Margot: 0/0/38.83
10 GOOD LUCK Belgian Warmblood / S / 10 / Canturo x Famoso II CIAN O CONNOR (IRL) Adena Springs & Ronnoco Jump Ltd: 0/0/41.83
11 G&C QUITADOR ROCHELAIS Selle Francais / G / 12 / Jarnac x Grivdor SERGIO ALVAREZ MOYA (ESP) G&C Farm and AM Horses SL: 0/4/36.14
12 RADJA DARTEMIS Selle Francais / G / 11 / Diamant de Semilly x Galoubet A ALAIN JUFER (SUI) Lutta Gian-Battista: 0/4/37.08
Final Results: Telus Cup 1.50m
1 ALBFUEHREN'S HAPPINESS Danish Warmblood / M / 10 / Heartbeat x Lambrusco ASK STEVE GUERDAT (SUI) Hofgut Albuefuhren Gmbh: 0/0/35.71
2 CHACCO KID Oldenburg / G / 10 / Chacco Blue x Come On ERIC LAMAZE (CAN) Chacco Kid Group: 0/0/36.75
3 SF ARIANTHA Dutch Warmblood / M / 11 / Corland x Emillion JACK HARDIN TOWELL JR. (USA) JKG LLC: 0/0/36.86
4 CALLISTO Dutch Warmblood / G / 9 / Quasimodo Z x Jekmal de Bernival CIAN O CONNOR (IRL) Ian O Grady, Philippe de Balander & Ronnoco Jump: 0/0/37.28
5 JUBILEE III / M / 12 / Wolken Tanz II x Wanduss NIGEL COUPE (GBR) John O Halloran: 0/0/38.16
6 CANDELA Oldenburg / M / 11 / Cornet Obolensky x Dinard L PATRICIO PASQUEL (MEX) Patricio Pasquel: 0/0/38.24
7 FINE STAR VANT ASSCHAUT Mexican Sport Horse / G / 11 / Nonstop x Feinschmitt ivd Richter ALEJANDRO MILLS (MEX) Armando Acevedo: 0/4/38.71
8 LACAN 2 Oldenburg / S / 13 / Lando x Contender PATRICK STUHLMEYER (GER) Bernfried Erdmann: 0/5/42.10
9 BELLINDA Dutch Warmblood / M / 10 / Namelus R x Hors La Loi II KARA CHAD (CAN) Stone Ridge: 1/68.38
10 OHM DE PONTHUAL Selle Francais / S / 14 / Voltaire x Calypso D Herbiers JEROME HUREL (FRA) S.A.R.L. AR Tropig: 1/68.56
11 COCQ A DOODLE Dutch Warmblood / M / 9 / Nolan R x Niagra ANDREW RAMSAY (USA) The Doodle Group: 1/69.05
12 HEROS Belgian Warmblood / G / 9 / Canadian River x Clinton I AMY MILLAR (CAN) Ammo Investments: 1/69.12