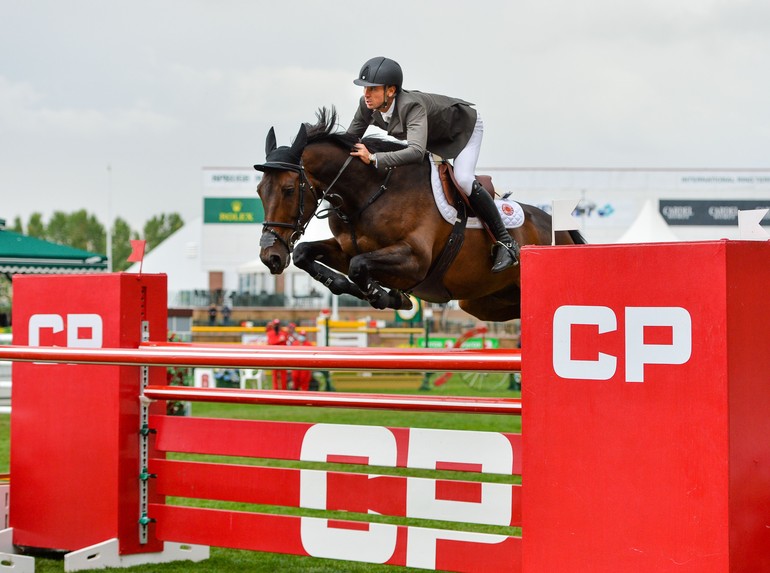 Steve Guerdat and Venard de Cerisy won the CP 'International', presented by Rolex at the Spruce Meadows 'Masters'. Photo © Spruce Meadows Media/Mike Sturk.
Edited press release from Spruce Meadows
---
The Spruce Meadows 'Masters' Tournament concluded its 2021 run on Sunday with the biggest show jumping Grand Prix in the world: The CP 'International', presented by Rolex. This competition, part of the Rolex Grand Slam of Show Jumping, historically draws crowds of over 50,000 fans from around the world to Spruce Meadows. Due to the ongoing COVID-19 pandemic, attendance this year was restricted to only 2,000 people. Those present were treated to an absolutely thrilling and historic competition, with Steve Guerdat of Switzerland posting the only double-clear round – after coming straight to Spruce Meadows following his team gold medal at the European Championships at Riesenbeck International, Germany, a little over one week ago.
The track for the first round of this competition, designed by FEI course designer Leopoldo Palacios (VEN), was incredibly challenging. After the course walk, three riders withdrew from the competition before it even began. The course for the first round featured maximum heights of 1.70m, was 575m long, and had a time allowed of 87 seconds. It proved to be a very challenging ride, with six out of the 28 horse-and-rider combinations being eliminated or retiring without finishing the course. Only four made it clear, with the rest of the top 12 being made up by the four-faulters.
The top 12 riders after the first round were Rowan Willis (AUS), Mario Deslauriers (CAN), Steve Guerdat (SUI), Hilary Scott (AUS) – who all had jumped clear – followed by Will Simpson (USA), Natalie Dean (USA), Kent Farrington (USA), Scott Brash (GBR), Carlos Hank Guerreiro (MEX), Nayel Nassar (EGY), McLain Ward (USA) and Erynn Ballard (CAN) on four faults.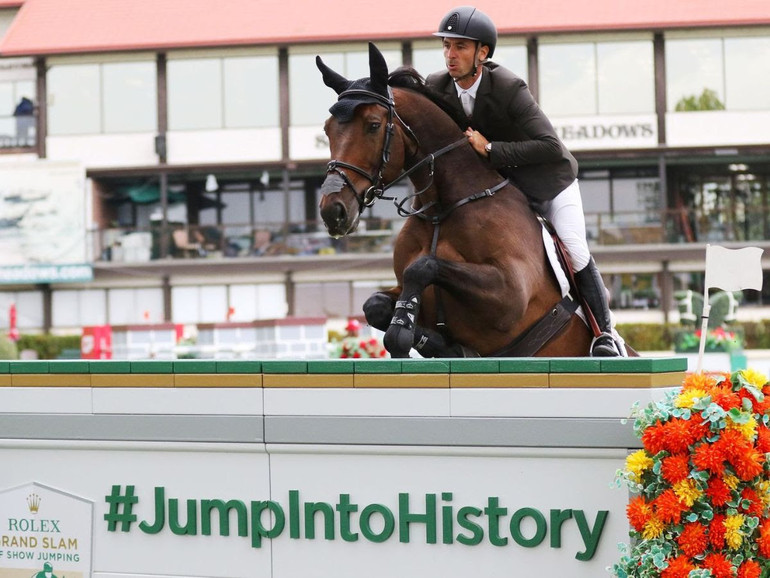 Steve Guerdat and Venard de Cerisy over the Rolex wall, a jump that many horses struggled to keep up. Photo © Spruce Meadows Media/Dave Chidley.
The riders returned for round two in reverse order of score, with Ballard going first. The second round course was 450m in length and had a time allowed of 68 seconds. Palacios once again designed an incredibly challenging course, testing the strength, endurance, and courage, of both horses and riders alike with a massive triple combination as the penultimate question as part of the last line.
Aboard Gazelle (Kashmir van Schuttershof x Indoctro), Farrington was able to post a clear round to add to his four faults from round one, as was McLain Ward on Kasper van het Hellehof (Emerald van't Ruytershof x Nabab de Reve). Out of the four jumping clear in the first round, it was only one rider who managed to repeat that feat: Aboard Venard de Cerisy (Open Up Semilly x Djalisco du Guet), Guerdat posted the only double-clear of the entire competition – taking the win ahead of Farrington in second and Ward in third. Rowan Willis (AUS) finished fourth with Blue Movie (Chacco Blue x Pilot) after adding eight faults to his score in round two, while Mario Deslauriers (CAN) and Bardolina 2 (Clarimo x Villimey) were best for the host nation in fifth – also with eight faults in the second round.
It was a well-fought and hard won battle, one that Guerdat told reporters he'd been dreaming of since he was a kid. "I've walked, I don't know, every year, a hundred times in front of the wall with the winners' names on, and I always thought that I'm not going to quit riding until my name is up there," Guerdat said, referring to the wall in the Spruce Meadows plaza that lists the names of every champion of this competition since its inception. "I'm so delighted with my horse, and with the whole team that's been working so hard. We didn't have the easiest (of years), but they've been sticking (with) me... and it's amazing to come out today, the winner of that class," Guerdat said.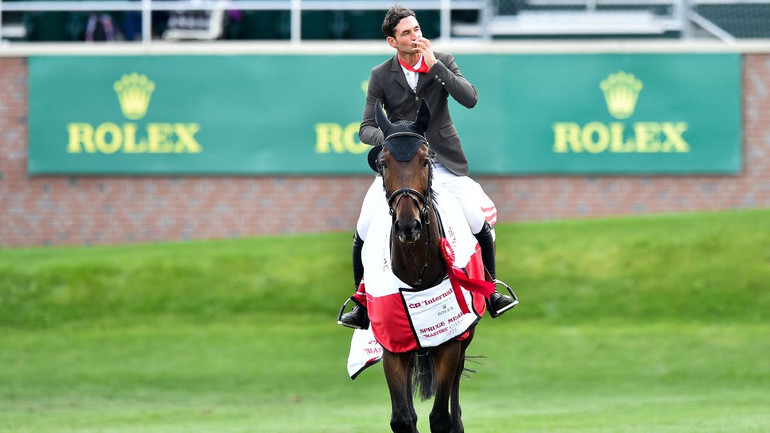 Steve Guerdat celebrates his CP 'International' win during the victory gallop with Venard de Cerisy. Photo © Spruce Meadows Media/Mike Sturk.
"It's one of the nicest days of my career, and for sure a day I will remember for the rest of my life. There are not many words that can describe what I feel right now," Guerdat smiled. "I missed my Olympics and the only way to make up for it was by winning the Grand Prix here today."
About Venard de Cerisy's performances, Guerdat said: "He felt amazing from day one; every class he jumped here he gave me an unbelievable feeling – today in the warm-up as well, so I did not really mind what the course was going to be. I thought that if I ride good, it's going to be on my side and help me and that is exactly what happened. We had a good first round but a much better second round and to be honest he felt like he could do a third round! It's a big reward to him and to his owners, so I am very proud for them as well!"
"His mind is unbelievable," Guerdat continued to speak about the 12-year-old gelding. "We bought him when he was 7-years-old; he was jumping in France. If you would have seen our first two years together, I don't think anybody would have bet a penny on us winning a Grand Prix like this one day. He has been unbelievable for the last two-three years, and has won a number of five-star Grand Prix classes which was already amazing. He has been giving me so much, and that's why I am really proud of him today and that I could give him this win so he can stay in the history books."
With his win, Guerdat commences his journey in the Rolex Grand Slam of Show Jumping. His next chance to win another Major, and make more history, will come already this week, at CHIO Aachen.