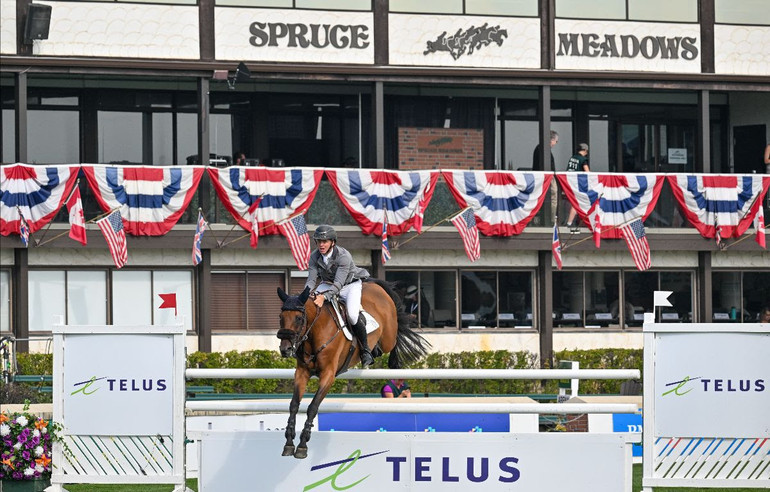 Matthew Sampson and Elisa BJX won the CSI3* TELUS Cup 1.45m at Spruce Meadows 'Masters' 2022. Photo © Spruce Meadows Media/Mike Sturk.
Edited press release from Spruce Meadows
---
The first day of the Spruce Meadows 'Masters' was underway early Wednesday morning with the CSI3* TELUS Cup 1.45m. Twenty-two horse-and-rider-combinations were ready to step onto the International Ring to kick off the 2022 Spruce Meadows 'Masters'. The 435m track was designed by FEI course designer Anthony d'Ambrosio (USA) and athletes had to complete 11 obstacles and 13 efforts in a time of under 70 seconds to qualify for the jump-off.
Nine horse-and-rider-combinations managed to clear the first-round track and advanced to the jump-off, where Matthew Sampson (GBR) riding Elisa BJX (Eldorado vd Zeshoek x Quilot) galloped across the finish in a time of 40.27s which could not be caught.
Tiffany Foster (CAN) on Brighton (Contendro II x Quic Star) took the runner-up position, while Rowan Willis (AUS) on Wellington Grey Goose (Gorlensky G x Grandero) placed third, Vanessa Mannix (CAN) on Kitting Des Hausseurs (Winningmood x Thunder van de Zuuthoeve) fourth and Alexander Grayton (CAN) on Carnaval (Chacco-Blue x Landadel) fifth.