Rodrigo Pessoa needs little introduction. One of the most famous riders of our time, Pessoa has won both the Olympic Games and the World Championships as well as being in the exclusive club of athletes that has managed to win the World Cup Final three times – all for Brazil.
This year however, Pessoa has decided to take to the side-line for much of the season as Ireland made the catch of the 2017 when they secured the Brazilian rider as their new Senior High Performance Director back in March.
World of Showjumping sat down with Pessoa during the CSIO5* event in Rome – fittingly it turned out, as this was the very same event where Rodrigo did his first ever Nations Cup appearance back in 1990.
After riding nearly 30 years among the best in the world, the transition to being a trainer came naturally for Pessoa. "It all started off as a joke I had with the Irish riders last summer. And, it was purely a joke in the beginning… Then a couple weeks later we sat down again, and talked a little bit more seriously about it. There was a time that I gave it a thought and then at the end of the year when they opened the candidacy I thought 'Ok, I'll throw my name in the hat and see what happens'. Then I was called in for an interview in Dublin, and I suppose what I told them pleased them and I was chosen," Rodrigo tells.
"Another reason for my decision was also the fact that I did not have a horse to go and compete with at the very top, and if I can't do that it is not much fun. So I thought I might as well do other things. I had already two individual students riding on five-star level – Pepe Muylaert and Karen Polle – and I thought it was all possible to combine these two tasks. Also, I could keep on riding my younger horses in between on the weeks off. So we decided to give it a go," Pessoa says.
The plan is set for Pessoa and Team Ireland for the next two years: "We have an agreement for two years, with an objective to qualify for the Olympics in Tokyo in 2020 and the World Equestrian Games in Tryon next year. If the riders like it, if I like it, if everybody is satisfied – then we can talk about the future," Rodrigo says.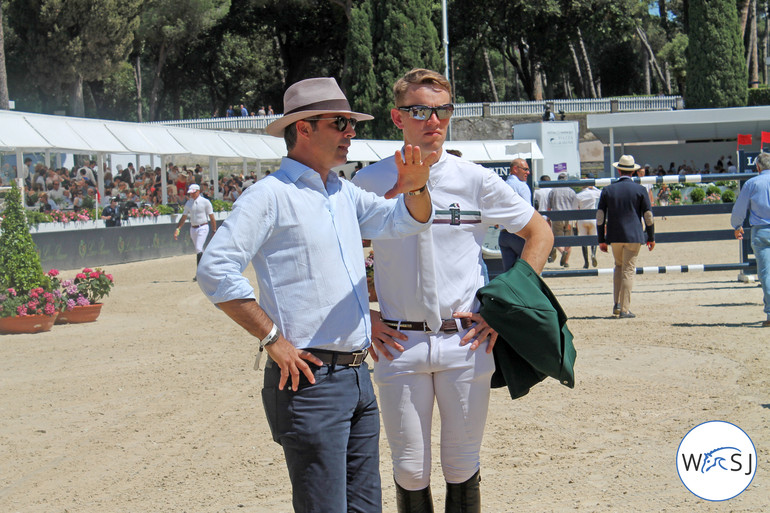 "Now I can try to give my experience on to the younger generation," Pessoa says abut his new role as Senior High Performance Director for Team Ireland.
The transition from rider to coach has not caused any problems. "To me, this is something that I have done unofficially for my Brazilian team for many, many years. So it is nothing new to me. There is a difference though: Now I have more responsibility, because I am officially the person in charge – that adds a little bit more pressure on the job. However, so far I have really enjoyed working with the guys that have been on the teams," Pessoa continues.
As the man in charge, Pessoa believes in the power of dialogue and keeping an open mind. "To me, I think first of all giving a chance and opportunity to everybody is the most important thing. Whether it is in division one or two, so that people can show their potential. In that way you can also discover new potential and new talents. Obtaining good results is important, because we want to maintain our position in this league and prepare well for the World Equestrian Games next year. The Nations Cups are the only shows where the Chef d'Equipes have the possibility to send those five riders that they want to send, with no obligations towards the ranking or anything else. So it is very important for us to be able to pick riders and see them compete," Pessoa says. "Of course we also have the European Championships, that at the end of the season will be like a live rehearsal for the WEG."
"Ireland has had a very poor championship-record over the last 15 years. The riders win a lot of classes and Nations Cups, but when it comes to championships they seem to under-perform. That is a problem we want to solve," Pessoa tells.
The days at the showground are not very different as a rider and Chef d'Equipe Rodrigo tells. "Expect that I don't have to ride," Rodrigo laughs. "I come to the classes, walk the courses and try to help the riders – give them the best technical advice possible without changing them completely. I am there to add to what they already know. I try to have a look from the outside and give them some pointers, so they can improve. So far, they have been very receptive. We try to have dinners together and give a feeling of team spirit, which is really important."
So far, it's been a smooth job with the Irish team. "They have been very enthusiastic, and they have been very helpful. They are very competitive riders, which is great, it makes your life very easy. On the Federation's side, it is also a new structure as of this year. To me, it works very well. All in all, I am very happy with the way things are going," Rodrigo says.
Rodrigo now shares his time between the States and Europe. "We spend the winters in Florida and always come back to Europe for the summer. You just make it work – we like the time in Florida, with the teaching and developing younger horses," Rodrigo tells.
Making a lot of plans for the future is something Pessoa does not believe in. "Probably in a few years' time I will be riding less and teaching more. For the moment, I live day by day. I don't make huge plans for the future or for long term, because with horses everything can change very fast. One day you are here; one day you are there – you never really know. For the moment, my focus is on my two individual students and Team Ireland."
Having spent all his life at horse shows, this is the lifestyle Rodrigo knows best and what he enjoys the most. "To be head of a big nation like Ireland, is a lot of work accomplished. I feel like I have been recognised for the work that I have done throughout the years. I have been able to put together a big technical baggage. The fact that people have recognised this and given me the keys to this team, is also a personal satisfaction to me. To see that what I have done has not been a waste," he says. "Now I can try to give my experience on to the younger generation."
---
Text and picture © World of Showjumping by Nanna Nieminen
(No reproduction without permission)