Every now and again Chris Chugg appears on the international circuit, and although his appearances are occasional they usually come hand in hand with showcasing a very good horse. Last time the Australian rider caught our attention was when he brought Vivant to Europe to get ready for the 2010 World Equestrian Games, so when Chugg's name showed up on the entry list for this year's World Cup Finals there was a distinctive feeling that we were in for a treat.

As expected, Chugg took Gothenburg by storm. That was in huge due to his four-legged partner Cristalline, a mare only 8-years of age – that jumped her way into every single heart during the three days of competition.

"This year we got here for the World Cup Final in Gothenburg, and the plan was to jump Cera Cassiago. But, in the end Cristalline was in better shape both in regards to the travel and the different climates – so I was lucky enough that my girlfriend Gabi lent me Cristalline for the final where she did an amazing job," Chris explains as WoSJ meets him at Guido Klatte's stable, where Chugg has had his horses stabled during every trip to Europe since 1987.

Considering Cristalline's young age, Chris was ready to withdraw from the rest of the final after every round. But, Gabi thought that Cristalline would improve during the next day – and she was right every time.

"I spoke with the course builder before we made the decision for the last day of competition, and he said that the course wouldn't be much bigger – but a lot more technical. He said it would be air between the fences, and nice approaches – but that a careful horse would be needed. That sounded like the perfect track for Cristalline, so we started with confidence! I had more problem with the courses than she did. The rails we had down were because of me. It is a long time between these kind of competitions for me – 2012 to 2016 – so it took me to the end of the weekend to get back in form and get my eye consistent indoors as I'm used to ride outdoors," Chris smiles.

The rest is history. At the end of the World Cup Finals, Chris and Cristalline sensationally ended 10th and Cristalline was the horse on everybody's lips.
"Cristalline has a big future in the sport," Chris says. "We had many people interested in her since the world cup final, and it has taken us until now to place her in the perfect home, which was always our top priority if we ended up selling her. We are sure we will be hearing a lot more of Cristalline with her new owner, she always puts her heart behind it and she gives 100% every time. She can be the mare of the century, and what she did at the World Cup Final is only a tip of what she can do."

"We only have two indoor shows at home in Australia, and they were back in July. So when we got to Europe, Cristalline hadn't been indoors for eight-nine months and she certainly had never been in front of a crowd like the one in Gothenburg. We never get an atmosphere like that in Australia. But, that is the thing about Cristalline, she loves all that. The bigger the crowd and the fences are, the better she jumps," Gabi fills in.

"In Australia we ride at two-star level, and never get the chance to ride against riders at five-star level," Chris adds. "The World Cup classes are the only ranking classes we have. So, we buy a five-year-old, spend three years educating the horse, try to win the World Cup League in Australia, come to Europe and compete as a 'wild card' in the final. For us we are on two-star horses at a five-star-event for the first time."
"It is also very difficult to bring a horse from one side of the world to the other; from summer into winter. Our horses have lived in Europe, so they have seen snow and know the climate but still the change affects them. Back in the days when I brought thoroughbreds over – that were used to living outside in the fields – that was a challenge. They were horses from the race tracks so they were very sensitive to noises, and the atmosphere could be a real challenge."

One horse that was affected by such changes is Chris' horse Cera Cassiago, that hasn't showed himself as hoped for. "Cassiago has only showed 50% of his capacity so far, but now we feel like we have found out what the problem has been and fixed it. Finally, we are looking forward to the outdoor season with him," Chris says continuing to explain: "Cassiago had a sore back. He is used to live outside and he also did a lot of swimming in Australia, and as we got here during the winter he had to stand the night in his box which didn't suit him. For the last 1,5 months we have had our horses out during night, and try to keep our routines from home as much as possible. Rain or storm; we just put a blanket on."

Chris and Gaby noticed the problem with the stallion when they saw him rolling. "He wasn't rolling from one side to the other anymore. When we buy a horse, we watch it in the paddock and when they can roll from one side to the other we have a good indication that the horse is very elastic. Anyway, after the treatment and change of living conditions Cassiago is now rolling on both sides again without getting up in between."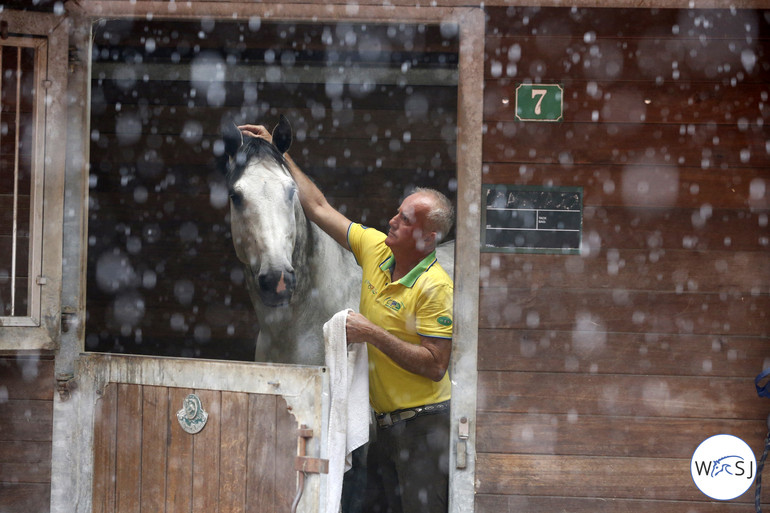 Cera Cassiago was affected by the change in routines that comes with moving from Australia to Europe. "For the last 1,5 months we have had our horses out during night, and try to keep our routines from home as much as possible," Chris and Gabi explains. With the new living conditions Cera Cassiago is now looking better and better.
For four years, Gabi and Chris have been a couple and the two was brought together through the horses. "I met Chris when I was still eventing, and started to have showjumping lessons with him. He was my coach for a long time. Then he was here in Europe with Vivant in 2012 in front of the World Equestrian Games in Kentucky, and when he came back home his situation had changed. We continued to do our horses together and we have been a couple for four years now. It is not for everyone to work, and do everything, with your partner. It is a 24 hours/7 weeks a day job. There is a lot of pressure that can be there if you let it, but we work really well together. We balance each other out pretty well and that is why it works," Gabi explains.

This time around the two have come to Europe together, but it is Gabi's first time competing here. "I was here working for Guido eight years ago, and then I decided I would be back here to compete one day. I never really knew when, because I didn't have that caliber of horses back then. I had thoroughbreds from the track – they weren't any freaks of nature, but they were good for my job. I produced one to World Cup level in Australia, and sold him to a young rider when he was 12," she says. "She bought the horse for 6 000 dollars, and sold it for 100 000 and then we went here to buy Cristalline," Chris adds proudly.

"I paid my parents back what they bought the thoroughbred for and some more, and then I spend the rest on Cristalline as well as all the costs taking her to Australia. Chris has a very good eye for horses and is very talented like that. So I knew I would at least have something that could do my job in Australia if she wasn't good enough to come here, and she has definitely proved that she is good enough," Gabi says.
Chris explains that the two always buy horses with the view of an investment. "The horses are a part of our family, but they have to pay for themselves when we sell them. We look for horses with natural jumping instincts, and are not trying to buy projects where you think if you can improve the canter or something else it will be good. I like them to trot the first time they jump, to back up and jump a little bit like a pony. Luckily, I had such good jumping thoroughbreds back in the days with excellent technique and with an excellent use of the neck so I know what I'm looking for."

"I like to buy horses under five years of age, so we look at a lot of horses and ask people to bring their best three and four-year-olds. I like when they hadn't had any form of jumping training under saddle. I think it is safer to buy younger horses, since they don't have as much luggage as older ones. We are very fussy with what we buy, and it is not easy to find the right horse. The business is so big in Europe that you have to go outside main stream to find one, there are so many professionals out there looking."

Cristalline was bought at 'Prime Selection Sales' at Johannes Holzeder and Micha Lampl after Chris and Gabi had been driving around for some weeks searching. "We had been driving for weeks without finding anything. The last place we went to we found two horses. We bought a beautiful Chacco-Blue mare last year as well, and we feel that she is the same quality as Cristalline. She will be our next one," Chris says.

Chris and Gabi try to buy stallions and mares, since the stallion can earn money with breeding and mares can give embryos. "It cost about 5 000 Euro to get an embryo foal born, and Cristalline will have three foals this year. It is very much a breeding program and a riding program.
Today, Gabi and Chris have around 20 horses. "I moved from a stud farm where we had 60 horses when I got divorced," Chris says. "I swore that I would never breed again, but Gaby likes to breed..." he laughs.

Chris might deal with world class jumpers nowadays, but in the early beginnings it was a different story. "My mother used to train trotters in the back yard," Chris smiles. "So I got in contact with horses that way. I actually started with eventing. The year before the Sydney Olympics I tried to make it into Australia's eventing team with Navy Seal. It did not work out though, so I turned Navy Seal into a showjumper instead."

"The first horse I brought to Europe was Sky High, and it was for the 1987 World Cup Final in Paris. That was the first time I stayed at Guido Klatte's stables; in the mornings I went to Paul Schockemöhle's yard to work there and then here at Klatte's stable in the afternoon. That was the only way I could afford to stay in Europe," Chugg tells looking back.

It was a six-year-old mare called WS Scandal that would really make people notice Chugg though. "At that time horses were allowed to compete in Grand Prix competitions and at the Olympic Games at the age of six. We came to Europe with WS Scandal to get ready for the Olympics in Atlanta, and at the first show in Wiesbaden she was clear every day in the Grand Prix qualifiers and people couldn't believe that she was only six," Chris smiles. "But, she was a former race horse and they mature at a younger age."

WS Scandal continued to impress: Winning a Grand Prix in Finland at her second show, and finishing second in a Grand Prix at her third show in Norway. "We were also second in the Nations Cup at the same show, won the Nations Cup in Finland and so it continued. WS Scandal was qualified for the Olympics at the age of six," Chris tells.

"In the end I couldn't afford to stay in Europe until the Games, and the owner couldn't afford to let the horse stay here either so we went back to Australia. Princess Haya actually flew over and bought WS Scandal after seeing the video from Wiesbaden, and they competed very successfully together. "
Now there is another question about flying back to Australia or not. Chris and Gabi will now have to make up their minds as to whether to stay in Europe for a while or go back. "I think it would have been a mistake to take Cristalline back," Chris says. "The mare needs to go at 4* and 5* shows. If we decide to stay here we have to start thinking about this winter's World Cup season and what shows we would be able to get in to. And if we decide to stay we would bring over two more horses," he says.

Gabi and Chris are two people extremely passionate about their horses. "We put a relationship into the horses. When we walk through the stables the horses know us. At 23-24 before we go to bed, we go out to see them – have a look on their faces and see how much water they have been drinking, things like that. It is what we like to do. It is nice to have a good groom, but it also takes away a bit of the relationship with the horse and that is why we have chosen not to have one full time. When you take an eight-year-old to the World Cup Final I think you need that relationship with the horse. I can't ever see our team being so big that we don't have a conversation with the horses every day," Chris closes off.