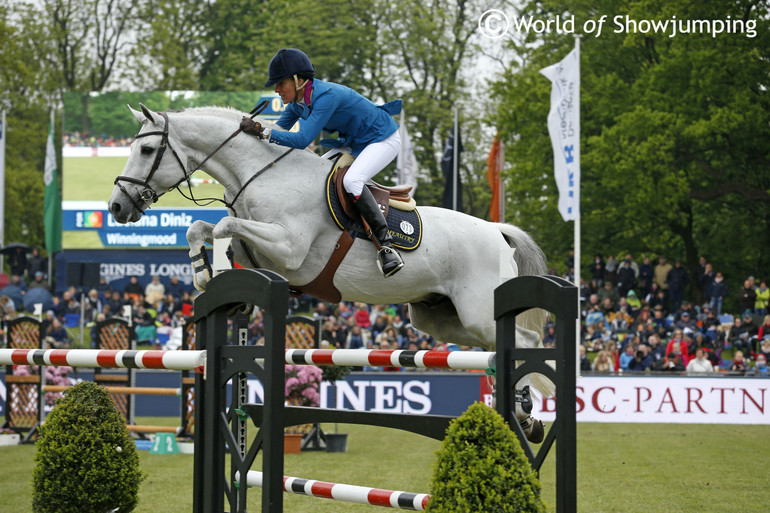 Winningmood has lived up to his name his entire life, and has had a fantastic career under Luciana Diniz as well as Ludo Philippaerts. Photo (c) Jenny Abrahamsson.
The now 17-year-old stallion Winningmood is one of the most successful horses on the international circuit: First with Ludo Philippaerts, and from 2009 with Luciana Diniz who has won some of the world's biggest Grand Prix competitions with him. World of Showjumping caught up with Ludo Philippaerts on Winningmood's story and early beginnings, and how he went on to become one of the best horses in the world.
Originally named Winningmood Van De Arenberg, he was born at Louise Morley and Patrick Smet's Stoeterij Arenberg in Westmalle, Belgium. Smet bought Winningmood from Belgian breeder Harrie Theeuwes as a four-hour old colt, and the two consequently named him together – choosing the name Winningmood and then adding the stable name 'Arenberg'. Shortly after, Ludo Philippaerts came into the picture buying half of Winningmood before he later went on to buy the rest as well.
"I bought half of Winningmood when he was six months old. We kept him in the field until he was 2.5-years-old, then he went to the stallion grading and he was approved here in Belgium. Later, I bought the other half of him as well," Ludo explains.
"I was always good with the Darco-offspring, so this – in addition to his looks – was the first reason that I was attracted to him. And with his mother-side, I thought it would be very interesting. When he was free jumping as a young horse, he had such a good technique and a really good canter. I simply had a good feeling with him, I just always liked him."
"Winningmood always had a great character, he is just a lovely horse," Ludo says with a smile. "When we first put him under the saddle, he was easy and brave. As a 4-year-old, Winningmood jumped the stallion competitions and as a 5-year-old he always showed himself good in the ring. When he was 7, I started to compete him myself and he became Belgian Champion. At this point, I could really feel that this was a horse I had to keep – it was clear that he would be one for the really big sport. I was convinced about him, and I was sure he would be a Grand Prix horse – he was careful and brave and wanted to do it. I never wanted to sell him when he was young, although I had a lot of people wanting to buy him," Philippaerts says about the early beginnings.
"Winningmood continued to jump really good as an 8- and 9-year-old, and then as a 9-year-old he won the World Cup in Mechelen," Ludo tells.
That would be a turning point for the two: "Then I just could not keep him anymore, there were so many people asking for him and I also had children coming up in the sport to support so I could not say no. In Arezzo, Edouard de Rothschild came to me and asked if Winningmood could be a horse for Luciana and I said I thought it would be a fantastic horse for her. But, I was qualified for the World Cup Final and wanted to take him there. So, we agreed I could ride there and then Luciana could come to try him after. However, the World Cup Final was a disaster because he got an infection ten days before we left and when I came back I told Edouard that I would understand if they did not want to take him after the result. They still came to try him though, two days in a row, and it went really well. So, he was sold and the rest is history."
"The horse has been great for Luciana, and they have had so many fantastic results together. He is an amazing horse. I really hope he can come back to us when his sports career is finished, and continue his breeding career from our stables," Ludo says. "We have a lot of good offspring from him. Winningmood himself has a really good technique in front, and this he passes on to his offspring. He has a lot of blood, and most of his offspring inherit this. They are all quite easy to ride, are brave and have a good mentality – they want to work. And we have good ones out of different mares, he does not need a specific kind of mare to produce a good offspring."
"I don't regret selling him. For me it is super if I can sell a horse to somebody who has success afterwards. If you see Winningmood, or All In with Peder Fredricson and Carlos with McLain Ward – it makes me so happy that the horses go well with their new riders. That motivates me," Ludo concludes.
---
As told to World of Showjumping by Ludo Philippaerts // Text © World of Showjumping // Picture © Jenny Abrahamsson