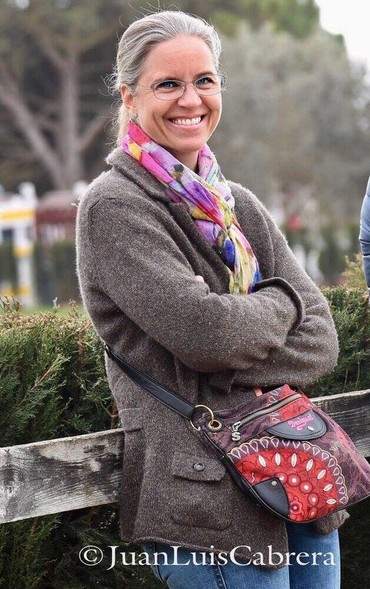 Judith Goelkel. Photo (c) Juan Luis Cabrera.
A loyal supporter of Marcus Ehning for over a decade, Judith Goelkel owns about 50 horses in total and recently she secured the wonderful Forlap for Belgium's Gregory Wathelet. We sat down with Judith during the CSI5* Saut Hermès in Paris to find out the secret of a long lasting partnership in the world of showjumping.
"I have about thirty horses under the saddle, and about twenty in breeding – Sandro Boy as my main breeding stallion," Judith tells us about the many horses she owns. "Competing at a higher level are Cristy with Marcus Ehning, Corée and Forlap with Gregory Wathelet, C-Jay with Johannes Ehning and Lexington with Nicole Persson."
Goelkel is German, but spent twelve years in the States studying. "I studied veterinary medicine, and owned a few horses with my sister. America was an expensive place to show, and through Björn Nolting I met Johannes and Marcus Ehning. Johannes started to show our horses already in the States and later on we moved our co-operation to Europe," Judith tells. This brings us to a recent hot topic, the proposal on harmonizing the entry fees worldwide – and Judith has a clear opinion. "The American system is why we moved to Europe. The European system works – the young horses get to shows. If the systems need to be the same, Americans should get closer to our system rather than the other way around. If I have young horses, and need to spend 1000 Euros for a weekend – no way my horses are going. Maybe at that point the national shows would get bigger," she explains.
Judith chooses the riders for her horses carefully. "They need to have the same mind-set as me about a careful upbringing, correct schooling, being down to earth and taking good care of the horses," she explains. "I started out with Marcus and then Johannes as my riders, all the horses were at the same stable. About three years ago Marcus, Johannes and Nicole Persson – the rider for Ehnings – all started their own business and I started my cooperation with Gregory. My horses are spread around the different stables now and each rider manages their own stable. What they have in common? They are all brilliant riders – sound horsemen with lots of talent."
Judith has been working with Marcus and Johannes for well over a decade, and shares some of her knowledge from their successful partnership. "Honesty is the key, even if it is not always easy. I have been in the sport for a while, I know there is never a short cut: If a horse is not ready for a show, there is always another day, another show. There are a million ways to do it, but you have to be able to trust each other. I understand my riders when it goes wrong – everybody has a bad day. I think different expectations are deadly to any partnership," Judith says. "When I have young horses coming up, I try to pick the right place. I try not to change the horses between my riders, unless another rider thinks a horse could work better under someone else. In general, they need to trust me and I need to trust them. If something is up, I make my opinion known and then we talk about it."
What Judith enjoys the most is seeing the horses develop. "I love what I do, Johannes has taught me all the basics when I started getting more into the business. I love horses and especially the young horses. A 1.40m class that goes well with a younger horse is just as satisfying for me as it is to see them go in a Grand Prix class. It is amazing when they do well, it is incredible," she says. "If it wasn't fun, I would not do it. I like the travelling – I pick nice shows to come and see my horses. Sometimes I just pick a lazy weekend at home and watch the shows via live stream instead. It depends on how I feel – I try to pick the shows I know. I don't like Championships and Nations Cups too much – everybody is tense; it is not that much fun. I like watching my horses – and try and go to the pretty spots of this world at the same time."
When it comes to picking horses, Judith goes after her gut feeling. "For me, first of all I trust the riders. They pick the horses and then I have a gut feeling. I don't pick them – if the riders say they believe in a horse, that's it – in the end they all want them to be clever, careful, scopey and sound."
If there are horses that are a little bit more special than others, they are Judith's own bred. "My oldest home bred horses are the 8-year-old Commentator by BB Carvallo with Johannes, and the 8-year-old Sandero by Sandro Boy, being ridden by Gregory now. I also have Cristy's two foals, the oldest with Marcus, the 7-year-old Qooper. He could develop into a special horse. It will be exciting to see what the future holds for him."
---
Text © World of Showjumping by Nanna Nieminen // Picture © Juan Luis Cabrera
(No reproduction without permission)