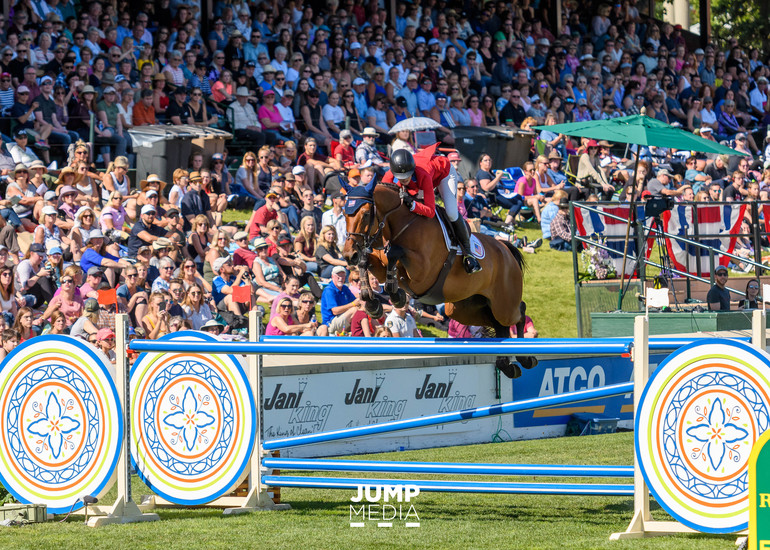 Sloane Coles made her U.S. Equestrian Team debut at the CSIO5* Spruce Meadows 'Masters' tournament in 2019 where she was the team's top performer riding Chippendale's Boy DZ. In this interview, Coles shares her experiences from her time at Écuries Mathy in Belgium. Photo © Jump Media.
Text © Jump Media
---
When U.S. show jumping athlete Sloane Coles looks back on the time she spent riding at François Mathy Sr.'s barn, Écuries Mathy, located in Remouchamps, Belgium, she fondly remembers feeling as though she was a natural part of the Mathy family. With a rich equestrian legacy running through her own veins, she cherished the opportunity to learn from a legendary horseman.
Coles grew up in the rolling hills of Virginia, the heart of quintessential horse country. Her father, John, is a former steeplechase jockey and currently Joint Master of Orange County Hounds while her mother, Julie, is an accomplished hunter and jumper competitor. Throughout her junior riding career, Coles trained with some of the best in American horse sport including John and Beezie Madden, Andre Dignelli's Heritage Farm, Mark Leone's Ri-Arm Farm, and Frank and Stacia Madden's Beacon Hill Show Stables.
In 2011, Coles was a 23-year-old young professional beginning to chart her own path. When an opportunity came through Mark Leone to ride at Mathy's barn for a couple of months, she wasted no time getting on a plane and heading to Europe. What was originally intended to be a two-month stay quickly turned into eight.
"What's obviously special about François is his knowledge," said Coles, who now owns and runs her own training barn, Spring Ledge. "He has been doing this for so long that he is a true horseman. The experience was very different from any I had before. I had been to Germany when I was 16 and then Holland when I was helping Lauren Hough, but I had never been immersed in a European system of riding, training, and sales."
Learning to speak "François"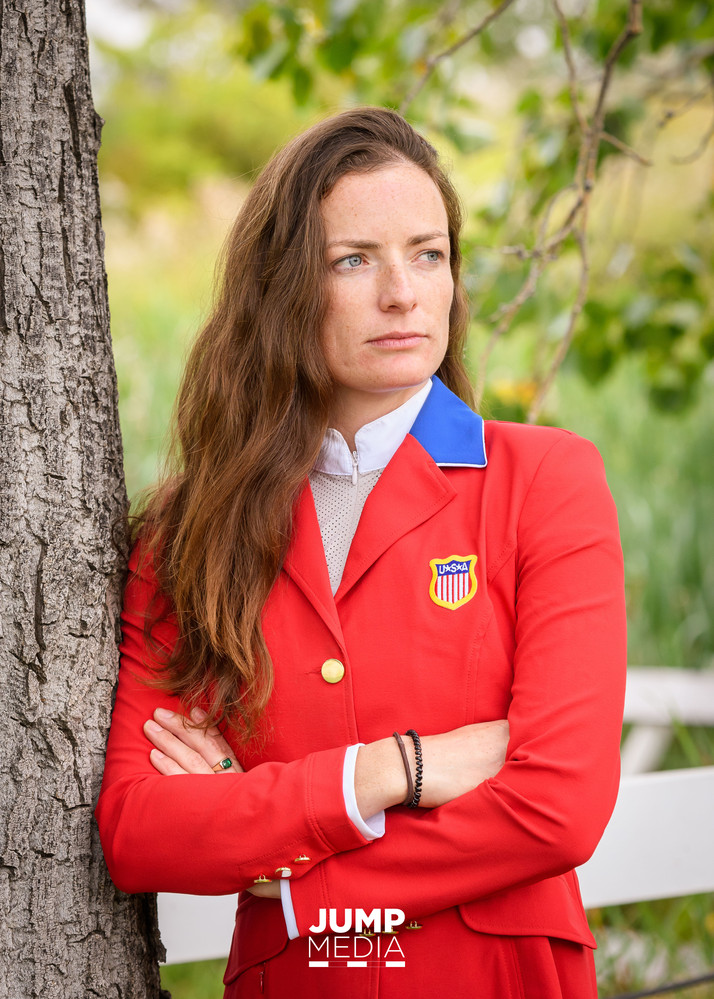 "I was so used to a program where instruction is constant," Coles tells of the typical American teaching style. "François' way was very different, but it also helped me advance my knowledge of riding and training so much." Photo © Jump Media.
"When I decided to stay longer, I was looking forward to learning more about the dealing side of the business and developing a relationship with the horses I had," said Coles. "There was no better place to do that. A new group of horses would arrive at the barn, and I loved watching François go over them on the cross ties. He knew exactly what to look for."
During that bitter-cold Belgian winter, Coles jumped more jumps than she has at any other time in her life.
"If you're on a horse and François walks into the barn, you're going to jump," she said of the man who won team and individual bronze medals at the 1976 Montreal Olympics. "You would get on, trot, canter, and when he said 'okay' it meant that it was time to jump the single. The second 'okay' meant to jump the course.
"He never said much, but you knew when he liked a horse because the jumps would keep going up and up. You also always knew when he didn't like one because he would just leave the ring," laughed Coles. "It was nice to see him get excited about one because you knew it was going to be really special."
While not many words were spoken during the day-to-day, Coles admits that she learned more amid the silence than she ever thought possible.
"I was so used to a program where instruction is constant," she said of the typical American teaching style. "François' way was very different, but it also helped me advance my knowledge of riding and training so much."
In contrast to quiet days in the barn, the evenings were filled with family dinners and time spent with François' wife, Claudia, and their children Laura and Julia, as well as François' son François Jr.
"I became part of their family, and it was special to feel like I had family there," she said. "I can truly say that was one of the best parts of the experience."
A different system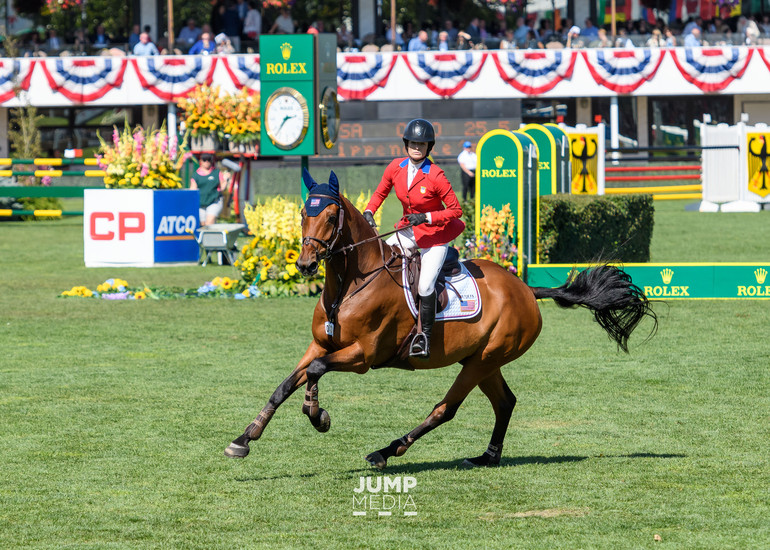 "The experience was very different from any I had before," Coles says about her time at Écuries Mathy. Here she is pictured with Chippendale's Boy DZ at the CSIO5* Spruce Meadows 'Masters' tournament in 2019. Photo © Jump Media.
An ongoing discussion within horse sport circles is one about the differences and subsequent merits of the European and North American systems of training show jumpers, as well as honing the skills of riders.
"In Europe, the training was focused more on the horse than the rider," affirmed Coles. "Yes, the horse is still an important part of the system in America, but in Europe much of their income is derived from the horse, so the riders are under more of a 'make it or break it' training program. I think that's why we see such a talented group of riders in Europe, because from a young age the talented riders make it and become what they are. In America, there is a training system that you are able to work through despite maybe not having as much talent, but it also offers an incredible opportunity for riders."
While Coles recognized the different ways each system served its purpose, she also learned a lot about her own system while working within the intricacies of Mathy's booming business. Coles had already adopted a simple yet effective method to train and care for horses, one that was learned in part from her own parents, prior to her stay in Belgium.
"It's a breath of fresh air to see horses thriving while also being horses," she said. "François helped me to understand the importance of good, simple care even further."
The things that really mattered, like a horse's hoof maintenance, nutrition, and comfort, were the focus of Mathy's business.
"It sounds almost impossible when you consider the number of horses that were in and out of his barn, but we ended every day by focusing on each horse's well-being," added Coles. "I still look back on that and remind myself to keep it simple in my own business. Handfuls of supplements or complicated shoeing isn't always necessary. It's easy to get stuck in a complicated system, but they sometimes don't need all that."
Diamonds in the rough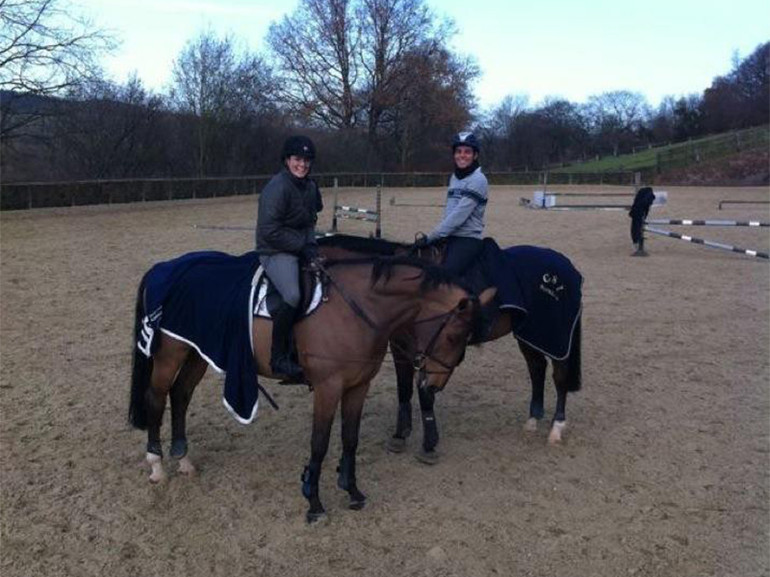 Sloane training alongside Rena Tops at Écuries Mathy in Remouchamps, Belgium. Photo © private collection.
While the paramount goal of any dealing barn is to move horses through and make sales as quickly as possible, Coles recalls Mathy always encouraging her to build bonds with the horses, no matter how brief its time was in the barn.
"Even though he is a dealer, he appreciates time well spent with the horses and understands the relationship between the horse and the rider," she said. "He was very kind to every horse, no matter its level of talent."
Coles recalls one day when she braided a horse's mane over. When Mathy spotted it, he quietly asked her never to do that. He didn't care which way the horse's mane fell, only that the horse was comfortable. According to Coles, Mathy always wanted the horses to be themselves. As a result, he was able to see things that no one else saw.
"We were able to witness such improvements with horses that were so raw no matter their age," said Coles, who made her Nations' Cup debut riding for the U.S. team at the CSIO Spruce Meadows "Masters" tournament in Calgary, Canada, in 2019. "Maybe they were 11 and had three or four babies and had hardly done anything, but he knew if they were with the right person, they could still be a great horse."
"We had a horse come in that had previously been turned out on a farm with pigs and, with a little work, five months later she was jumping in FEI two-star competition," recalled Coles of Zydoctro van de Kapel (Indoctro x Landwind), a Dutch Warmblood mare that Germany's Mark Bettinger piloted for Mathy. "François loved finding them in the raw like that."
When Coles looks back on everything she experienced during her time with Mathy, she most admires his ability to see one good jump from a horse and have faith in knowing that the rest would come.
"He had, and still has, a true kindness with animals," she said. "I learned so much about the dealing side of the business, but I think witnessing his character and how he treats the horses under his care was the most important takeaway from eight months by his side."
Sloane Coles grew up in The Plains, Virginia, immersed in all things equestrian. Following a successful career as a junior competitor she formed Spring Ledge, a top-class hunter/jumper facility located in the heart of Virginia's hunt country. In addition to developing horses and riders for the show ring, Sloane and her family operate a retirement program caring for more than 50 horses. To learn more, visit www.springledgeva.com.