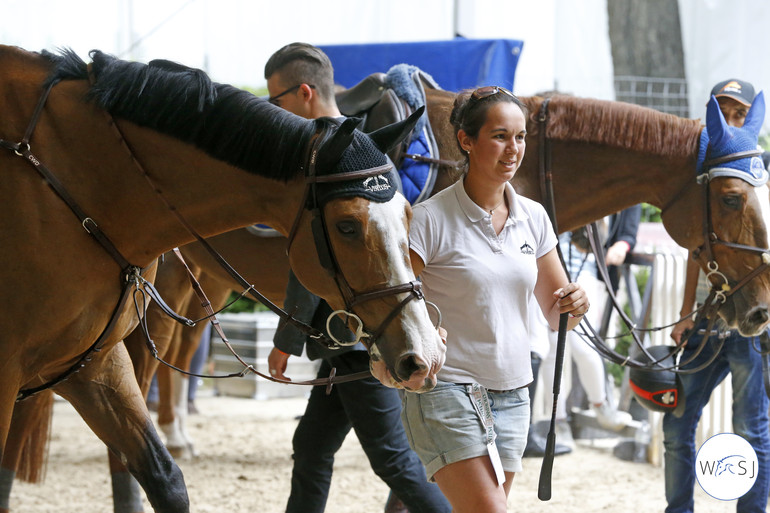 Leila Chew went from being a musician to working as a professional groom. Photo (c) Jenny Abrahamsson.
What does a violin, the British showjumping legend Michael Whitaker and a broken wrist have in common? Not much you might think, but her name is Leila Chew. Here's the story on how an injury that ended a career as a musician, just might have been the best thing that ever happened to Chew.
"I used to play the violin, and it wasn't until I broke my wrist and was forced to take a break from playing that my parents finally understood that all I really wanted to do was ride," Leila laughs when talking about the beginning of her equestrian career. "My parents are both musicians and they wanted me to follow in their foot steps, so they would not support me financially when I said I wanted a horse. I worked in a pig farm for a year to save money for my first horse, and worked during weekends while in college to support him."
Leila helped run the yard where her horse was staying, and it was a girl from the neighboring stable – Yazmin Pinchen – who told Leila about a job opportunity at Michael Whitaker's. "I went for an interview and never came back," Leila says. "Michael is the kindest and most patient person I've ever met. I have learned so much from him and he always comes up with new ideas and never loses his temper – even after five years working for him I still feel like I learn new things all the time."
Leila does everything from driving to the shows to riding, and the days are long – regardless she doesn't find much to complain about: "I think I'm lucky to love driving, I think it is nice to be on my own that way." The best part of the job is a certain chestnut gelding; "Viking makes my day every day, he is the best. The funny thing about him is how much he loves being in the paddock; we even leave him out during the nights and he has a pony called Flower to keep him company. They are best buddies and when Viking comes home from the shows and we let him out in their field, he gallops around to find his friend."
It seems like Leila has found her home at Whitaker's and she is not planning to leave any time soon. "I'm taking every day as it comes and I'm not thinking about the future too much. Maybe if Michael stops riding one day, I can keep working for Jack," Leila tells about Michael's 14-year-old son who just won the European Championships for pony riders. "Jack won the Europeans the week after Rio, and it was the best thing that could have happened after our difficult time at the Olympics," Leila says about the dramatic trip she had to Brazil with their horse getting very ill. "Jack is going to be incredible, maybe I'll buy a house near the yard and end up working for him," Leila laughs.
The love for her job and the horses shine through when talking to Leila, and it seems like the initially-reluctant parents have warmed up to the idea of grooming as a career choice. "I think they are proud of me now," Leila says. "Since I'm travelling so much and they live in London, I don't see them so much – but we talk a lot. They know I have done my best and that I love what I do."
Even though an injury is nothing to celebrate, there is for sure one person who thinks it's good Leila was forced to ditch the violin: Michael is very happy with his hard working groom. "She is very dedicated and she rides well, I don't need to worry about a thing – I feel very lucky to have her," Michael says.
---
Text and pictures by Nanna Nieminen/Jenny Abrahamsson for © World of Showjumping