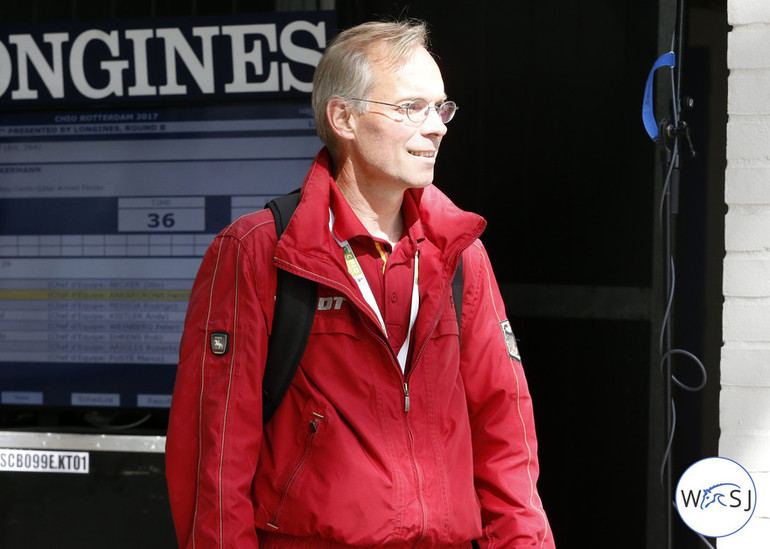 Jan-Hein Swagemakers is a well-known face on the international showjumping circuit. Photo © Jenny Abrahamsson for World of Showjumping.
Text © World of Showjumping
---
Jan-Hein Swagemakers is a well-known face on the international showjumping circuit – he has functioned as the German team veterinarian since 2009. Swagemakers also has his own clinic – Tierklinik Lüsche, is a FEI permitted treating vet and an equine chiropractor. Here, Jan-Hein shares his knowledge on the most common injuries on showjumping horses as well as ways to prevent them from occurring.
"With jumping horses, we mostly see injuries in their joints, ligaments and tendons. We have less muscle injuries, or at least we don't diagnose those that often," Jan-Hein starts. "Around 70% of all the sport injuries on jumping horses occur in the area below the front knees and the hocks."
"This has to do with the way the horses are built and how their body works," Jan-Hein continues. "Looking closer at the way the horses' legs are built up, there are a lot of angles. Because of all these angles, the joints, muscles and tendons are under a lot of pressure," Jan-Hein explains. "This structure seems far from ideal to carry the weight of a horse, however there is a good reason for it as it conducts power and allows elasticity."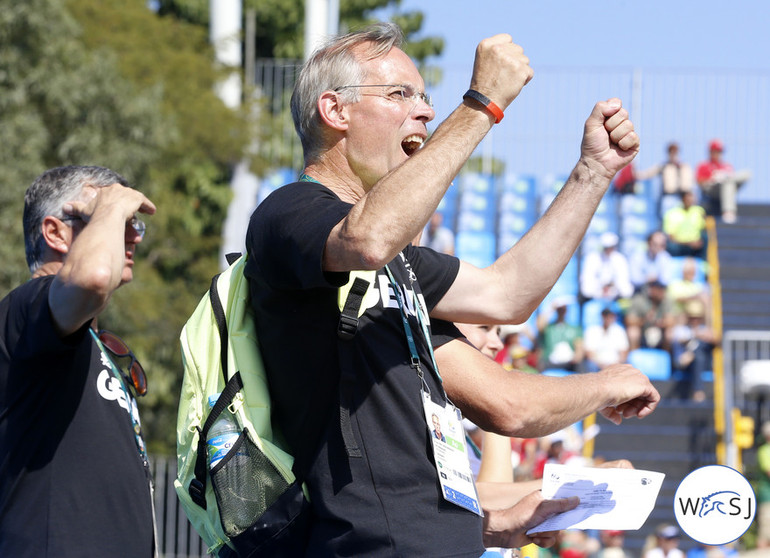 Jan-Hein Swagemakers is always there to support the German team, here at the Olympics in Rio. Photo © Jenny Abrahamsson for World of Showjumping.
Jan-Hein Swagemakers shares a few basic principles on how to prevent injuries:
1. "First of all, you have to bring your horse in good basic condition. A horse that has rested needs time to get back into good basic shape before starting to compete, otherwise it is more likely to (re-) injure itself. If you only train five minutes every day, you can't expect the horse to do a warm-up of 25 minutes and then be in the ring for 90 seconds. You need to be able to have a horse that is fresh when you enter the ring, so you need to train accordingly. When the horse gets tired, it can't control its movements and legs and also can't adapt to different situations. Then injuries occur quicker. Consequently, you need to have a horse with enough condition. So basic endurance-fitness is the very first key point."

2. "The next point is the training of strength. Muscles, ligaments, tendons and also bones are all living tissues – they adapt to the work they are doing. This is very visible when it comes to muscles, as they get bigger and stronger. With joints, ligaments and tendons it is the same – they need to work to get stronger and this takes longer than for a muscle. It is difficult to evaluate the strength of the ligaments and tendons because unlike muscles they don't grow bigger when they develop. The same goes for bones that carry weight and are moved regularly, they get stronger. Bones that aren't working will get weaker and fracture more easily. Strength requires a different kind of training though – more explosive – and is directed to working on the muscle itself to develop power. A marathon runner and a weight lifter look totally different and a horse needs a bit of both. A jumping horse needs a combination of endurance and power, so you need to train both."

3. "The third point is neglected a lot! It is the proprioception training. This is the principal of the body's awareness to be able to adapt and react in different situations. If you for example walk on the street and step in a hole, your leg will correct itself before you even realized that you stepped in that hole – that is if you have a well working proprioception system. If you never train your proprioception, always walk on smooth paths and always do the same regular movements, then your system will become lazy, not react as quick and you will sustain an injury easier.
This is something you also have to train with your horse, and preferably start already at a young age. One way is to make sure the horse moves on different surfaces; another is to do certain exercises. This helps the horse to be adaptive to changes. If your horse is not used to galloping through the woods, you should of course not go out for a 20 minutes canter – you have to introduce the work to the horse step by step. If horses are used to moving on uneven surfaces from when they are young, they will normally not have a problem with it when they get older."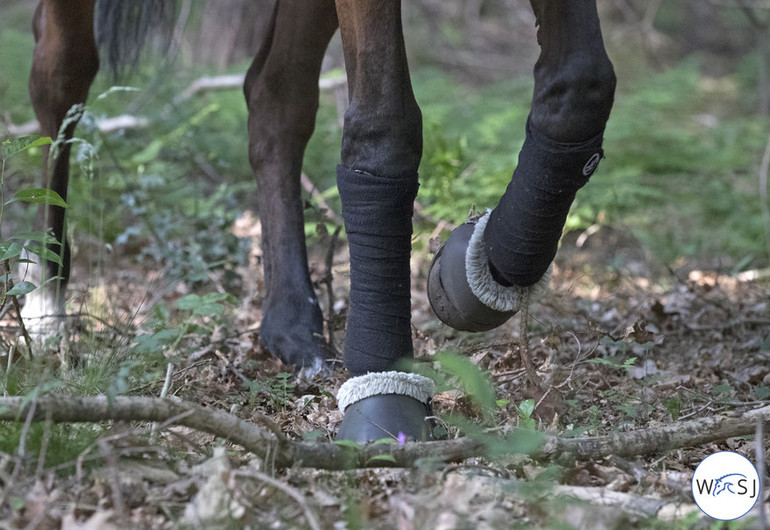 Moving the horses on different surfaces, helps them to be adaptive to changes. Photo © Jenny Abrahamsson for World of Showjumping.
"The better the horses' proprioception system works, the stronger they will be in the ring and the less injuries you will get from certain turns, a bad landing, a slip or other unexpected situations that can occur.
When a horse gets tired, their proprioception system doesn't work optimal anymore so this is also connected to the first and second point."

4. "The mental training is also important. This is a balance-act as the horses need to be alert and react quickly when needed, but they shouldn't be so awake that they are nervous. A nervous horse will get injured easier than a horse that trusts its rider. I am not just talking about being in the course here, it can also be other situations where the horse needs to pass scary elements and is outside the comfort zone."

5. "For the daily routines there are the basic principles: Do a correct warm-up and let the horse stretch before and after riding. The warm-up is different from horse to horse, but you need to make sure that the blood circulation is good enough and that the horse's muscles and tendons are relaxed to move well but also alert enough to be ready to perform. You can't ask the horse to start performing with a cold body. A good warm-up always has a couple of small breaks in it as well, so that the tendons can load their elasticity and energy storage. It is very important that the type of warm-up you do at home, is also the one you use at the show.
As much as you take care of the warm-up, you also have to take care of the cooling down process. To simply put your horse away in the stable with a blanket on will not do it. Trot the horse off after you finished working and take the horse out later that day or early the next morning so the local circulation gets activated and the different tissues can recover for the next challenge. If you don't let your horse move in between when you expect it to perform, the risk of injuries is much bigger. The horse will then still be strained, and you will not have the necessary elasticity.
The best massage for a horse is slight movement – to jog them. Let the horses jog on the lunge; let them move as they like and have their heads as they like. If the horses are fine with lunging, it does no harm – neither if you jog the horse nor work the horse on the lunge.
All the above training aspects can't be done on the same day, but if you take your time with all of them, it will make your horse ready for the shows. At the shows you only have a short moment when you need to fire up the engine, and then it is important that your horse still has the power."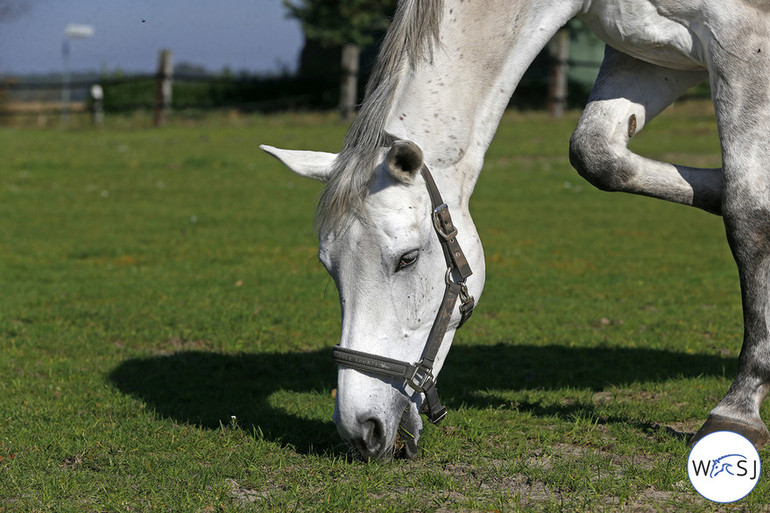 "My theory is that horses that are out on the field every day get less sport injuries than horses that are not turned out," Jan-Hein says. Photo © Jenny Abrahamsson for World of Showjumping.
6. "Last, but not least – give your horse a regular vacation. They need a break once in a while, just like us. They can't jump two years on the same level and still be fresh, healthy and motivated.
Some people let their horse out on the field for three weeks and take their time to get them ready again and that is really nice. But some show horses feel neglected when doing so, so you have to be careful. They are all different and some need the personal care and the grooming to feel well. Listen to your horse on how they prefer their break; here the grooms should play a big part since they know all aspects of their horses. The most important is that the horse has no stress and that they don't have to work as a top athlete for a while. You can hack out in the woods and skip the jumping for a couple of weeks. Get them out of their normal routine. But please remember that horses want to move – you can't put them in a box and only hand walk them a couple of times a day.
When it comes to putting the horses out on the field, opinions differ from rider to rider. If the horses are used to being out every day, they are unlikely to get injured. If they are not used to it, the risk is higher though. My theory is that horses that are out on the field every day get less sport injuries than horses that are not turned out. In the end, the field is really good for their bodies and minds."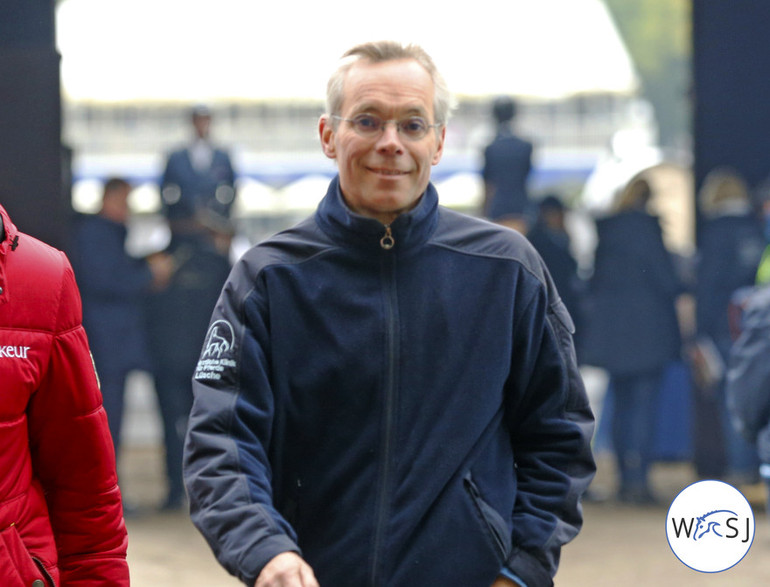 "The show season will be back sooner or later and a good preparation now can save you injuries later," Jan-Hein says. Photo © Jenny Abrahamsson for World of Showjumping.
How to train during the show break?
"Take your time with the younger horses now. They need development work to come to a certain pace to get ready for the next level. The older and more experienced horses that have already seen the world should definitely not be trained as usual. They don't need much training – give them a break. Keep the basic condition and the movement in the horse and when we get the green light to show again, you can make a plan on how to get them ready. The show season will be back sooner or later and a good preparation now can save you injuries later," Jan-Hein closes off.
No reproduction without written permission, copyright © World of Showjumping