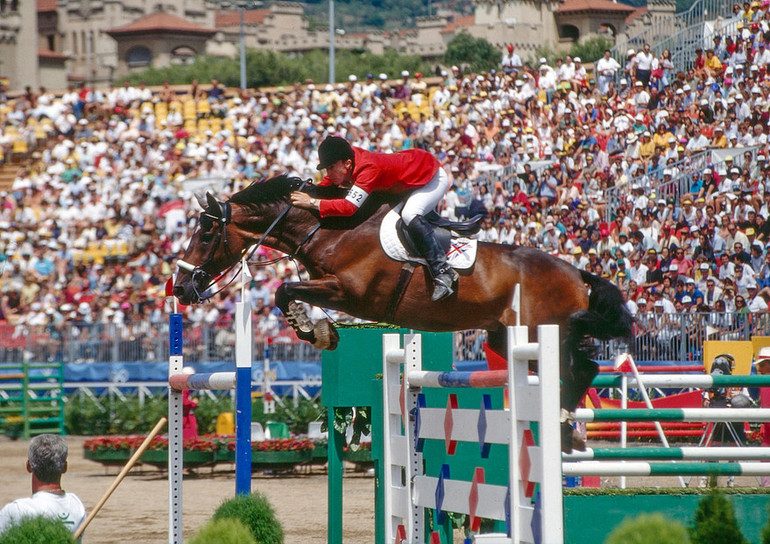 'The Special One': Mon Santa at the Olympic Games in Barcelona in 1992 with Michael Whitaker. Photo (c) Dirk Caremans/ Hippo Foto.
In World of Showjumping's exclusive series 'That Special Bond' we talk with some of the top names in the sport, to discuss the horses that have shaped their careers, fulfilled their dreams – and sometimes even broken hearts.
A rider that has met quite a few special horses during his career is living legend Michael Whitaker, so we knew we were in for a treat as we got the British rider to tell us about which horse was the most special for him, which one he considers the one that got away and of course which of all his stars was the top money maker.
The Special One
"Mon Santa was the most special one for me during my career. I got him at the end of the eighties: He was double clear in the European Championships in Rotterdam in 1989 winning team gold and individual silver, he won the Hickstead Derby three times, he won the Dublin Grand Prix – well, he won a lot.
Mon Santa was a really good horse, a real trier. Whatever he could do, he did. I got him when he was a 13-year-old and I had him until he was 20 – and all that time he never got lame, he was so sound. He was a really tough, Irish horse.
The best thing about Mon Santa was that he just knew when the big day was… You could take him to a local show, and he could have three down. But take him to a big show, to a big class late at night, he would rise to the occasion. He was a really good horse. We retired him in 1995."
The One That Got Away
"The one that got away was Just Malone. The horse was in England and I rode it for a dealer. Then he got sold. He was a little sharp, not really tricky to ride, but you had to think when you were on him. Things did not really work out with him in his new home, so he was sent back and the dealer told me I should pick him up from a show in London. But I forgot…
Then two weeks later Helena Dickinson (now Stormanns) turned up at a local show with him and I thought: "SHIT!" It was unbelievable – that horse turned out to be the best horse she ever had. They won the Rome Grand Prix in 1988 and did really, really, well. It is funny now – but it wasn't funny back then!"
The Money Maker
"The money maker would be a horse called My Mesieur – he was about 12-years-old when I got him. He was an unbelievable second horse to have: You jumped him four times, he won four times. He would win three to four classes every weekend!
From the more recent horses I've had, I would have to say that Viking is a very good one. The start with him was pretty difficult, but he is getting easier and easier now and more consistent.
Amai, who was recently retired, did not win so many big classes but did win the right ones such as the Aachen Grand Prix. Amai seemed to pick the right ones to go well in. He was a very big, strong horse and not really that athletic – but he is the best one I had more recently.
Portofino was also a good one, she was one of those that always rose to the occasion."
---
Text © World of Showjumping by Nanna Nieminen // Picture © Dirk Caremans / Hippo Foto (No reproduction without permission)