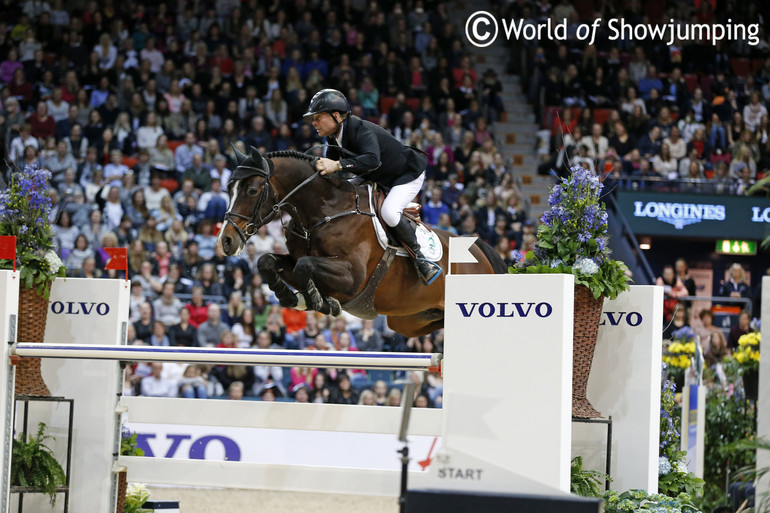 Casall Ask has turned out as both 'The Special One' and 'The Money Maker' for Rolf-Göran Bengtsson. Photo (c) Jenny Abrahamsson.
WOSJ continues our new series to highlight what our sport truly is about; that special bond between a horse and its rider. We have created a number of exclusive interviews with some of the top names of the sport, to discuss the horses that have shaped their careers, fulfilled their dreams – and sometimes even broken hearts.
In the second part of the series we caught up with Sweden's very own Rolf-Göran Bengtsson, who is heading off to an exciting Longines Global Champions Tour Final in Doha in a few weeks' time as the leader of the series.
Here you'll find out which horse was the 'The Money Maker', 'The Special One' and 'The One That Got Away' during Rolf's very successful career.
The Special One and The Money Maker
"Casall Ask and I have a long story behind us, and that is what makes him the special one for me. We got him in the middle of his 6-year-old season, and we have slowly build him up. He has a great character: He knows when it is time for the big and important classes, and he knows when we are only doing a warm-up round. We know each other really well. I have had him now for 10 years, I have never had a horse for that long. The last five years he has been amazing, he is only improving the older he gets. Casall Ask has such an attitude; he really wants to clear the fences. At home he can be a bit lazy and we just try to keep him happy.
We have full respect of his age, and we have no deadline for his career. With our sponsors Stutteri Ask and Casall Ask's owners, the Holsteiner Verband, we will consider how he feels. The day it feels like he is not happy with his work, he will be retired. We want him to be happy and to come out of the sport sound.
After all the success with him, he is also the one who has made the most money – he has been so consistent. He has been clear in nearly all of the Global Champions Tour Grand Prix classes he has jumped, if we have been unlucky he has had one down. That is really a special record for any horse. I think he has done 36 starts and 33 times he has been in for the second round, 18 times we have ended up on the podium – winning eight of them."
The One That Got Away
"When I left Sweden, I went to work for Jan Tops. It was a dealing stable, and I knew that from the beginning. I had a great time at Jan's and I got many contacts through my time there.
Pialotta was an amazing, special horse. She was naturally fast and a fighter. I think for nearly one year we topped the rankings for the horse-and-rider combination that won the most. I won my first championship medals with her at the European Championships in Arnhem in 2001; silver for the team and bronze individually.
I won many good classes with her, she was always very fast – even if we didn't go all out.
Shortly before the World Championships in Jerez in 2002 she was sold. She was not the first horse I lost, as I worked for a dealing stable. What happened with Pialotta made me think that I had to try something else for myself, so that I could keep a few horses and focus on my sport. After my time at Jan's, it took a while to get new owners.
But ups and downs are natural in this sport; you drop down at times on the rankings, but if you are serious and you really want to do this you need to accept that and keep on working. Like in my case, even if losing Pialotta was a blow at that moment – everything worked out ok in the end. First came MacKinley, then Alfonso Romo and the La Silla-horses with for example Ninja La Silla, and now Stutteri Ask.
Pialotta was a special horse and she went on to be very successful with both Steve Guerdat and Edwina Tops-Alexander. Reaching success at championship-level with three different riders is special, and that is what Pialotta did."
"With all that said about Casall Ask and Pialotta, I have to add Ninja La Silla that also been very special for me and the horse that has given me the most championship medals. Ninja La Silla was a true hero, jumping fences bigger than himself over and over again."
---
As told to WoSJ by Rolf-Göran Bengtsson // Text © World of Showjumping by Nanna Nieminen // Picture © Jenny Abrahamsson