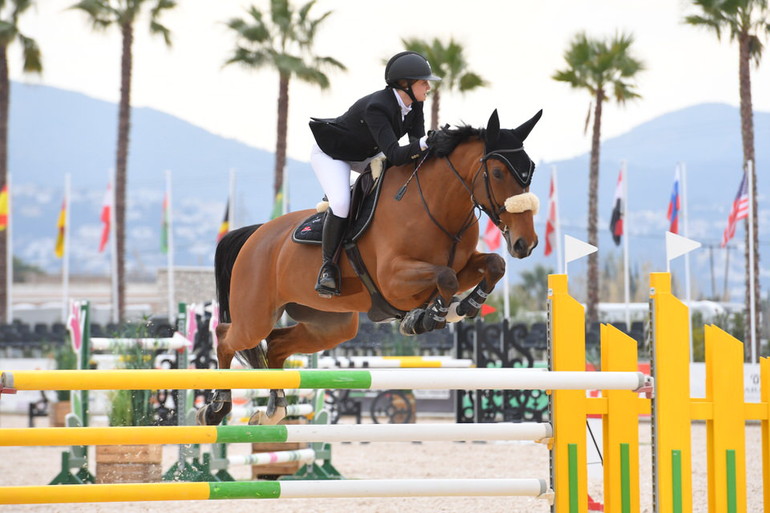 Julia and India Blue ZF, a horse she has known since the day it was born. "I think I get the most enjoyment out of her because a) I'm just super proud to be riding her and b) she could just do it all on her own," said Julia. Photo © Hervé Bonnaud/www.1clicphoto.com.
Text by Emily Riden for Jump Media
---
Show jumping is in 21-year-old Julia Tops' blood. As the daughter of Canadian Show Jumping Team veteran Tani Zeidler and Dutch Olympic team gold medalist and founder of the Longines Global Champions Tour, Jan Tops, it's only natural that the young rider has inherited her parents' love of riding and competing.
A brief conversation with Julia, however, reveals that it is not just her parents' interest in horses that has been passed down; they also share a commitment to excellence and a fierce tenacity for accomplishing everything that they set out to. Both traits are highly apparent as Julia speaks with enthusiasm of her future plans, the road that got her to where she is today, and the substantial goals that she has set for herself in both the equestrian and academic worlds – areas of focus that she has prioritized from an early age.
"Looking at pictures in our photo albums of me as a baby, I was already riding with my parents, sitting in front of them," said Julia, who grew up in Calgary, Canada, with her mom. "My parents also really value education so I went to a normal private school and my studies always came first. If I did well enough in school, I could ride. They wanted to see if I really wanted to ride and not just do it because they did. It was always my choice."
Throughout her junior career, Julia trained with Canada's Bobbie Reber in the equitation and hunter divisions. For show jumping, she worked with a number of acclaimed trainers, including Lauren Hough, Olympic bronze medalist Norman Dello Joio and his son, Nick, as well as Ireland's Eddie Macken.
"Growing up, my mom was still competing in five-star grand prix classes, but I never trained with her because neither of my parents thought it would be a good idea to teach me themselves when I was younger," said Julia. "My parents were both really on the same page with that. They thought it's better that you learn from others. They wanted me to gain skill sets from many different people and learn different programs."
However, when Julia graduated from high school in 2015, her horses moved to Stal Tops in Valkenswaard, the Netherlands, and Julia began training with her father for the first time. Naturally, her European show schedule included stops on the Longines Global Champions Tour.
"I'm so incredibly proud of my dad," said Julia. "This was always his vision, and I think that the Global Champions Tour has revolutionized the sport. It's making show jumping a spectator sport. It's entertaining, it's thrilling, and it's giving the athletes the value that they never had before."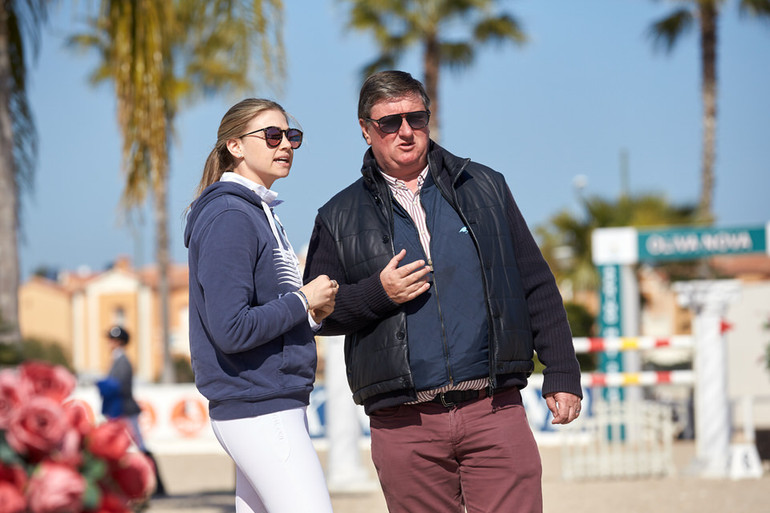 "We're like peas in a pod, so it makes it easy. I trust him no matter what, so if he tells me to do a crazy inside turn, that's what I'm going to do," said Julia Tops on training with her dad, Jan Tops. Photo © Hervé Bonnaud/www.1clicphoto.com.
When it comes to training with her dad, it works well because the two share similar, complementary personalities in many regards.
"He's really calm and very detail-oriented when he goes through the course, which I am as well, so that's helpful for me," said Julia. "We're kind of like peas in a pod, so it makes it easy. I trust him no matter what, so if he tells me to do a crazy inside turn, that's what I'm going to do. I feel like that kind of trust is something I have only ever had with my parents. I think that's helped me become competitive."
Julia also credits certain key aspects of her dad's program at Stal Tops, as well as fundamental differences between riding in Europe versus in North America, with helping her to be more competitive in the show ring.
"The way my dad's program is, there is a lot of self-initiative," said Julia. "He's not going to be there every day to teach you on the flat. That was a huge transition from America where people are always there no matter what you're doing. It's really allowed me to get to know what works best for my horse.
Julia also has benefitted from some dressage training while at Stal Tops. "That's a totally different approach that has been super helpful with my horses," continued Julia. "My big bay horse [Delacroix AS] is an absolute pain to ride on the flat because he's so strong. [The dressage lessons have] made my life a million times easier because [now I have] tricks that, if I do them on the flat, help immensely when I start jumping."
Thanks largely to the program at Stal Tops and Jan's tutelage throughout 2018, Julia scored more than a dozen top 10 finishes in the CSI1* and CSI2* divisions on the Longines Global Champions Tour and throughout Europe. Her string of three horses are owned in partnership by Zeidler Farm Canada, Ltd., and Tops Horse Trading BV. They include Delacroix AS, a 10-year-old Oldenburg gelding; Sire One, a 12-year-old Italian Sport Horse gelding previously competed by Brazil's Yuri Mansur; and India Blue ZF, a notably special 13-year-old Canadian Sport Horse mare bred by Tani's Calgary-based breeding and training operation, Zeidler Farm.
"Both of my parents are great horse people, and my mom has been really inspiring to watch as she creates her own legacy through our home-breds," said Julia. "I think the results of the Zeidler Farm horses speak for themselves. They're so lovely to ride, and they're so easily competitive.
"That's how it is with India Blue ZF," said Julia of the horse she has known since the day it was born. "She places more than any of my other horses because she's easy, quick, and freaky careful! It's quite unique, and she tries so much with her heart. I think I get the most enjoyment out of her because a) I'm just super proud to be riding her and b) she could just do it all on her own. She's a very strong-minded woman; that's what I imagine. She's going in there to do the best job possible."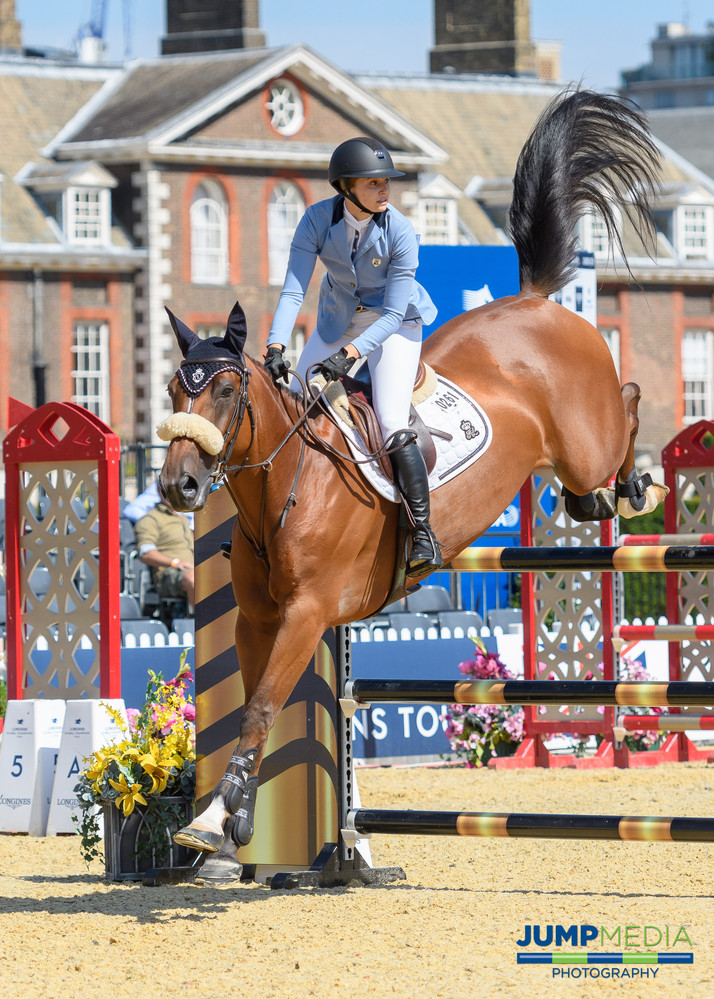 Julia and India Blue ZF, a Canadian Sport Horse mare bred by her mother, Tani Zeidler, competing at the 2018 Longines Global Champions Tour London – only miles away from the London School of Economics where Julia will begin studying this fall. Photo © Jump Media.
That's a trait that India Blue ZF and Julia share. A tenacious student, Julia is currently finishing a double major in International Relations and Contemporary Asian Studies at the University of Toronto, all while striving to put her best foot forward in both the classroom and the show ring.
"Obviously, it's been a huge sacrifice for both school and riding," said Julia, who also served as a co-chair of the University of Toronto's G7 Research Group (dedicated to tracking and publishing compliance to goals put in place at the annual G7 Summit) and a compliance director of the university's G20 Research Group.
"I wouldn't recommend it to people who don't really want to do it because it's not fun and glamourous," laughed Julia of balancing her riding with her studies. "I know it sounds great to be flying every other weekend to Europe but it takes hard work on both ends to make it happen. My parents have been so incredibly supportive through the four years I've been at university; I owe so much to them because I honestly couldn't have done it without that level of support from them.
"I look at my friends who ride all of the time and it can be difficult when you feel like you're not progressing as quickly as they are," said Julia, who made the decision not to compete higher than at the CSI2* level while in university. "I'm really happy jumping the two-stars right now, but it doesn't mean that it's easy. The people that I used to do the ponies with are in a different place than I am because they didn't go to school. I'm a competitive person, so I've struggled with that on and off over the years, but at the end, I'm am confident and happy with my choices.
"I'm also in the sport because I love the animals," continued Julia. "I feel like sometimes I sacrifice that relationship because I don't get to work with my horses all the time. For me, that's what appeals to me about the sport, not this so-called glamourous lifestyle. That's a hard part as well; I wish I could be with them more. . I know and have seen my parents put in hard work and uncountable hours. I spam my groom every couple of days asking for pictures and videos!"
Despite the trade-offs made in order to balance both school and time in the saddle successfully, the positive rewards have far outweighed any negatives. One of Julia's greatest rewards to date has recently come in the form of an acceptance to the prestigious London School of Economics (LSE), one of the top-ranked universities in the world.
"The biggest reward for school is definitely getting into LSE," said Julia, who will relocated to London, England, to start a one-year master's program for development studies in October 2019. "I worked my butt off for that, and it's the whole reason why I wanted my grades to be as high as possible. That meant skipping shows some weekends or riding less times a month, but it paid off for me, which I'm really happy about. It's a great honour. If you want to study economics, you can't get much better!"
With Valkenswaard located roughly one-hour from London by train, Julia is eager to get in the show ring more frequently while attending LSE.
"That commute is nothing compared to what I've been doing, and there's only a one-hour time change, not six like when I come from Toronto!" joked Julia, who plans to spend the summer competing in Europe prior to starting at LSE in the fall.
Following completion of her master's program, Julia is unsure exactly what the future might hold, but she knows that she wants to continue to simultaneously chase her career and equestrian goals with the same tenacity that she has exhibited throughout her life. Ultimately, she hopes to prove that one can have it all, achieving show ring success alongside a fulfilling career.
"Sometimes people think I'm not serious about riding because I also like school, which is not true at all," said Julia. "I'm not flying to do something on the weekend that I'm not serious about; that would be spending a lot of time and money on something that I am only half-committed to it. I have just as many aspirations for my riding as I do for school.
"People say things like, 'I don't get why you'd want to go back to school,' and some people say, 'Why are you still riding when you now have a really secure job prospect after your master's?'" continued Julia. "It's kind of a weird mentality for people to get past, thinking that you have to pick one or the other, which is fair; not a lot of people do that.
"I don't want to have to ever pick," continued Julia. "I want to be able to support myself and my equestrian passion by working in the engaging and intellectually challenging field of development, where I can strive to help people have a better quality of life as this something that I am lucky enough to enjoy. It would be my honor to do that alongside continuing my parent's hard work in the sport. That's the goal, because I aim to never give up riding or my career."