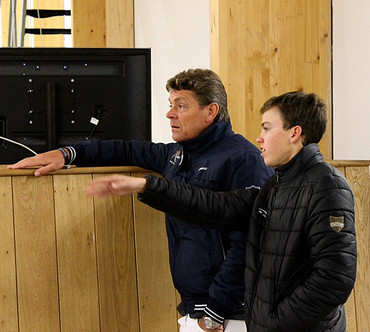 Lucas Porter with his trainer Jeroen Dubbeldam. Photos (c) Nanna Nieminen.
Imagine you are sitting on your horse at the in-gate, listening to your trainer's last advice. Imagine your trainer is no other than European, World and Olympic Champion Jeroen Dubbeldam. Most of us would probably answer any of his advice with a yes and amen. Well, meet Lucas Porter – obviously not like most of us. He would answer Jeroen's advice with "But, why?".
WoSJ sat sat down with the talented young American who's training with the best to become the best.
The 19-year-old Porter, originally from Dallas, Texas, has lived the past three years in Florida with his family and has trained with Jeroen Dubbeldam since the beginning of this year. "My family and I felt that if we wanted to achieve our goals within the sport, we need to train with the best in the sport – for us this was Jeroen. And he has been everything we dreamed of and more. My goal? To be the best. I would like to follow in Jeroen's footsteps, not only for the success in the ring – but for the other parts of the sport as well. I want to become not only a good competitor, but a good horseman too."
With some very good results this season, Porter has showed that he definitely is one to go for the win. "I am a very competitive rider, but I do understand that I can't go in to win every class. Right now I have four horses, two ranking class-horses, one young horse and a horse for the second classes – I am fortunate to have a really good string of horses but I'm looking forward to learning more about producing horses and strengthening my team.
My older brother riders also, he is as passionate about the sport as I am – and also trains with Jeroen. We have eight horses in total, and three grooms – we have a great team," Lucas says.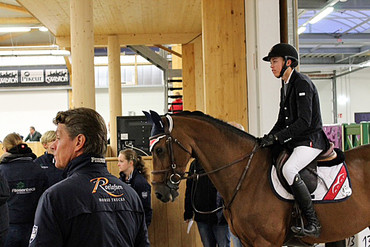 At the in-gate with one of his best horses B Once Z, and trainer Jeroen Dubbeldam who gives the final piece of advice.
Lucas and his brother were introduced to horses by their mother, and their parents play a vital role in their bid to become better. "Growing up in Texas, horses are a big part of life for a lot of people. My mom rode horses and jumped also, and she introduced me and my brother to the sport. At first I wasn't as passionate about the sport as my brother was. My parents are awesome; they motivate us and they support us and I am super thankful for that – without supportive parents it is hard to do anything."

After finishing high school in May this year, Lucas has been based in Europe at Jeroen's yard and he enjoys the European way of life – even if it's really a lot different to America: "It is definitely different competing in Europe. The European community turnout is more significant compared to shows in America. Also the atmosphere is totally different, in Europe people like to hang out together after the show."

Lucas is having a gap year to focus on his riding, but will be starting at Vanderbilt University in the fall of 2017. "I'm lucky enough to have parents who allow me to have a gap year before I go to college. I am going to study something in business and I hope to translate that to the horse world," he says.

Before moving over to Europe, the young talent looked up to his fellow country men and women – now he has seen that there are plenty more great riders out there: "My idols were the ones I knew – Beezie, McLain and Kent. Coming over to Europe and seeing how many good riders there are, and training with Jeroen – for sure now my idol is Jeroen. Not only because of what he has done with De Sjiem and Zenith, I admire him because he is a complete athlete and a horseman. He can sell nice horses, he can produce nice horses and he can win – he has it all."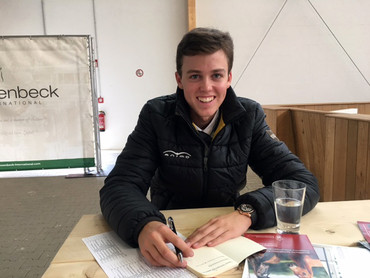 Lucas Porter talking with WoSJ.
But how is it really, training with a European, World and Olympic Champion? "Jeroen is so relaxed, he never gets overly excited; his highs are not very high and his lows are not very low. He is a fantastic trainer, I trust him 100 percent and I try to do my best and do what he says. For sure he listens to what I say also; he likes to hear what I think. He encourages us to not be robots, not to just copy him – but to develop our own system with input from his system. He prefers when we are not exactly like him, we should develop ourselves. I have never been a person who's going to be told something and not ask why, I want to understand why he is telling me something. And he wants us to think with our own brains."

When asked for a few words about his charming student, Jeroen says: "Lucas is a guy with a lot of talent – that is already a nice thing to start with. He is also very ambitious, sometimes almost a little too ambitious. But that's good though, it is better that way. He wants to make it to the top and if you ask me, he is going to make it."

The Americans seem to have done something very right with so many young talents coming up. How does Porter feel about that – take Reed Kessler's Olympic debut in London in 2012 at the age of 18 as example? "That's awesome. Reed's story is obviously unbelievable. I think it is a testimony to what the federation has done for the younger kids in America, all that work they have done and all the money they have put in has helped the sport to grow and we will benefit from it in the future."

And where does Lucas see himself in a few years – Tokyo 2020 maybe? "That would be awesome. I'm just going to do my best and see where it takes me."
---
Text and pictures © Nanna Nieminen for World of Showjumping