18-year-old Zoe Conter is one of Belgium's biggest talents and is the next rider out in our series 'The Next Generation'. Photo (c) Jenny Abrahamsson.
In World of Showjumping's new series 'The Next Generation', we will focus on determined young talents that aim for the top of the sport through dedication and hard work.
World of Showjumping sat down with Zoe Conter, a Belgian junior rider who has started to make herself a regular face on the five-star circuit this season and who also brought home two medals from the European Championships at Millstreet this summer. Being the daughter of Stephan Conter – founder and CEO of the hugely successful Stephex Group – and having riders like Daniel Deusser and Lorenzo de Luca around her every day, it seems like Zoe is living every young rider's dream. But, dreams don't work unless you do – and we discovered that this girl is a true worker.
Zoe was first put on a pony when she was only three years old. "My dad was already in the horse business from a very young age. When I was three, he said 'Ok, we put the kids on the ponies' and that is how it started. I rode ponies for a few years, then I moved on to the children classes and now I have worked my way up to compete at five-star level. To me it has only been natural that I ride and that I follow in my father's footsteps – I have never felt pressured to do this," Zoe tells about the how her career began.
Conter just turned 18, but her days are already full of work – either at school or at the stables. "I finished high school in June, and in October I started college at an international business school in Antwerp. I wanted to do that because I think it is important to have an education. I would for sure prefer to only ride, but I think it is nice to do both – for the moment it is going really good. My school pays attention to me, and they are trying to be flexible with me – they know I do sports on a high level. I study during the week and during the weekend I go to the shows, and for me it works really well. My normal day at home depends on if I have school or not. I get up early every day; I am either at school or at the stables. I am not so much at home, I don't do so many other things other than riding and school work!"
At home at Stephex Stables, Zoe has seven horses of her own. "In total I have seven horses, two 7-year-olds and two 8-year-olds and then I have my other three mares that are making it possible for me to jump the big classes. My favourite is Zeta – my first mare. I do all the Grand Prix classes with her. She has so much scope, but she is a little bit difficult to ride. We got her a year and a half ago, and actually we did not know that she would be such a good horse. She taught me to ride these big classes," Zoe says.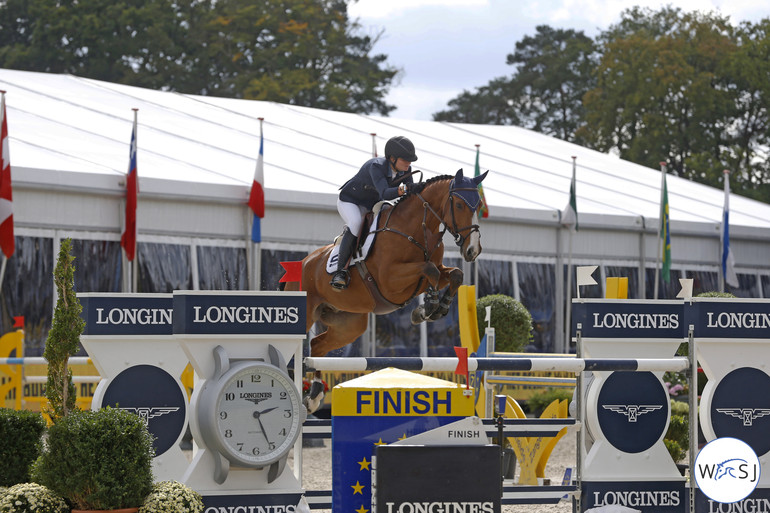 "I am really trying to work to be consistent at five-star level and I know I have a lot to learn," Zoe Conter says. Photo (c) Jenny Abrahamsson.
At Stephex, Zoe is surrounded by a big team. "My trainer is Farid, and he is always with me at the shows – he also scouts and sells horses for the whole stable. If there is something that does not work, I can also ask Daniel and Lorenzo as we really are one team and they give me advice if I need help. It is really great to be able to ride with them every day to improve myself. My younger sister Emilie also rides, currently she competes at two-star level and also jumped the junior Europeans together with me this year. When I get the chance to ride a five-star, my sister always comes with me if there is a two-star show at the same event. Most of the time we travel together," Zoe tells.
Even if Zoe has been successful at championship level in her age category, she values the five-star results higher. "My best result so far – that I value the most – is from the five-star show I rode in Lausanne this summer. I was second in the 1.55m class, and it made me really happy. Even if I won team gold at Europeans for juniors, placing good at the five-star shows is something I value the more. This is also my motivation; I am really trying to work to be consistent at five-star level and I know I have a lot to learn. To keep working every day to be good enough to fit in to this level is something I want to do," the ambitious young talent explains about her future plans.
"The Olympics 2020," she says about her long term goals when being asked. "Next year, it would be great to get a place on a few Nations Cup teams, but Belgium is such a strong country so I would already be happy to get a spot on the young rider team as the level on young riders is totally different compared to juniors. Also the new format for the Olympics will make it even harder for us younger ones to get a spot, but it is something I want to work towards and try to improve myself."
Having world class riders around her every day keeps Zoe humble. "I look up to Daniel and Lorenzo. Riding wise I really admire the way Marcus Ehning rides, I really wish that one day I would be able to ride as soft and effortless as he does," Zoe smiles.
Daniel Deusser sees Zoe riding every day and he believes the daughter of his boss has a bright future ahead of her. "The fact is; she has a lot of talent – I absolutely think she has the chance to make it in the big sport. With this stable, the horses and the team she has around her, the only thing she is lacking is the experience."
Zoe's trainer Farid Ladjouan thinks his pupil's best quality is her dedication to the sport. "She is so dedicated and she is a hard worker. She is asking so much from herself, she does not always remember her age. If she will be riding in Tokyo in 2020 – well, then I will be there to support her from the bottom of my heart."
---
Text © World of Showjumping by Nanna Nieminen // Picture © Jenny Abrahamsson (No reproduction without permission)