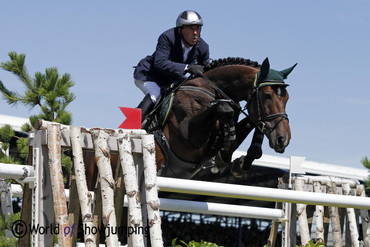 Where it all started in 2011: Hans-Dieter Dreher and Magnus Romeo in Aachen. Photos (c) Jenny Abrahamsson.
Stepping into the limelight in the 2011 RWE Prize of North-Rhine-Westphalia in Aachen, Hans-Dieter Dreher has never looked back. After his second place in this prestigious class on a summer day in July, Hansi's life took a turn which has taken him to the top of the sport. We sat down to talk with the German rider – known as one of the fastest, and the nicest, on the international circuit.
Hansi started to ride already as a child – "I've been riding all my life," as he puts it – as his father had a riding school. Horses are naturally in Hansi's blood, and he is a true horseman. When we meet him after a class in Paris, he brings proof of just that as we comment that it was a shame about his fence down. "I rode like a total amateur, I had to pet my horse and say I was sorry as I rode out of the ring," he says – taking on all the blame after his round. While that round wasn't Hansi's best, he has a very impressive record of wins; he has won big classes in Pioltello, Mannheim, Ascona, Rio, Hannover, Lyon, Basel, München, Wiesbaden, Chantilly, Spruce Meadows, Vienna, Stuttgart and Abu Dhabi – to mention just some of his top results over the past two and a half years.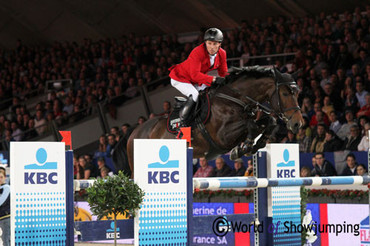 "It just worked from the beginning between the two of us", Hansi says about Magnus Romeo.
"It all started with Magnus Romeo!" the soon-to-be 41 year old explains of how his international career took off. "At that point I had won quite a lot at the national shows in Germany over a long period of time, but I had no international horses to speak of. Then Magnus Romeo arrived at my stable in 2011. He had been a little bit difficult, and on Beat Mändli's recommendation the owners decided to send him to me as I knew him a bit from the stallion shows where I had been riding him," Hansi explains of how the now 12 year old stallion ended up with him. At this point we expect a long story on how Hansi worked with Magnus Romeo to figure things out, and eventually go on to end second in Aachen after lots of hard work and hours of thinking, but no – things turn out to be a lot simpler than what we thought. "It just worked from the beginning between the two of us. After two weeks I won a three star Grand Prix on him in Pioltello. I think I understand him and he fits me – that's it. Magnus is not so special, but he is strong and has character – in addition he is a stallion, and all of this means you sometimes need to compromise a bit as a rider. But he has all the quality and the scope needed for the top sport," Hansi explains.
"After Aachen I experienced a sort of spin-off effect with the other horses," Hansi says. "Constantin I had before Aachen; he is a super horse for the speed classes. Embassy I got the ride on after the owner called me and asked if I wanted to ride him. I didn't know the horse, but did some jumps on him and got a good feeling – and it all progressed from there. I took him to a national show and he won a 1.40 class. Then we moved on to international classes in July 2011. What tells a lot about Embassy as a horse was when I first rode him in Aachen; he just came into that huge ring, went straight on and jumped super! He ended second in two of his classes there! Embassy has a super character, he's the same every day," Hansi tells of his two other winning rides. "Magnus, Constantin and Embassy are very unlike each other – but I try to let them have different characters," Dreher continues while letting us know that he has a nice eight year old called Canberra by Cyrano de Bergerac and some other new eight year olds at home that could be promising, "but we'll have to wait and see," he says in his own relaxed way.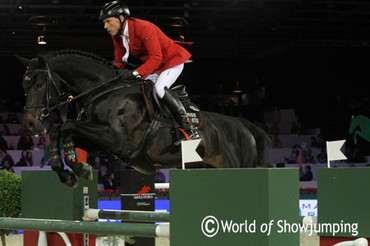 Embassy has a super character, according to Hansi.
From national rider to top international showjumper, how has Hansi's life changed we ask. "It's very different," he smiles. "Now I just have two to three days at home every week, and travelling almost every weekend! It's a dream for every rider, so I won't complain! Due to the prize money it's easier with the business now as well."
At home at Gestüt Grenzland, near the Swiss border, Hansi has his family; his wife Marion also rides and together they have two children. At their yard there are not only the 18-20 sport horses, but also a huge amount of mares, foals and yearlings. "We have about 150 horses in the fields, and expect around 25-30 foals every year," Hansi explains. "I'm not in charge of all this myself though; a veterinarian takes care of this part of the business together with our six employees. But it's not so easy to sell young horses at the moment due to the economic climate, so we have to wait until they get a bit older before we sell," he explains. "We had a few foals by Magnus Romeo in 2012; they are all looking good – and have the same round body as their father!" And with youngsters like that waiting to follow in their father's footsteps, the future looks bright for Hansi!
Photos by Jenny Abrahamsson/Text by Jannicke Naustdal - copyright © worldofshowjumping.com 2013.