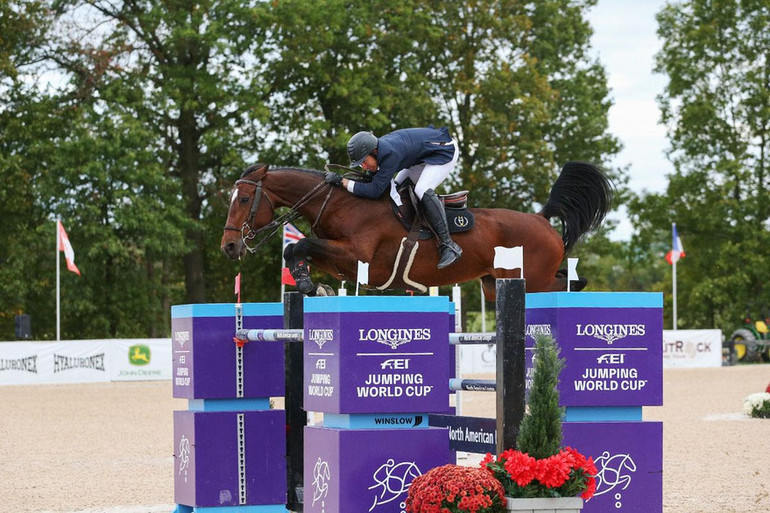 Andy Kocher and Dyrusa H in the $40,000 CS13*-W 1.50m Welcome Class. Photo © Winslow Photography LLC.
Press release from Split Rock Jumping Tour
---
Andy Kocher turned in a blazing jump-off ride on Dyrusa H to claim victory in the $40,000 CS13*-W 1.50m Welcome Class at the Split Rock Jumping Tour's (SRJT) Longines FEI Jumping World Cup Columbus CSI3*-W at Brave Horse Show Park in Johnstown, Ohio. The class set the field for Sunday's culminating event, the $135,000 Longines FEI Jumping World Cup Columbus CSI3*-W Presented by CaptiveOne.
Ten of 65 starters reached the jump-off by riding fault-free over the 16-effort, first-round course designed by Olaf Petersen, Jr. of Germany. Eight returned for the eight-effort, jump-off course and with one left the go, the lead was held by Dutch Olympic veteran Harrie Smolders who had gone clean in a quick 36.780 seconds on Hocus Pocus De Muze.
Going all out for the win, Kocher had his 11-year-old Dutch-bred mare at full speed before they hit the timers and he stayed ahead of Smolders's pace throughout the course. A little luck would be needed though as Dyrusa H hit two rails hard, with one even bouncing up out of the cups; nothing came down, however, and when Kocher finished in 36.480 seconds he had the win.
"I knew I was fast but it seemed like all I heard was rails coming down," Kocher joked afterwards. "I honestly didn't know whether they had come down or not but people kept yelling to go so I figured they must have stayed up! Harrie was really fast so I knew we had to go all out and I'm really happy to win."
Placing third behind Kocher and Smolders was Nicole Shahinian-Simpson on Akuna Mattata with a clean ride in 37.610 seconds. Fourth went to David Blake of Ireland with a clean ride in 38.040 seconds on Keoki.