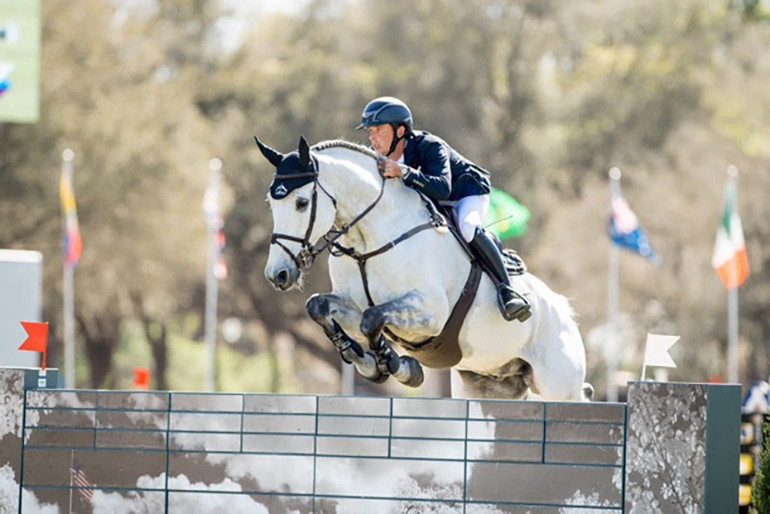 Bertram Allen (IRL) riding Harley vd Bisschop, winners of the Longines FEI Jumping World Cup™ 2021/2022 North American League - Ocala (USA). Photo © FEI/Shannon Brinkman.
Press release from FEI written by Catie Staszak
---
Bertram Allen (IRL) competes in the already-concluded Western European League, but that didn't stop him from journeying to Live Oak Stud in central Florida (USA) for the final North American League qualifier of the 2021-2022 season. He rode Harley vd Bisschop (Dulf van den Bisschop x Coronado) straight to the top of the Longines FEI Jumping World Cup™ Ocala, besting an 11-horse jump-off.
"He's 14 and an experienced horse," Allen said of his mount. "He loves the grass, and the ground here is fantastic."
A star-studded cast of athletes lined up for one last opportunity to earn NAL points toward qualification for the 2022 Longines FEI Jumping World Cup™ Final in Leipzig (GER). The field included points leader Conor Swail (IRL), defending event champion Daniel Coyle (IRL) and Hunter Holloway (USA), who took an NAL win in Las Vegas (USA).
Eleven advanced to Olaf Peterson's (GER) jump-off, which featured tight turns, long gallop lanes, and eye-catching fences, including one uniquely constructed 1.60m plank, designed to resemble a post and rail wood fence.
Each combination seemed to outpace the next. Defending European Champions Andre Thieme (GER) and DSP Chakaria (Chap 47 x Askari 173) took an early lead (39.01 seconds), until Coyle set a stiff standard with his mount, Legacy (Chippendale Z x Bon Ami) (38.03).
"I saw that Daniel was maybe over a second quicker than [Andre], which I didn't think was possible. So, I knew I had to give it everything, and it all came off and everything was actually very fast and well, and he really tried hard," Bertram Allen says.
Allen saved best for last, setting himself apart with an early expedient turn and a furious gallop to the last. His winning time was 37.67 seconds.
"I think the main thing was to just stay [on the pace]," he said. "I maybe added one more [stride] to the double, and then we were very fast. I hoped we'd won it at the last."
Swail (IRL) finished fourth Sunday, but he ended the NAL season as points leader with 74 points, having won three World Cup events at Vancouver (CAN), Sacramento (USA) and Fort Worth (USA). Tiffany Foster (CAN) finished second with 59 points, with Natalie Dean (USA) third on 41 points.
Ocala competitors Coyle, Holloway, Rowan Willis (AUS), Kristen Vanderveen (USA), Margie Engle (USA) and Schuyler Riley (USA) also punched their tickets to Leipzig. The Longines FEI Jumping World Cup™ Final is set for 6-10 April 2022.