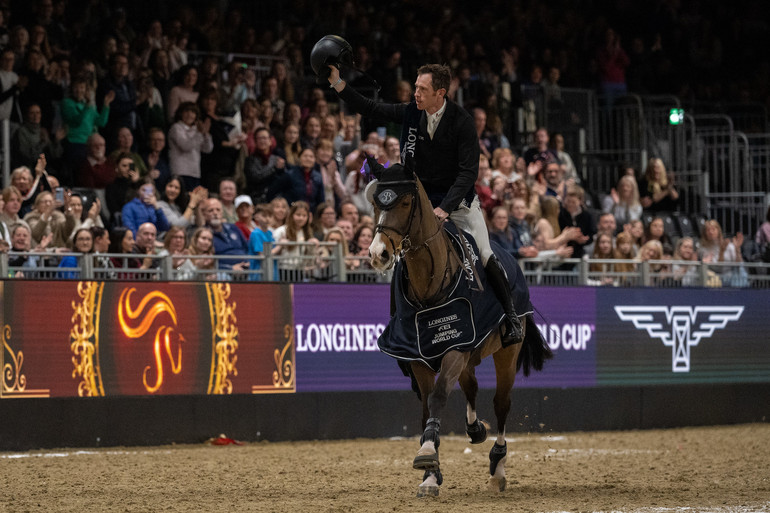 Scott Brash celebrates his victory in the Longines FEI Jumping World Cup™ at London International Horse Show with Hello Jefferson. Photo © FEI/Jon Stroud.
Edited press release from FEI written by Louise Parkes
---
There's never anything quite like a big win in front of the home crowd, and this afternoon Britain's Scott Brash set the London ExCel arena alight when producing a spectacular victory with Hello Jefferson (Cooper van de Heffinck x Irco Mena) at the eighth leg of the Longines FEI Jumping World Cup™ 2022/2023 Western European League.
Just seven of the 37 starters managed to unravel the questions over the first-round track set by Portuguese course designer Bernardo Costa Cabral, and in a sensational jump-off it was Germany's Daniel Deusser who clinched runner-up spot with Killer Queen VDM (Eldorado vd Zeshoek x For Pleasure) while young British star Jodie Hall McAteer wowed the home crowd when finishing third with Salt 'n Peppa (Stolzenberg x Escudo 19).
Classy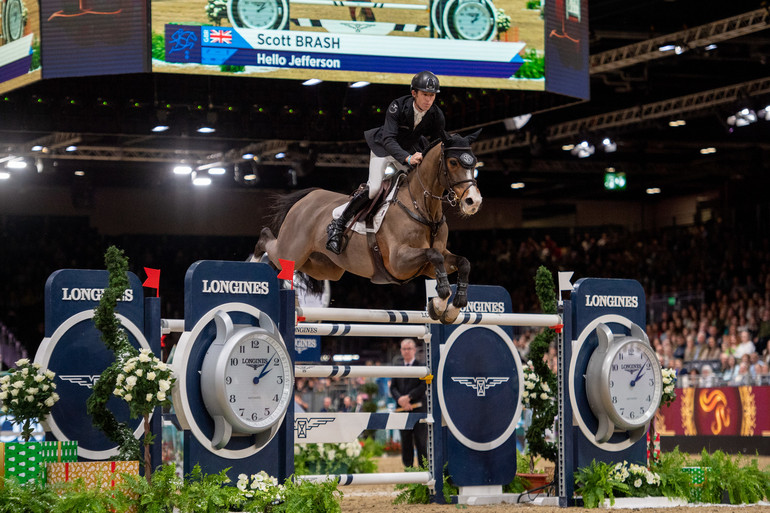 Scott Brash and Hello Jefferson, winners of the Longines FEI Jumping World Cup™ at London International Horse Show. Photo © FEI/Jon Stroud.
The jump-off was filled with classy horse-and-rider partnerships, and pathfinders Max Kühner and Elektric Blue P (Eldorado vd Zeshoek x For Pleasure) from Austria set the pace when breaking the beam in 42.00 seconds but leaving the first part of the triple combination - now reduced to a two-effort test - on the floor.
Dutchman Maikel van der Vleuten then set the first real target with a super clear from the characterful 10-year-old mare Elwikke (Eldorado vd Zeshoek x Quick Star) whose bucking and kicking antics kept the spectators highly entertained first time out. Crossing the line in 41.21 seconds they were now the ones to beat, but Brash then raced home in 39.67 seconds to really raise the bar.
His run to the last was breathtaking, Hello Jefferson easily leaving a stride out although Brash said afterwards he wondered if he might have been even quicker.
"The fences came up good. I was actually trying to go one less stride from fence one to two but at the same time I have to make sure Jefferson is not too quick at the start of the course because he does gets sharp, but I think it was a good balance overall. The double came up well, he jumped amazing and when I let him run to the last he's so careful that I can trust him and it paid off!", explained the 37-year-old Scotsman.
He was followed by Germany's Daniel Deusser and the always-speedy Killer Queen VDM who looked seriously threatening until a bit cautious down the last line before breaking the beam just 0.06 seconds slower. And then double world champion, Sweden's Henrik von Eckermann, set off with the relatively novice nine-year-old mare Czara Dorchival (Qlassic Bois Margot x Raphael) who looked well in touch until clipping the oxer three from home.
Second-last to go, Ireland's Denis Lynch and the 10-year-old Cornets Iberio (Cornet Obolensky x Charlottenhof's Iberio) posted four faults in 41.65 before the crowd went into a frenzy as Jodie Hall McAteer took her turn.
The diminutive 22-year-old, who was a member of the British team at this year's Longines FEI Jumping Nations Cup™ Final in Barcelona (ESP), has always been a gritty competitor. She took team gold and individual silver at the FEI Pony European Championship in 2015 with the legendary Tixylix, and her partnership with the 13-year-old gelding Salt 'n Peppa has firmly established her at Senior level.
Setting off with gusto the pair produced a brilliant round in 40.14 to finish third, just ahead of three-time Olympian van der Vleuten and close behind 2016 Longines FEI Jumping World Cup™ champion Deusser in second place while London 2012 Olympic team champion Brash stood top of the podium.
Talking about his winning ride, Brash said, "I might have done one stride less between fences one and two, I thought maybe I'd left the door slightly open there but I don't think I could have done much other than that. Daniel did one stride less there and he was very close, but luckily everything else was tight and smooth and it paid off".
He described Hello Jefferson as an incredible horse. "He has all the attributes you need to win any Grand Prix in the world so it's just about trying to control his sharpness, he is quite a sharp horse which is good, he's a quick thinker and it's good to be quick in a jump-off but you have to be able to control that," Brash said.
And he said the 13-year-old gelding is "becoming more the finished article now. He's more settled in a big atmosphere and he's starting to really enjoy it. In fact I think the bigger the atmosphere he's starting to be even better so that's the sign of a talented horse".
He was full of praise for his young compatriot Hall McAteer who produced a brilliant performance against the toughest of opposition today. "She's fantastic, a great competitor, I've know her for many years, she's determined, hard-working, she upped sticks and went over to Holland to train with the Schröders, she's working hard and she's really committed so she really deserves to be there today and I think there's a lot more to come from her!", he said.
Delighted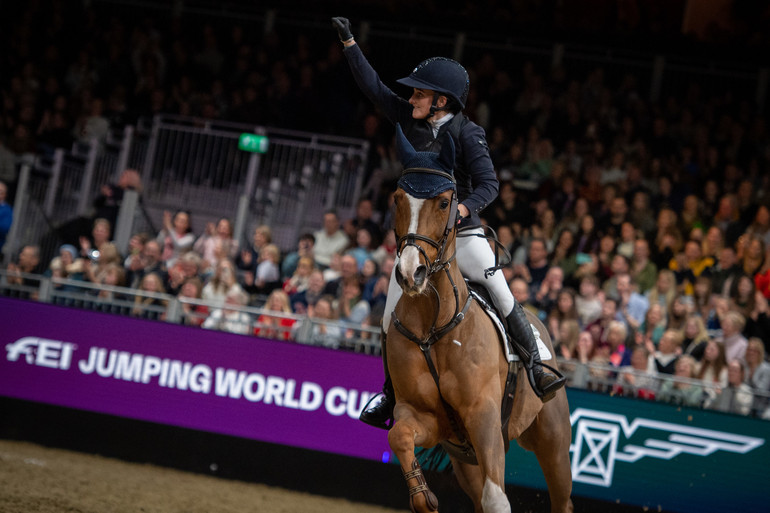 Jodie Hall McAteer wowed the home crowd when finishing third with Salt 'n Peppa. Photo © FEI/Jon Stroud.
Hall McAteer was delighted with her result. "It was unbelievable!", the happy young lady said. "I grew up coming to this show every year since I was 10 years old. Coming back this year and finishing third is a dream come true! Hearing the crowd is amazing - I didn't think I was quick enough or that close, but when I heard the crowd before last fence I had to give it a try. I am a little annoyed at myself because I could have been faster but I'm very happy and very proud of my horse. I will definitely come back and try to win next time!", she said.
Runner-up Deusser said "I would of course have loved to win, but I am not disappointed at all. When I saw Scott I knew his horse was naturally quicker than Killer Queen. I had to take a few strides here and there and maybe if I was a bit more motivated after the last fence I would have won today, but I am happy I have some points already and the pressure (of qualifying for the Final) is getting a little less. I will now focus on Mechelen which is my home show."
Mechelen in Belgium will present the ninth round of the 14-leg Western European League series on 30 December, and it is world number one von Eckermann who currently stands top of the league table ahead of Great Britain's Harry Charles in second and French athletes Kevin Staut and Julien Epaillard in third and fourth places.
Today's result has moved Deusser up to fifth, and with 45 points already collected he looks well on the way to the Longines Final 2023 in Omaha (USA) next April even before his home event gets underway in just over a weeks' time.