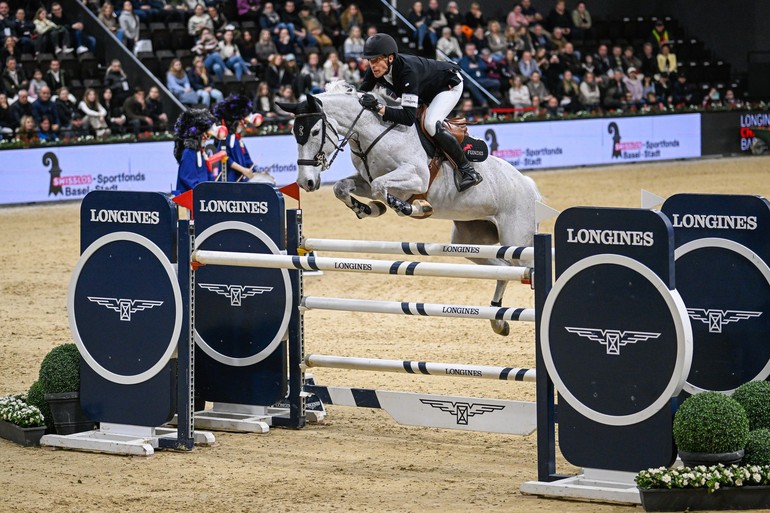 "Calizi was super today, she really jumped great," von Eckermann told World of Showjumping after the pair's first big 5* victory together. Photo © Stuppia Photography/Longines CHI Classics Basel.
Text © World of Showjumping
---
Sweden's Henrik von Eckermann – double world champion and current world number one – and the 10-year-old mare Calizi (Cellestial x Stakkatol) won Saturday evening's CSI5*-W 1.55m Championat of Basel, the Golden Drum, at the 2023-edition of Longines CHI Classics Basel. Von Eckermann has already won the traditional Golden Drum competition once, back in 2012 when it was first introduced – with Quibell (Quintero x Cento).
With 44 horse-and-rider-combinations at start, the first-round track set by Gerard Lachat (SUI) and Gregory Bodo (FRA) favoured a forward thinking approach, and while four pairs were caught out by the time allowed, ten delivered a clear well within.
Riding the 10-year-old Calizi, von Eckermann was second out in the jump-off of ten and crossing the finish line in 38.18 set a standard that those coming after him found impossible to match. Harrie Smolders (NED) and the 11-year-old Uricas v/d Kattevennen (Uriko x Cassini I) got closest, slotting into runner-up position with a time of 38.79, while a time of 40.15 saw Gerrit Nieberg (GER) and Blues d'Aveline CH (Baloussini x Coriall) finish third. Only 0.05 behind Nieberg, Gilles Thomas (BEL) and Luna van het Dennehof (Prince van de Wolfakker x Quidam de Revel) finished fourth, while a fence down in 38.55 seconds left Martin Fuchs (SUI) and Commissar Pezi (Commissario x Böckmann's Lord Pezi) in fifth.
"Calizi was super today, she really jumped great," von Eckermann told World of Showjumping after their first big victory together. "Over the last three months, Calizi has been developing unbelievably good. We did Geneva, where I for the first time jumped a really big class with her – she was clear and had one down in the jump-off, but jumped really, really well. In the combination class in Geneva, she had one down but also jumped really good. I had the feeling that if I just stay quiet, it will come. And I am really happy that it all came together today, with her owner Georg Kähny also with us here which made it even nicer. Calizi was quite late in the sport, she had foals when she was younger, so she needed a bit of time. We have been playing around with her for a year and now she really moved up a level. I am looking forward to the future with her!"
The second CSI5*-W class of the day, the 1.50m Prize of Dach+Holztech GmbH, went to Philipp Schultze Topphoff (GER) and Carla (Comme Il Faut x Potsdam NRW) ahead of Julien Epaillard (FRA) and Callac de Cyrmanol (Quintago I x Burggraaf). Victor Bettendorf (LUX) and Astuce de La Roque (Kannan x Quick Star) placed third, while Jerome Guery (BEL) and Cristel (Diamant de Semilly x Dobel's Cento) finished fourth and Jack Whitaker (GBR) aboard Equine America Valmy de la Lande (Mylord Carthago x Starter) fifth.