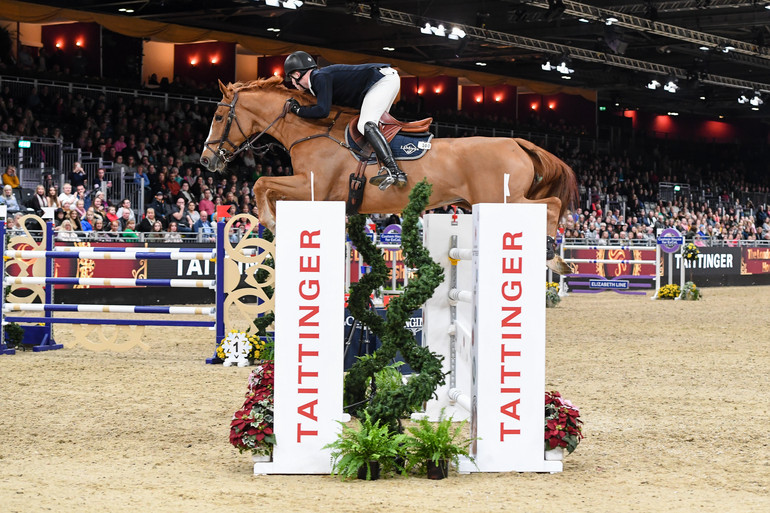 Friday's opening CSI5*-W jumping class at London International Horse Show, the 1.50m Champagne-Taittinger Ivy Stakes, was won by Harry Charles and Billabong du Roumois. Photo © London International Horse Show.
Edited press release from London International Horse Show
---
Friday's opening CSI5*-W jumping class at London International Horse Show, the 1.50m Champagne-Taittinger Ivy Stakes, was won by Harry Charles (GBR), riding Billabong du Roumois (Mylord Carthago x Papillon Rouge*Normandie). A total of 14 of the 34 starters jumped clear in the first round, paving the way for a scintillating jump-off, featuring some of the world's best horse and rider combinations. Harry Charles set the standard as first to go in the jump-off, with a quick clear in a time of 30.60 seconds, putting the pressure on those to follow. The world no. 1 Under 25 rider, already a winner at the show following his victory in the Under 25 Championship on Thursday is clearly looking to retain the Leading Rider of the Show title he won in 2021.
Those who followed struggled to match Charles' pace, picking up faults trying to emulate his tight turns. Connor Swail (IRL) put in a good effort with Count Me In (Count Grannus x Sherlock Holmes), posting clear in a time of 32.26 seconds, with Jack Whitaker (GBR) and Equine America Valmy de la Lande (Mylord Carthago*HN x Starter) also producing a top performance, with a clear round in 33.15 seconds to go into third with just two to go. The penultimate to go, Roger Yves Bost (FRA), gave his best shot, but his time was only good enough for eventual fourth, leaving Harry to take the victory for the second year in a row.
The London International Horse Show ambassador said: "What a great feeling to come back here, after last year, to win yesterday and then to do it again today, it's a dream start. I'm lucky to have such a quick horse like him, he is a rocket across the ground, he's now won two of his last three classes and was second in the other. It's been a great start to the show, which gives me great confidence for the rest of the week."
The Christmas Pudding Speed Stakes, a CSI5*-W 1.45m class against the clock, was a close-run affair. Bernardo Costa Cabral's course proved challenging, with the penultimate fence, a double coming towards home, causing many combinations to accumulate faults. World no. 3, Julien Epaillard (FRA), set the early pace, jumping an impressive clear in a time of 53.44 seconds. Kevin Staut (FRA) was the next to jump without fault, making it a French one-two in the early stages. However, Connor Swail (IRL) spoiled the French party, taking the lead at the midway point posting a time of 53.05 seconds riding Vital Chance de La Roque (Diamant de Semilly x Rivage du Poncel). Britain's John Whitaker and Green Grass (Luidam x breeding unknown) had the crowd on their feet as he sped to pole position, knocking 0.31 seconds off Swail's time, however his lead was short lived, with Trevor Breen and Jicarla T (Caretino Gold x Numero Uno) taking Ireland back to the top spot with a deceptively fast clear in a time of 52.10 seconds. The last to go, Breen's elder brother, Shane, pulled out all the stops and looked to make it a Breen one-two, but four faults and the penultimate fence left it to his younger sibling to take the victory aboard Jicarla T on his debut at the show.
A delighted Breen said: "I saw a couple of the early ones to go and I knew it was going to be hard to win. My mare, she's only eight, owned by Old Lodge Stud, she jumped fantastic for me tonight, every question I asked her she answered, and I really couldn't be happier with her. It's just fantastic to win at my first London International Horse Show in front of such brilliant crowd, I'm absolutely chuffed to bits."