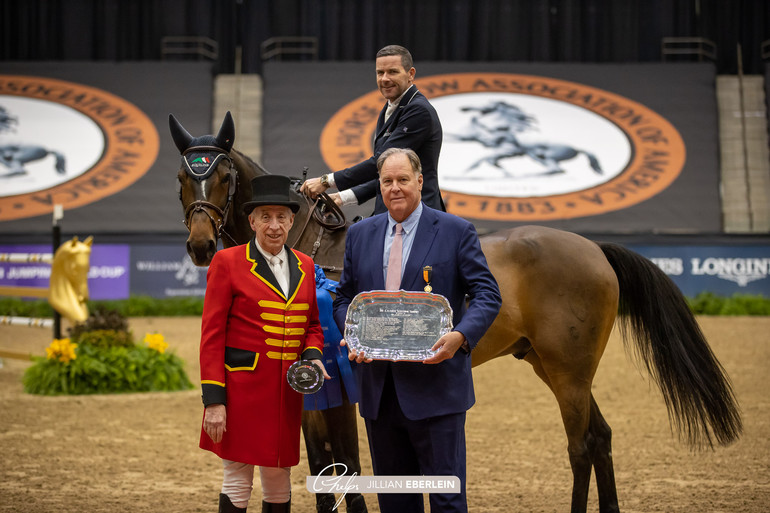 Conor Swail and Casturano, winners of the $38,700 International Speed Stake presented by T&R Development. Photo © Phelps Media / Jillian Eberlein.
Edited press release from the National Horse Show
---
The excitement at the 2023 National Horse Show (NHS) soared during the International CSI4*-W competition on Friday, November 3, with the $38,700 1.50m International Speed Stake presented by T&R Development. A field of 18 impressive horse-and-rider pairs assembled for the competition, ready to showcase their skills.
Course designer Alan Wade (IRE) added an extra layer of excitement to the event with his exhilarating 12-effort track course. Riders skillfully maneuvered between jumps, executing daring turns and blazing through forward lines, thrilling the audience with each moment. The course left everyone eagerly anticipating what the next rounds have in store.
In an electrifying display of speed and precision, Conor Swail (IRE) and his trusty partner Casturano (Castelan x Canturo) stole the spotlight by securing the top spot in the speed round. Swail's expert maneuvering of the jumps and daring approach to the course put him a remarkable two seconds ahead of the nearest contender.
"You know, it was a quite twisty turny course and yeah, all the numbers came up good for me and all the turns; the horse was really with me," Swail commented on the course.
Daniel Bluman (ISR), riding the 8-year-old mare Corbie V.V. (Cornet Obolensky x Chacco-Blue), claimed the first clear round of the night early in the order. Holding on to a podium spot, ultimately, he claimed the second-place position with a swift time of 61.77.
Caroline Mawhinney (USA), an 18-year-old rider, partnered with 10-year-old gelding Carsey Z (Carthino Z x Guidam). Together, they delivered a commendable performance, securing third place with a time of 64.12.