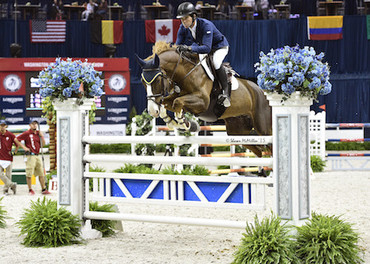 Conor Swail and Simba de la Roque. Photo (c) Shawn McMillen Photography, www.shawnmcmillen.com.
The 2015 Washington International Horse Show (WIHS) hosted its first day of jumper competition at Verizon Center in Washington, D.C. on Wednesday with a win for Ireland's Conor Swail and Simba de la Roque in the feature $10,000 International Jumper speed class, sponsored by Amalaya Investments.
Anthony D'Ambrosio (USA) is the course designer for the jumper competition at WIHS this week. D'Ambrosio opened the international competition with 38 entries in the $10,000 speed class, sponsored by Amalaya Investments, and ten clear rounds. Belgium's Jos Verlooy set early speed aboard Axel Verlooy and Euro Horse Bvba's Farfelu de la Pomme to eventually finish fourth in 54.75 seconds. Francois Mathy (BEL) quickly took the lead with a time of 53.97 seconds riding Team Harmony and Francois Mathy's Polinska des Isles, eventually settling for second place. Margie Engle (USA) completed a fast round in 54.60 seconds riding Abunola for Elm Rock Partners LLC to secure third place honors. Second to last in the order, Ireland's Conor Swail stole the show with a time of 49.05 seconds riding Susan Grange's Simba de la Roque.
Swail and Simba, a nine-year-old Selle Francais gelding (Kannan x Allegreto), have been on quite a roll recently. "It has been since I got him really," Swail noted. "He has won a class at every single show he has jumped at. It is phenomenal what he is doing and what he continues to do. I have been using him sparingly, but every time he goes, he wins. It seems like he has been around a lot, but he has had good breaks as well. I do not know what to say about him anymore, he is just such a good horse."
Latest wins include last week's Pennsylvania National Horse Show in Harrisburg, PA, and a victory at the Rolex Central Park Horse Show in New York City just before that. For Wednesday's win, the pair had the luck of the draw on their side at the end of the class.
"I had already been in with one horse and she jumped a great round. It gave me an idea about the winning time and what it took to win," Swail detailed. "It was not my intention to go particularly fast on him, but I thought if I did the numbers and a few tight turns, there was a class there for the taking and as usual he did not let me down. He was phenomenal. It felt very comfortable for him."
This is Swail's second time competing at WIHS and a great start to the week for Simba de la Roque as he contests some bigger classes in the coming days.
"This is a beautiful setting in the middle of the city and a great stadium with good footing," Swail stated. "It is great to come here and compete against the best riders. Simba has a big step, but at the same time he is quick on his feet and quick in his mind, so it seems that he is taking to the indoor circuit well. He is fast across the ground, so he works well on both a big surface and a small surface, which is great. It makes him adaptable and durable for where you want to go and what you want to do."
Source: Press release from Jump Media LLC